Developers turning JFK's iconic 1960s terminal into hotel secure $230 million loan
The TWA Flight Center, which was commissioned by famous jack-of-all-trades Howard Hughes when he headed Trans World Airlines (TWA), is expected to open its doors once again, reimagined as a hotel, early next year.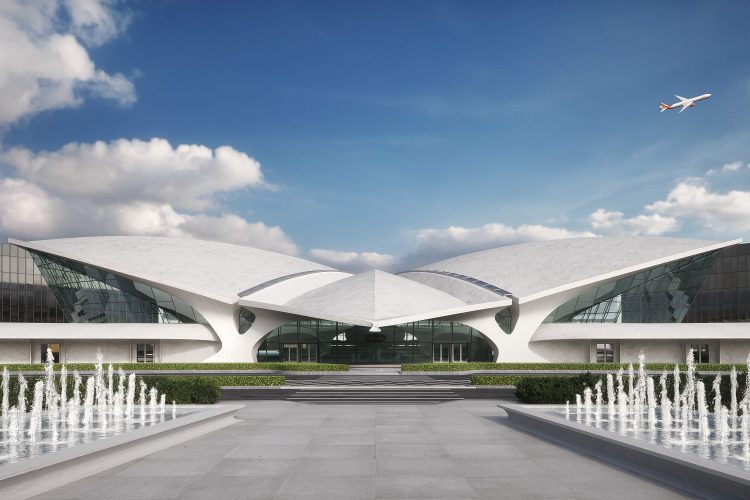 UNIQUE: Both the interior and the exterior of the TWA Flight Center were declared a New York City Landmark in 1994
The developers turning the historic and unique TWA Flight Center at JFK International Airport into a hotel have been awarded a $230 million loan.
M&T Bank announced it had closed the construction loan to provide financing for MCR and MORSE Development's iconic transformation. The redevelopment will include a complete restoration of the treasured Eero Saarinen-designed midcentury modern landmark to its 1962 glory.
Ground was broken on the project on December 15, 2016 at a ceremony attended by New York Governor Andrew M. Cuomo; Robin Hayes, President and Chief Executive Officer of JetBlue; former Port Authority Executive Director Pat Foye; Melinda Katz, Queens Borough President; and Peter Ward, President of the New York Hotel & Motel Trades Council, AFL-CIO.
The two hotel structures are now topped out and TWA Hotel is on schedule to open in the spring of 2019.
"JFK is one of the nation's busiest airports and a welcoming point to New York City. The reimagination of the TWA Flight Center, which was one of New York City's most prestigious transit icons when it opened in the early 1960s, will have a significant impact on JFK as the hotel will benefit both business and leisure travellers from across the globe," said M&T Bank Long Island Market President Jason Lipiec.
M&T Bank was the sole lead arranger and administrative agent for the multi-bank loan, with participation from Mercantil Bank, N.A., BMO Harris Bank N.A., Western Alliance Bank, Flushing Bank and Union Labor Life Insurance Company, on behalf of its Separate Accounts.
"The execution of this construction loan, facilitated by M&T Bank, brings us one step closer to reviving this treasured landmark and reopening it to the public for generations to come," said Tyler Morse, CEO of MCR and MORSE Development.
Commissioned by Howard Hughes for Trans World Airlines (TWA) and opened in 1962, the TWA Flight Center was designed, according to Saarinen, to "express the drama and excitement of travel".
Designated a New York City landmark in 1994, the Flight Center — which closed in 2001 — was listed on the National and New York State Registers of Historic Places in 2005.