Orlando International will get three new gates at South Terminal
The Greater Orlando Aviation Authority (GOAA) Board voted this month to expand the scope of its South Terminal Complex (STC) project at Orlando International Airport (MCO).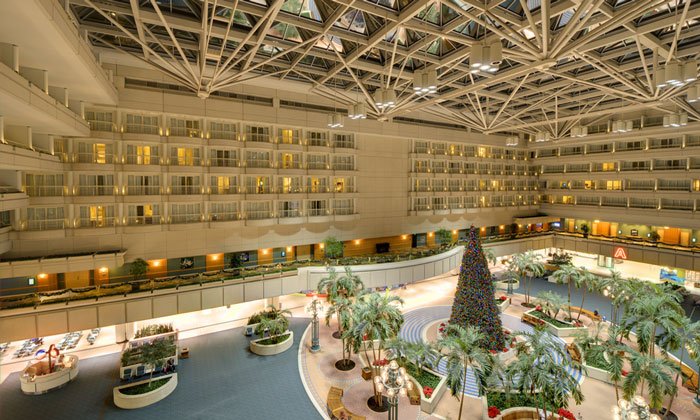 SUNSHINE STATE: The atrium interior of Orlando International Airport
At its May meeting, it approved adding three new gates, which can accommodate up to six narrow body aircraft, to the previously approved 16-gate phase one configuration.
"As the busiest airport in the state of Florida, Orlando International serves as a gateway for the most visited destination in the country with a recently reported 72 million annual visitors to the Orlando region," said Frank Kruppenbacher, Chairman of the Greater Orlando Aviation Authority. "The expansion will help meet the current and projected growth in passenger traffic and airline service."
The board also authorised a Memorandum of Understanding with JetBlue Airways that allows the airline to operate both domestic and international flights from the South Terminal C (STC) when it opens.
JetBlue's move to the South Terminal will enable the airline to grow to over 100 daily departures from Orlando International Airport in the years to come. In addition to JetBlue, the Aviation Authority anticipates that 12 other airlines with international service will operate from the first phase of the new STC.
Recent record growth to more than 45 million annual passengers, with projected continued increases, has created the need to expand the original South Terminal project. In order to meet increasing demand by passengers and airlines, the board also approved an updated capital improvement plan (CIP) to address the need for greater convenience.
The CIP is a multi-year plan of major capital projects linked to the aviation authority's strategic goals. The updated CIP incorporating this project and others, including North Terminal equipment system updates, checkpoint expansion and ground transportation road enhancements will total $4.27 billion.
"With today's action, the Board's decision also authorises the aviation authority to seek approval from the FAA to use passenger facility charges to fund a significant portion of the project," said Phil Brown, Greater Orlando Aviation Authority Chief Executive Officer.
The Phase I expanded project is projected to open in the Spring of 2021.