Fraport AG receives IATA's pharma handling stamp of approval
Fraport AG, the owner and operator of Frankfurt Airport (FRA), has received the CEIV Pharma certification from the International Air Transport Association (IATA) for ramp handling of pharmaceuticals.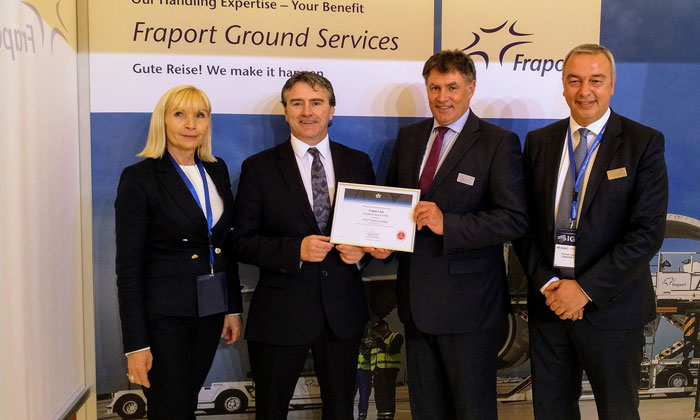 AWARD: Left to right: Brigitte Press, Vice President of Ramp/Passenger Service and Operations (Fraport), Nick Careen, Senior Vice President, Airport, Passenger, Cargo and Security (IATA), Martin Bien, Senior Executive Vice President of Ground Services (Fraport) and Carlos Cardiga, Senior Vice President Sales & Customer Service (Fraport) at the award ceremony in Doha
The CEIV (Center of Excellence for Independent Validators in Pharmaceutical Logistics) certificate is awarded for reliable transport of time-critical and temperature-sensitive products. The global CEIV standard was developed by IATA with the aim of supporting airlines, handling companies and forwarding agents to comply with internationally recognised rules and norms for the handling of pharmaceutical products.
Martin Bien, Senior Executive Vice President of Ground Services at Fraport AG, received the accolade at the IATA Ground Handling Conference in Doha. During the ceremony, Bien. He said: "With the CEIV Pharma certification from IATA, Frankfurt Airport is one of the largest pharmaceutical hubs in the world to offer a fully certified ground handling process – now with ramp handling also included."
More than 100,000 metric tons of vaccines, drugs, medicines and other pharmaceutical products were handled at Frankfurt Airport in 2017. The health and wellbeing of many people depends on first-class handling of these sensitive items. Consequently, the standards for this logistical challenge are very high. Meeting them requires quality management, training of all parties involved in the process, and an infrastructure that enables product-specific handling and storage.
Fraport AG's ramp handling division has been operating a transporter vehicle for temperature-controlled shipments for over 20 years. Now, it is the first ground equipment in the world to be covered by the CEIV certification. The special vehicle allows transportation of main and lower-deck units in a range from -30 to +30 degrees Celsius with pinpoint precision. Moreover, the transporter is equipped with an electronic temperature monitoring system and tracking options.
"We see pharmaceutical transportation as a growth market for the future," added Martin Bien. "Receiving IATA's CEIV certification underscores that Fraport has the requisite infrastructure and the necessary expertise to accommodate this growth. We are well prepared for future requirements of the pharmaceutical industry and forwarding companies."