Five key takeaways from ACI Europe's Commercial and Retail Conference
As operating costs continue to climb, airports are increasingly focusing on retail revenue to help pay the bills. At a conference in Tel Aviv March 14-15 put on by ACI Europe, presenters spoke of the fierce competition for the traveller's dollar. But they also highlighted ways in which airports could gain ground. Here are five key takeaways from journalist Phil Fine.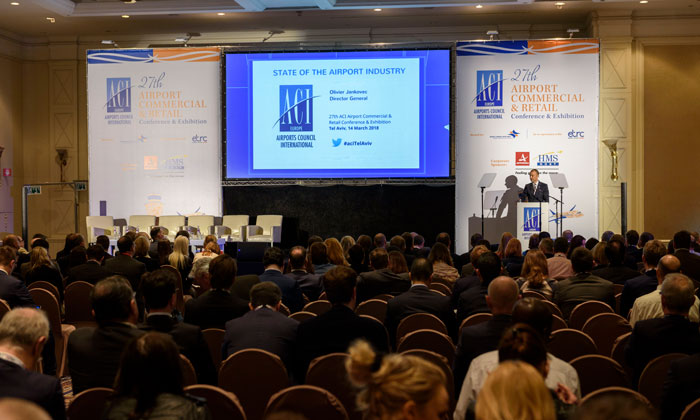 STATE OF THE INDUSTRY: ACI Europe Director General Olivier Jankovec addresses delegates PHOTOGRAPH: Grant Pritchard Photography
1: E-commerce
E-commerce is not only changing the way we shop, but is transforming the nature of retailing itself. Shopping malls worldwide are fast becoming graveyards, while legendary five-and-dime chains like Kmart continue to shrink. And although shoppers still go to stores to buy luxury items, mid-market retailers are fast disappearing. All the while, e-commerce giants like Amazon continue to chew up the competition.
But only a few major airports, such as Heathrow, Frankfurt, Changi (Singapore), Dubai and Auckland, have embraced digital retailing, warns Kian Gould, founder and CEO of AOE GmbH, a German firm specialising in digital business. Indeed, publicly owned airports are way behind the curve – mainly because they can't change as quickly as their privately owned competitors.
Yet, change they must, if only because texting has become the way young adults communicate. In fact, the conference was told, while baby boomers – those folks born between 1946 and 1964 – will say write me and generation X (1965-'80) will say call me and generation Y (1981—'94) will say e-mail me, generation Z (1995-'05) will say text me.
Moreover, travellers, when at home, are increasingly buying products online, but less on impulse once at the airport. Put another way, 71 per cent of purchases are now planned, but only 29 per cent are made on a whim. Indeed, planned buying is particularly strong among Asian travellers since most of them don't speak the language of salespeople in airport stores outside Asia.
Yet, e-commerce can boost airport revenue, Mr. Gould notes. In addition to digital sales, an airport's stores can generate up to 750,000 euros in incremental sales for every 100,000 unique visitors to an airport's e-commerce site. This is known as "webrooming."
2: Airports must keep innovating
Airports can't rest on their laurels. They must be bolder and more creative when designing stores. Indeed, instead of leaving restaurants or snack bars as stand-alones, airports might consider putting them inside duty free shops, says Jonathan Robinson, Group Business Development Director for SSP, a London-based operator of food concessions at more than 125 airports worldwide.
Airports can also boost retail sales by opening pop-up shops: shops that stay up for only a short term. First introduced in Los Angeles in 1997, pop-up shops have caught on with big brands because of their potential for targeting specific customers for specific periods of time.
Airports should also consider opening more brand-name stores. In fact, for Erik Juul-Mortensen, President of the Tax Free World Assc., brand names are a great choice because of their proven ability to reel in travellers.
But airports shouldn't focus only on big brands. Small fry — brands serving niche markets – are a good bet as well, says Nigel Keal, Global Commercial Director for Dufry, a Swiss-based operator of 2,200 duty-free and duty-paid shops worldwide.
Still, airports should keep in mind that brands aren't putting all their eggs in one basket, but have already started building an online presence, Mr. Keal says.
Despite all the talk of e-commerce, airports can't lose sight of the physical shopping experience. They must offer travellers products that they can't find elsewhere, says Mr. Mortensen. At the same time, they must offer better service and be more customer-focused, notes Mr. Keal.
And because travellers can now instantly compare prices in shops with prices on Amazon, airport retailers must stay competitive. In addition, they must make it easy for shoppers to find products, says Chris Annetts, Retail and Service Proposition Director at Heathrow Airport.
3: Airports must strive for greater synergies
At too many airports, notes Mr. Gould, various departments, be they retail, operations, or security, don't work as closely as they should. But to meet retailing's challenges, silos must be collapsed and barriers must be lowered.
4: The golden age of duty-free shops is over.
The sector is no longer a protected species, but a mature market, warns Gary Stock, Chairman, duty-free global for the James Richardson Group, an Australian-based operator of duty-free stores. So duty-free outlets need to freshen up their stores, offer price transparency and provide full online service.
They also must continue to serve niche markets, such as smokers. True, cigarette sales have fallen because of bans on retail displays, admits Mariana Stangl-Pinheiro, Manager of Corporate Affairs and Communications for Geneva-based Japan Tobacco Intl.
Sales have also been hurt by restrictions on how many cartons of cigarettes travellers can bring home. Yet, one in four shoppers at duty-free stores is a smoker, while 20 per cent of the world's population continues to use tobacco products, Ms. Stangl-Pinheiro told the conference.
5: Food and drink still sells
Airport food and beverage sales have yet to reach saturation point. Despite the many restaurants and snack bars that dot airports, only 59 per cent of travellers now patronise F&B outlets, notes Ezio Balarini, Chief Marketing Officer for Autogrill, an Italian food service giant.
To raise that percentage, airports should strive to meet the growing demand for specialty cuisines, such as vegan.  Airports also need to meet the needs of just-in-time travellers and should try locating restaurants with table service next to shops and other retail stores.
In addition, Mr. Balarini says, F&B outlets should use mobile devices to reel in more customers. They must also keep in mind that food and beverage operations will change. Although some travellers, for example, now order their food at kiosks, in the future, they'll likely be served by robots.
Although the retailing landscape may be changing, one thing remains the same: stores and brand-name outlets still want a piece of the action at the world's top airports. At Heathrow, for example, there's simply not enough space for all the retailers and brand names that have asked to open stores, notes Mr. Annetts.