Autonomous baggage handling system to go into operation at Rotterdam Airport
A baggage handling system (BHS) based on autonomous vehicle technology will go live in Rotterdam The Hague Airport (RTHA) later this year.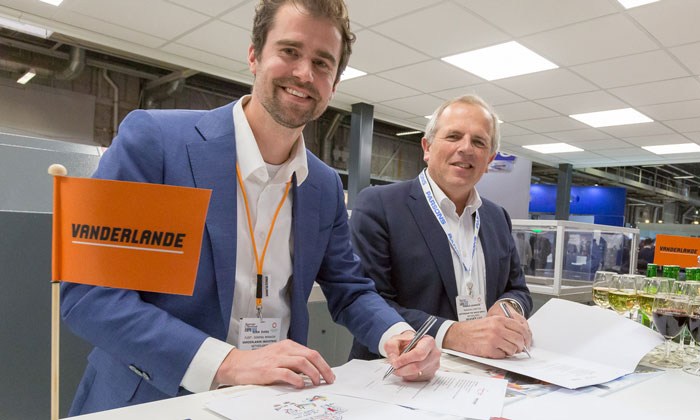 PEN ON PAPER: Mr. Koen Evers (General Manager FLEET of Vanderlande) and Mr. Ron Louwerse (Managing Director of Rotterdam The Hague Airport)
Vanderlande, a Dutch material handling and logistics automation company, signed an agreement with the airport at Passenger Terminal Expo in Stockholm last week.
The deal means RTHA will have the first live baggage handling system operation carried out by FLEET, Vanderlande's autonomous vehicle-based BHS.
Expected to go live in September 2018, FLEET does away with the need for fixed sorting systems.
It also consumes up to 50 per cent less energy compared to traditional baggage handling systems. Each individual vehicle carries a single bag and determines the most optimal route through an airport.
FLEET has been designed to seamlessly grow alongside an airport, match its operations, and allow it to adapt to changing security and screening regulations.
The agreement is aimed at helping RTHA to expand and improve its baggage sorting systems; handle a larger number of flights and passengers; improve ergonomic working conditions for ground staff; and future-proof the BHS.
Vanderlande has said it will benefit by acquiring experience of FLEET in a live airport environment through which it can test the total technical solution, as well as gain experience with its new business model.
"Following the successful launch at inter airport 2017, we have full confidence in FLEET's readiness for the market," said Vanderlande's Executive Vice President Airports and Member of the Board Andrew Manship.
"By signing this agreement, we are pleased to have the opportunity to test and optimise this innovative concept in a live environment, as well as contribute towards RTHA's strategic objectives."
Ron Louwerse, the Managing Director of Rotterdam The Hague Airport, added: "FLEET aligns perfectly with our overall vision of becoming an innovation hub.
"It is future-proof and scalable, will make a positive impact on our sorting efficiency and improve the ergonomics for our baggage handling team. We're pleased to have signed the agreement, because we believe that FLEET will become a key part of our operations and the best way to help us to connect with our future strategy."