easyJet transforms ground services at Gatwick by splitting handling and equipment
In one of the biggest ground services change in recent years, easyJet has separated its Gound Handling from its Ground Support Equipment at London Gatwick in a new contract with Rushlift GSE.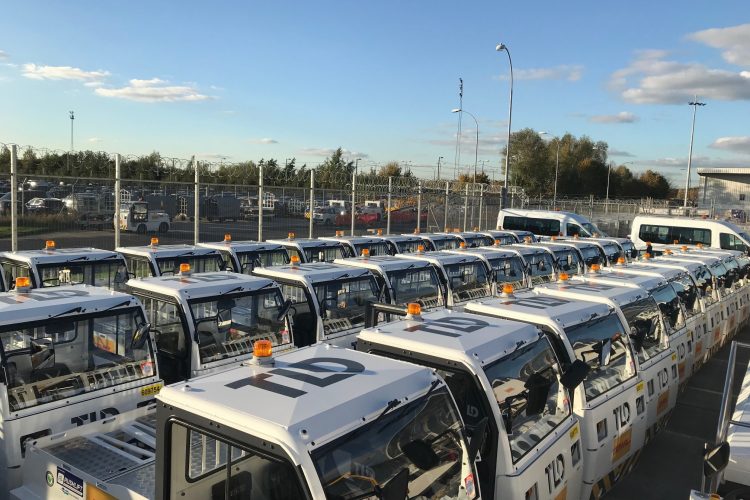 FLEET: The ground support equipment at Gatwick
Traditionally, in the aviation sector, ground service operations are sub-contracted to specialist organisations that provide both the labour and the ground support equipment. However, in 2017 easyJet took the unprecedented step of deciding to lease ground support equipment directly and bring in contractors that would supply labour resources only – a first for the sector.
"We made the decision that we wanted to have more control over the type and the volume of ground handling equipment available to us," said Graeme MacLeod, Head of Ground Handling Transformation at easyJet.
"Strategically, it made sense. Ground handling companies tend to provide both people and equipment, so if it comes to those companies wishing to save money the two principle ways to do that is to cut back on equipment or labour – and we didn't want to be in that situation. We wanted more control.
"If we own the equipment it makes it easier for any future transition – it just goes from one provider to another. In effect, the ground handler becomes more of an agency labour provider rather than a specialist equipment provider and separating the two gives us greater flexibility and reduced risk."
In Spring 2017 easyJet went to tender on the 449 pieces of specialist ground support equipment specified and in June a decision was taken to award the contract for the entire fleet to Rushlift GSE, a part of Doosan Industrial Vehicle UK. The deal was believed to be the largest order for airport ground support equipment in recent history.
Included in the five-year lease and maintenance agreement was a fleet of 30 electric powered push back tugs the TLD TPX100E – the first fleet of its kind in the UK – some 65 electric baggage tugs, 180 baggage carts, 65 steps, 30 belt loaders, 20 Fiat Panda cars, four Ford minibuses, along with tow-bars, low loaders, ground power units, TBL tractors and air start units.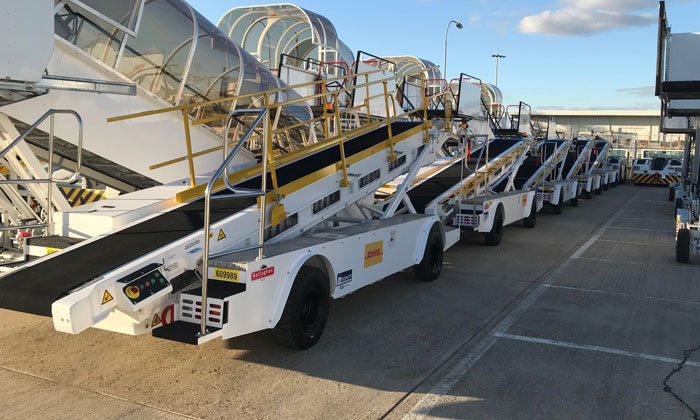 However, in addition to the sheer scale of the contract and number of orders placed on the equipment manufacturers, TLD and Mallaghan, there was a further huge challenge. The fleet of all-new airside equipment had to be delivered before the November 1, 2017 – the go-live date for the new ground staff contract with DHL. What's more, some of the equipment was required well in advance of go-live for an intensive ground staff training programme.
Tim Willett, Operations Director GSE for Rushlift, said: "This was a huge project. We had a very short window in which to supply the 449 pieces of ground support equipment to easyJet.
"Most of the equipment we supply has a four month lead-time, but easyJet wanted to go-live on November 1 which was just four months away. It was really pushing us to the limit."
Mr MacLeod said: "An important factor for us was that we needed to be placing our equipment orders before we launched with DHL. So we had to have confidence in our supplier.
"We engaged with Rushlift earlier last year to provide us with additional equipment to support our operations and bolster equipment for our ground handler at the time. The service was reliable and the equipment was up to the task, and that gave us confidence in Rushlift's ability to deliver."
Rushlift invested in a fully equipped on-site airside workshop in the North Terminal, a fleet of four Volkswagen Crafter mobile workshops and a ten person strong team of highly skilled maintenance engineers.
Mr MacLeod added: "This was the biggest ground handling change that's taken place anywhere in the sector for quite a long time – in one of the most complex airport operating environments – and no one outside of the local community here at Gatwick knew we had done that, which is testament to the work carried out by everyone to deliver a seamless transition."