New batch of smart gates go live at Dubai International
The biggest airport in the Middle East has announced the installation of 20 more smart gates that can process arriving passengers within 15 seconds.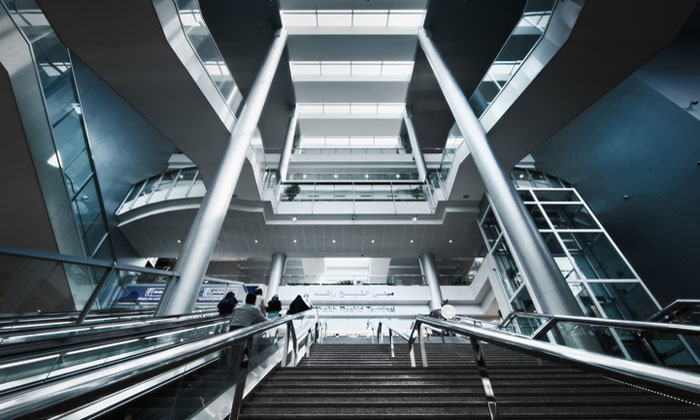 SEAMLESS: The entrance to Dubai International Terminal 1
New and 'enhanced' smart gates have been installed at Dubai International Airport (DXB) according to the emirates' General Directorate of Residency and Foreigners Affairs.
The 20 new gates are now fully operational in the arrivals area of Terminal 1 and go alongside the 10 installed last year in departures. In total, some 127 smart gates are available across the entire airport reducing average transaction times from minutes to under 10-15 seconds. 
The launch of the new smart gates coincides with the start of UAE's Month of Innovation, which is being observed from February 1 to 28 in response to a call last year by Sheikh Mohammed Bin Rashid Al Maktoum, Vice President and Prime Minister of the UAE and the Ruler of Dubai, to celebrate innovators and promote a culture of innovation.
"Dubai Airports is always looking at opportunities for innovation that makes the journey smoother and more comfortable for our customers. Smart Gates do just that by slashing transaction times to just 10-15 seconds and shortening queues," said Michael Ibbitson, Executive Vice President, Technology & Infrastructure at Dubai Airports.
"What's surprising is that only 17 per cent of our passengers take advantage of the service. If you have a UAE residency card, don't wait in line, use it. If you have a machine-readable passport, register it with immigration authorities. It will save you time and make your journey even more enjoyable."
Brigadier General Talal Al Shanqiti, Assistant Director General for Ports Affairs at the General Directorate of Residency and Foreigners Affairs (GDRFA) in Dubai, said "The installation of the new smart gates in Terminal 1 arrivals area is part of an integrated development project to provide passengers with facilities and services that make their travel through Dubai International a quick and easy.
"Passport control is a critical process as part of which maintaining a high level of security is our top priority. This new system helps us strike a balance between achieving that objective while also ensuring a better experience for the passengers through speed and efficiency."
"The smart gates at Dubai International are the result of continuous research and close coordination with the General Directorate of Residency and Foreigners Affairs and Dubai Airports. We are proud that the end result is a smart technology that now eases the journeys of millions of all passengers travelling through DXB. And that number will continue to grow," said Thani Al-Zaffin, Director General and Board Member of Emaratech, the technology provider behind the project.
The smart gates do not require a dedicated card and can identify a traveller by either their passport, Emirates ID, e-gate card or a QR barcode generated via the GDRFA smartphone app. They can be used by UAE citizens and residents, GCC nationals and passport holders from a number of countries that are eligible for visa on arrival. In total, more than 5.5 million travellers used the smart gates at DXB during 2017.
All UAE residents who are older than 15 years can use their Emirates ID to pass through the smart gates since the new service was launched in 2017. The new facility has reduced queuing times at DXB with nearly 4 million passengers using it in 2017. Dubai International was the first airport in the region and among the first globally to introduce automated immigration gates in 2002.