Foundation stone laid in $191 million Assam airport terminal build
Indian officials have gathered to mark the beginning of works on an ambitious terminal build at the biggest airport in the Assam region, Lokpriya Gopinath Bordoloi International Airport.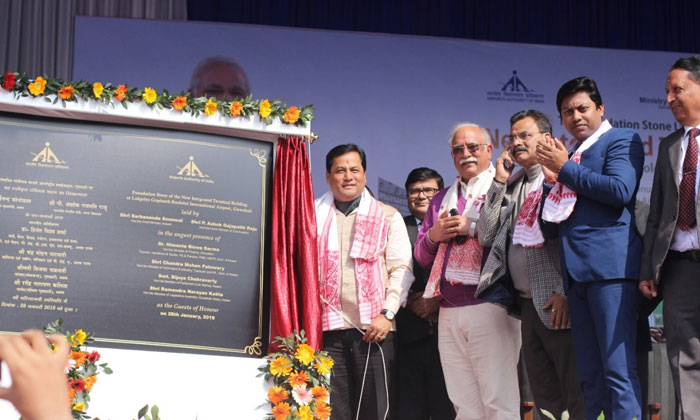 CEREMONY: Unveiling of plaque by Sarbananda Sonowal and P Ashok Gajapathi Raju, laying the foundation stone of New Integrated Terminal Building at LGBI Airport, Guwahati
Works have officially begun on a new 'integrated terminal' at one of India's fastest growing airports.
The foundation stone was laid at Lokpriya Gopinath Bordoloi International (LGBI) Airport in Guwahati on Sunday by the Minister for Civil Aviation, Pusapati Ashok Gajapathi Raju, and the Chief Minister of Assam, Sarbanada Sonowal.
The proposed build will cost Rs 1,232 crores, or around USD$193 million, and will spread over 9000 m2. The Airports Authority of India (AAI) has said it will be equipped with world-class passenger facilities and will have the capacity to handle 3100 passengers during peak hour. The interiors of the building will depict local handicrafts, murals and popular tourist destinations of Assam.
Commenting on the airport project being handled by the Airports Authority of India, Sarbanada Sonowal said: "Guwahati, the largest city of Assam and North East of India, and one of the fastest growing cities in India is on its way to transform into a Smart City.
"Today is an important day for Guwahati and Assam. The new airport being constructed by AAI will surely meet the futuristic demands of Guwahati and will further add to the infrastructural development of this expanding city."
In its statement the AAI said the new terminal building will conform to GRIHA (Green Rating for Integrated Habitat Assessment) 4-Star rating. The city side of the building will be 'aesthetically landscaped' with green areas. A small internal forest feature, bamboo artefacts and a craft village, are integrated into the overall design, in a bit to highlight the ethos and culture of the Northeastern region of India.
An efficient solid waste management system, reuse of treated water for flushing and horticulture purpose, rain-water harvesting with sustainable urban drainage system and use of efficient water fixtures are included among green features of the project.
Last year, LGBI grew by 36 per cent to 3.8 million passengers making it the fastest growing out of India's top twenty largest airports.