EUROCONTROL trial new A-CDM concept at regional airport
A project to cut costs and workload in A-CDM has been positively received at a Spanish regional airport.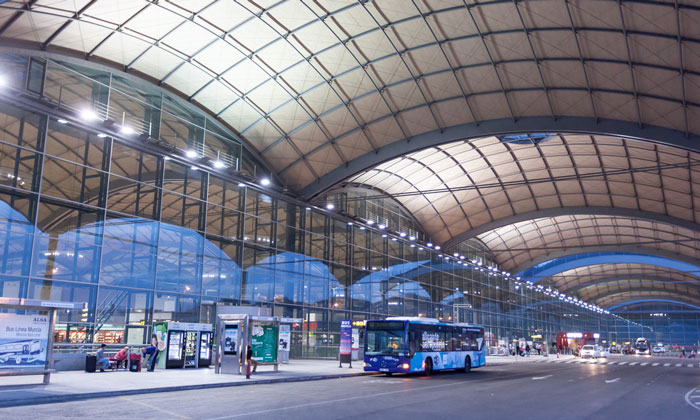 TEST SITE: The outside of Alicante Airport at night
European air traffic management organisation EUROCONTROL has received 'positive feedback' on a one-week Airport Collaborative Decision Making (A-CDM) project in a regional airport.
In a post on its website this week, EUROCONTROL announced the completion of the trial in Alicante Airport, Spain. It wanted to test out a "low-cost, low workload, simplified approach to turnaround monitoring that would be specifically applicable to regional airport". The focus was on the turnaround process and, in particular,  Target Off Block Time (TOBT) – the time that an aircraft operator or ground handler estimates that an aircraft will be ready, all doors closed, boarding bridge removed, push back vehicle available and ready to start up/push back immediately upon reception of clearance from the tower.
Up to 16 'milestone estimates' need to be provided for each flight to provide an accurate TOBT estimate, and it is the workload involved in compiling these milestones that contributes to the slow down in A-CDM deployment.
A spokesman for EUROCONTROL said in the organisation's announcement: "For the concept to function with the degree of automation that we are looking for, it is necessary to be able to reliably translate each event-based milestone into a forward prediction of the TOBT.
"Such a translation relies on the stability and therefore predictability of certain characteristics of the airport performance covering both airside and landside aspects, in particular taxi-in and taxi-out times as well as the turnaround and expected boarding duration times. These values and their main drivers are an integral element of this approach and are derived from an analysis of a large amount of historical data from the airport.
"Based on the work carried out to date in PJ04 on this concept, and in collaboration with ArianeGroup, the EUROCONTROL Airport Operations Centre (APOC) validation platform was upgraded to create an environment suitable for the evaluation of the concept.
"The platform was connected to NM via a B2B connection for the reception of Flight Update Messages (FUM) and was configured to determine (and record for analysis purposes) the full set of Departure Planning Information (DPI) messages based on automatically generated TOBT estimates from the flight events and the boarding process.
"In addition, the platform was connected to the local Alicante Airport operations database in order to capture various 'aircraft status' events, including the boarding status. We were also provided with information relating to the presence of 'Reduced Mobility' Passengers on a flight as this impacts the boarding time, which is a key parameter used in the decision-making process linked to automatic TOBT updates."
The spokesman added that the feedback had been "extremely positive" and the participants were enthusiastic about bringing it in full time.