Fraport Greece unveils €10m plans for 'Alexander the Great' Airport
Millions will be invested in a terminal expansion along with remodelling an upgrading of existing infrastructure at Kavala Airport, the group has announced.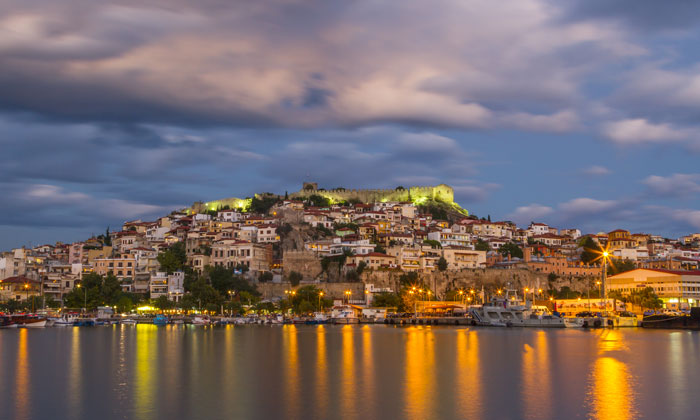 PICTURESQUE COASTLINE: The city of Kavala on the Aegean Sea
The Greek arm of the German airport giant Fraport has presented details of its €10-million development at Kavala Airport.
Fraport Greece's plans include a 2,000-metre-squared terminal expansion, remodelling of the existing terminal, the installation of a state-of-the-art baggage handling system, as well as a remodelled and expanded fire station.
Kavala Airport, subtitled Alexander the Great, an honour it shares with Skopje Airport in Macedonia, has seen a 5 per cent passenger increase in the last year.
The plans were announced at an open event on Thursday December 7. It was attended by representatives from local authorities, local stakeholders and the local community, who discussed with company representatives a range of issues related to the airport's developmental plans and the region's potential to attract tourist growth.
Fraport Greece CEO Alexander Zinell said: "It is a great pleasure being here today in the beautiful city of Kavala – an important crossroad of civilisations and gateway to some of Greece's most important archaeological and holiday destinations. I am delighted to announce that the development and upgrade works at Kavala airport 'Alexander The Great' are about to start. Within just one year, Fraport Greece will completely overhaul the existing airport and significantly improve the passenger experience.
"Our investment for the remodelling and expansion of the terminal building by 2,000 m2 will exceed €10m. By 2019, the airport will be able to offer modern amenities to passengers and provide ample capacity until the year 2026 and beyond.
"Already the airport is fully staffed and fully operational, so that it can accommodate the increasing number of flights that are being diverted to 'Alexander The Great' while the state works at Thessaloniki airport "Makedonia" are being undertaken.
"Kavala airport has a great deal of development potential for Fraport Greece. I am pleased to have witnessed today the full support of our plans by the local community"
Fourteen Greek airports, including Kavala, were privatised in 2015 when Fraport AG and the Kopelouzos Group signed contract with the Greek privatisation fund, taking them over for 40 years.