First passengers set foot in Québec International's new terminal
The biggest construction project in the history of Québec City Jean Lesage International Airport is winding up after years of planning and investment.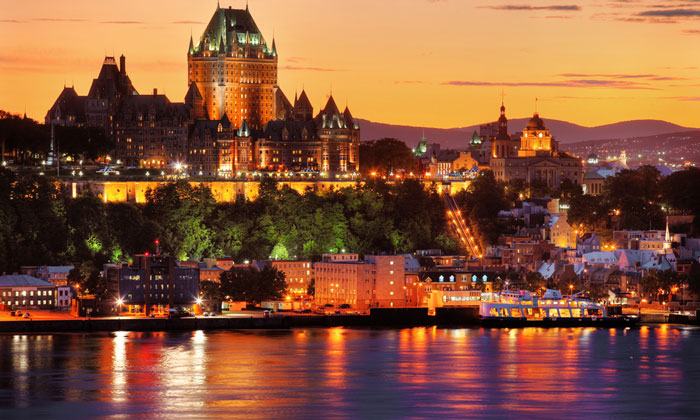 CUTTING THE RIBBON: Québec old city
This week flyers had their first glimpse of the new international terminal at Québec City Airport.
Québec City Jean Lesage International Airport (YQB) completed its YQB 2018 project at the end of last month. It involved an investment of CAN$277 million as well as 550,000 hours of work since 2015.
The new terminal is expected to handle two million passengers between its opening on December 11 and 2020.
"Based on our vision of Passenger First ®, we have chosen to build world-class infrastructures in order to respond to the worldwide growth in air travel and meet the needs of travellers in the Québec City area. It is with great pride and excitement that we welcomed the principal beneficiaries of this ambitious project—our passengers," explains Gaëtan Gagné, the airport's president and CEO.
 It was also opening day for the new concession holders who will operate in the terminal building: the duty free store The Loop, operated by Aer Rianta, the Nourcy bar and restaurant area, and the Relay convenience store, housed in a new space.
YQB 2018 involved a dozen construction and IT projects all running at the same time, including a refurbishment of the airport's runways.
The result is four new passenger gates, self-serve check-in kiosks, automated self-service customs kiosks, charging stations for smartphones and tablets, bigger food courts offering a wider range of meals, more baggage carrousels serving international flights, a more user-friendly and better-designed customs area, a duty-free store that is four times larger, a larger capacity luggage area, automated baggage drop-off facilities, and dynamic communications and signage systems, including the YQB mobile application.
"YQB 2018 required years of preparation, months of work and the talent of thousands of people in order to deliver a major, complex but necessary upgrade on time and on budget. This has made Québec City Jean Lesage International Airport a world-class facility that is second to none," says Gaëtan Gagné.
The first phase of work for the YQB 2018 project, the construction of the new terminal, has now been completed. Phase 2, which will improve the layout of the existing terminal building, will begin in January 2018.