San Francisco announces anticipated approval of "pop-up" concession leases
Posted: 19 September 2013 | San Francisco International Airport (SFO) | No comments yet
New program offers increased Airport access to small, local businesses…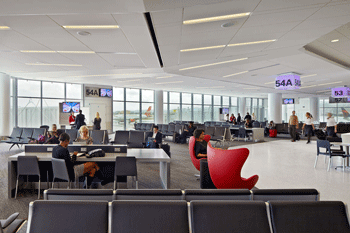 San Francisco International Airport Terminal 2 Gate Lounge
The San Francisco International Airport (SFO) announced the anticipated approval of an innovative addition to their nationally-recognized amenity program: the "pop-up" concession program. This concept is tailor-made for small businesses to gain access to the Airport, with move-in ready fixtures provided to reduce the initial start-up costs that challenge many small businesses. 
The Airport Commission is expected to approve the first two pop-up concession leases on September 17, 2013. The program will launch with two separate retail locations, each located in Boarding Area E of Terminal 3, scheduled to open in January 2014.
"This is a win-win innovation." said Airport Director John L. Martin. "I am excited that our customers will enjoy an expanded selection of locally-sourced concessions, and our small business community gains greater access to business opportunities at SFO."
The anticipated lease award will be made to the following two businesses, which reflect the diverse and creative nature of the San Francisco Bay Area:
McEvoy of Marin LLC, a producer of local, organic, world-class olive oil and a natural body care line. McEvoy of Marin currently operates a retail location at the Ferry Building in San Francisco.
Collector, LLC opened its shop in Berkeley in 2011, and features locally made art and hand-crafted goods, including paintings, prints, ceramics, jewelry, linens, and other handmade items.
The Airport first created an office for Small Business Affairs in 1982. This pop-up concession program is yet another addition to SFO's robust programs to increase small business participation.
For more about SFO's efforts to support small business, visit: www.flysfo.com/business-at-sfo/small-business-affairs-office
Related topics
Related airports