Biosecurity x-ray machine to be trialled in New Zealand
A fresh tool in the fight against New Zealand's insecta non-grata, the fruit fly, will be rolled out in Auckland Airport over the coming months.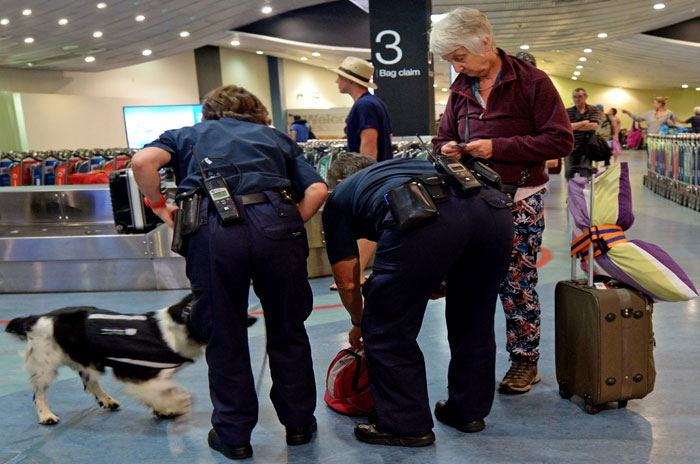 BUGBEAR: Biosecurity at Auckland Airport is often carried out by sniffer dogs.
Biosecurity has long been an issue in Oceania. Anyone who has ever visited Australia will be familiar with the explosive and devastating impact cane toads have wrought since they were brought from Hawaii in the 1930s.
Equally, the visitor will be aware of the complex screening process at airports in Australia and New Zealand that shields the nations from sometimes-miniscule invasive creatures.
In New Zealand, the Ministry for Primary Industries (MPI) has said a new machine with the potential to improve biosecurity and passenger flow has been developed and brought out for trial in Auckland Airport during the Southern Hemisphere's summer (December-February). 
It will target small bags, rather than suitcases, said MPI Detector Technology Manager Brett Hickman.
"This is an area that has the highest risk of bringing fruit fly into the country. Our stats show nearly 90 per cent of seizures of fruit fly host materials are from hand baggage."
MPI biosecurity staff have started directing selected passengers to the new unit during arrival peak times in the morning and evening.
"We have effectively added another lane to the biosecurity area, which speeds up waiting times for passengers."
Mr Hickman said the machine is the most technically advanced X-ray unit operated by MPI, making it easier for operators to detect risk items.
"It produces very high quality images. It also provides a side and a top view of baggage instead of just a single view.
He said X-ray screening of baggage plays an important role in preventing unwanted pests and diseases from entering New Zealand.
"It is part of a layered approach to managing risk that includes detector dogs and careful risk assessment based on intelligence and passenger profiling."
MPI currently owns and operates 28 fixed X-ray units for baggage scanning at international airports, military bases and the Auckland International Mail Centre.
It also operates three mobile machines used mainly to screen bags carried by cruise ship passengers.