Lower fee on lighter hold baggage to tempt short-break flyers
One of Europe's biggest budget airlines has introduced a new hold baggage band to satisfy its customers' demands.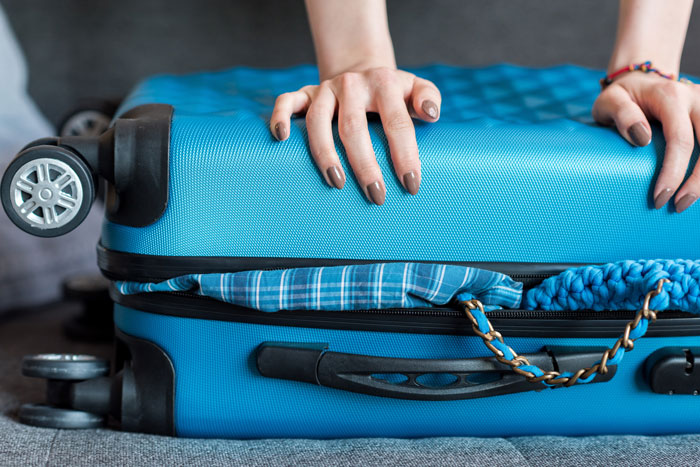 STRUGGLE: Flyers often try to cram as much as possible into hand baggage to avoid paying hold fees.
Luton-based airline easyJet will now offer a cheaper 15kg-or-less hold bag policy to tempt short-break flyers.
Passengers booking online can chose between an £8.99 base-rate for 15kg, increasing to £29.99 depending on route, or a £13.99 charge for up to 23kg, which goes up to £33.99.
On the cheapest routes, this comes to 61p/kg for the 23kg option and 60p/kg for the 15kg option. However, to more expensive, longer haul destinations, the difference in price is more marked. At most, the 23kg option costs £1.48/kg whereas the 15kg option costs £2/kg.
easyJet say that their new options mean that those heading off on a short break no longer need to squeeze everything into a small cabin bag, whilst giving more peace of mind to customers on longer breaks who already travel with easyJet's standard hold bag by increasing their allowance by an extra 3kgs.
Andrew Middleton, Director at easyJet said: "In the last year almost half of our passengers' hold bags contained 15kgs or less, whilst there were also millions of customers who required more weight than we previously allowed with the 20kg bag. Our new products better match those customers' needs, ensuring we offer value for money choices for everyone, regardless of trip type or duration."
The deal will only be available online so those rocking up to the airport on the day hoping for some free hold space will still need to pay the marked-up price for 23kg.
As before, customers are still able to pool their total weight allowance if they are travelling with family or friends on the same flight and booking. Customers who have already purchased a 20kg for future flights will keep their existing allowance and will still be able to add weight to their bags up to 32kg as per the prior policy. The new bag weight allowances will only apply to new bookings.
Related airlines
Related people