International Airport Review Awards 2017: Our Air Traffic Control shortlist
Earlier this week, we gave you a few more details on our shortlisters for airside operations. Now we introduce our picks for air traffic control (ATC).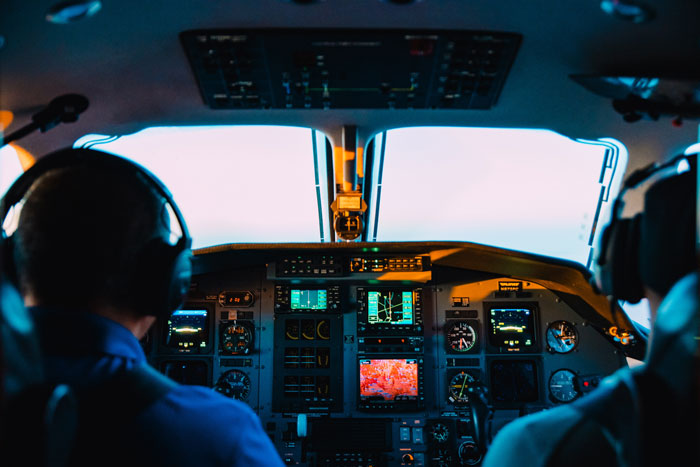 FLIGHT DECK: Air Traffic Control is the airport's link to the pilots Photo by Caleb Woods on Unsplash
ATC is a fairly unambiguous as far as our core topics go. It refers to people, suppliers or airport areas devoted to monitoring traffic and ensuring it safety on the ground and in the sky. Technology is huge in this ever-developing field, from new displays to ways of keeping planes informed of what is going on below.
When we put together our list, we were again looking for efficiency. We want the winner here to have proven they have maximised the efficiency of their own or a client's flight arrivals and departures in an innovative way. Entrants could earn the top spot by besting a variety of inclement conditions, improving the safety of aircraft or making changes to air traffic control that helped streamline other areas of airport operations.
Shortlist: NATS
National Air Traffic Services (NATS) is the UK's main provider of navigation services. It works with 14 British airports including four of the country's five largest: Heathrow, Manchester, Stansted and Luton. Its ownership is split, 49 per cent in the hands of the British Government, 42 per cent held by the Airline Group, 4 per cent by London Heathrow Limited and 5 per cent in an Employee Share Trust.  
For International Airport Review's inaugural awards NATS put up a research it had undertaken and the result of that research when put in practice at Heathrow Airport. The air traffic control company set out to counteract the effect of wind on landing rate, conducting five years o research. The time based separation (TBS) system it put together was validated by SESAR Project in 2014. TBS "dynamically adjusts the separation between arrivals, maintaining the time separation between aircraft at a constant equivalent to the distance separation required in a headwind of five to seven knots and, in doing so, safely reduces approach separation to recover most of the capacity otherwise lost during strong headwind conditions."
The results at Heathrow have been encouraging. TBS went live at the airport and since then it has seen a 62 per cent reduction in headwind-related delays, eight more landings every hour, six more landings every hour with headwind greater than 20 knots. There are now 30 per cent fewer spacing-related go-arounds, 30 per cent fewer wake encounters at less than 6000ft and 115,000 fewer minutes of airborne holding every year.
This entry ticks boxes all over for us. NATS have maximised the efficiency of operations at Heathrow by increasing landing rates and cutting delays and got the best of the headwinds.
PT Angkasa Pura
This is the state enterprise of the Indonesian Department of Transport. Split in to two, PT Angkasa Pura I, for eastern and central Indonesian airports, and PT Angkasa Pura II for western airports, the enterprise collectively moves around 100 million people every year. PT Angkasa Pura II operates Soekarno-Hatta International Airport – the 22nd busiest airport 
Over seven years it has been consistently increasing Air Traffic Movements (ATM) per hour at Soekarno-Hatta International Airport on its three runways. In 2011 it had 52 ATM/hr, in 2014 it had 72 and by next year it aims to have 86. It enlisted the services of the UK's National Air Traffic Services and implemented a number of NATS' recommended improvements including a new taxiway, Apron Movements Control new assignments, a new terminal with the capacity for 25m passengers every year and 'optimisation' of terminals one and two.
In 2017, it was successful with trials at 86 ATM/hr and so seem hopeful that they can wheel it out completely next year.
The evidence of willingness do drive up performance impressed us. All Indonesia's airports face a huge amount of footfall, so streamlining and increasing the number of flights heading out each hour, by 65 per cent in less than a decade if their aims come to fruition, can only be good news.  
Swiss International Air Lines
The national airline of Switzerland, Swiss International Air Lines has a hub in Zurich Airport and are owned by Lufthansa. They maintain a fleet of 76 planes and fly to 102 destinations in 46 countries.
Swiss developed a process called Collaborative Cherry Picking, an operational procedure that aims to make more efficient use of the limited capacity at Zurich Aiport during its midday peak. The concept was brought out through a collaboration between SWISS and Flughafen Zürich AG, skyguide ATC and EUROCONTROL. SWISS decided according to the passenger connections, planned aircraft and crew rotations which flights were operationally important and thus contributed to a smooth operation of the entire SWISS network at Zurich hub. These identified  "Cherries" got a preferential landing slot in Zurich, without additional delay minutes due to limited capacity.
Swiss also put out iStream demonstration project, which was supervised by SESAR Joint Undertaking and co-funded by the EU, was intended to optimise peak-time airport arrivals. By assigning "target times" for each flight's arrival, approach sequences were established in advance, ensuring efficient approaches for all the flights concerned and avoiding the need to fly holding patterns. This also reduced fuel consumption, along with the associated carbon dioxide emissions.
Thanks to CCP, SWISS got actively involved in the delay allocation process by prioritising operationally important flights. This enabled SWISS to reduce schedule disruptions in terms of missed connections as well as failed aircraft and crew rotations
A 12-month trial of the iStream process began in June 2015, and saw some fairly significant results. There was a 96 per cent reduction in the number of holding patterns required before arrival at Zurich Airport and a 30 per cent reduction in the arrival distance per flight.
And the winner is….
You'll find out in Issue 6, to be released on Wednesday November 29. To find out more about the entrants, click HERE.
Related topics
Related airports
Related organisations