Cloud-tech partnership helps create fully mobile bag-drop service
It seems like only yesterday baggage drop desks started becoming an impersonal, automated affair. Now Australians can take advantage of pop-up drop-off services at their convenience.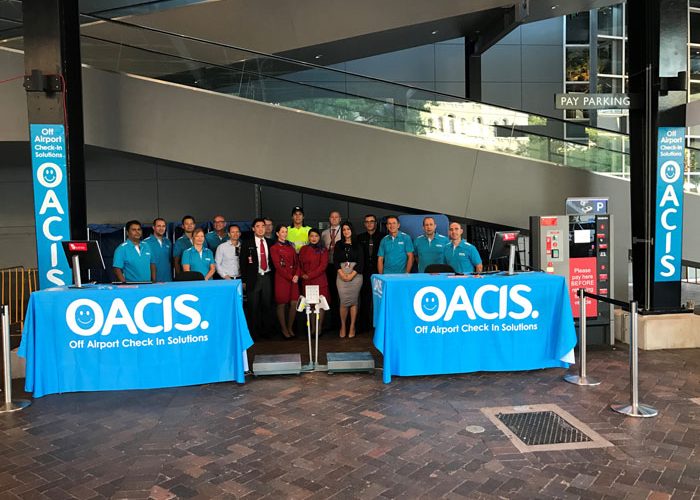 POP-UP: The Virgin Australia, Amadeus
A partnership between a cloud-tech firm and remote check-in company has born fruit with a new service for Australian flyers.
Amadeus and Off Airport Check-In Solutions (OACIS) have created a fully mobile check-in and bag-drop service that can be set up in any location – from cruise terminals and train stations to hotels and conference centres.
While OACIS provides the service, it is Amadeus' Airport Common Use Service (ACUS) cloud technology that empowers it. The technology allows airline passenger processing systems to be accessed anywhere, on demand. With it, OACIS can access any airline's check-in systems in the cloud with just a laptop and internet connectivity.
Matthew Lee, CEO of OACIS, said: ""Our service is about giving people more freedom, flexibility and fun so they get the most out of their travel. Travellers can drop off their bags at a convenient location, make the most of their day luggage-free, breeze through the airport without having to queue at the check-in desk, and enjoy their flight knowing their bags will be ready for them at their destination. To do this, we needed the right partner, and Amadeus fit the bill. They were open to working with innovative, disruptive new players, and we were impressed by their agility which has allowed us to launch so quickly."
Virgin Australia is the first airline to adopt the service and has already piloted it in Sydney for cruise ships and oceanliners. The service is launching in Australia, but OACIS is planning to expand to New Zealand and other markets in the next 12 to 18 months.
Amadeus say that off-site check-in services are not just for the convenience of the passenger. They will also serve as a patch for the growing problem of capacity with global passenger traffic expected to climb by 5.2 per cent every year until 2029, according to the Airports Council International (ICA).
Sarah Samuel, Head of Airport IT Sales, Asia Pacific of Amadeus, said, "In the past, airlines and airports have been constrained by low innovation and legacy technology, but our cutting-edge cloud technology is enabling new business models and opportunities, such as OACIS. By collaborating with innovators, we are transforming the travel experience." 
 
"Through this partnership, airlines are no longer restricted in the way they manage passenger flow. With OACIS, they can be agile in their service offerings, avoid queues and congestion, and create a better traveller experience. In the future, they may be able to do away with the airport check-in desk all together, opening up that space for other revenue opportunities"