Honeywell announce new partnership with Istanbul New Airport
Honeywell has signed an agreement with IGA Airports Construction to provide its Advanced Visual Docking Guidance System (A-VDGS) for Istanbul New Airport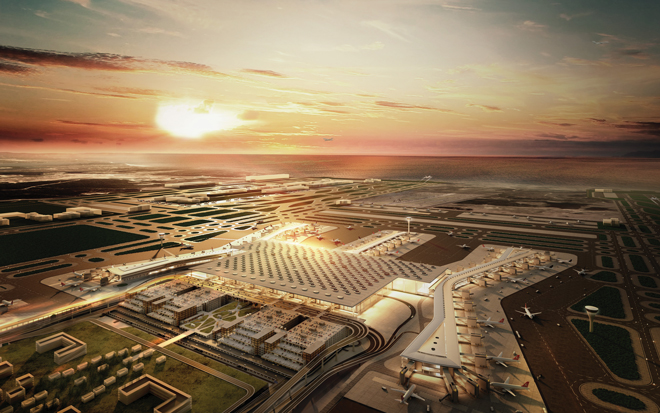 MEGAHUB: Istanbul New Airport is one of the most anticipated builds of 2018
IGA's Istanbul New Airport is currently under construction in Istanbul, Turkey. The technology will help speed airplane gate arrivals and departures safely and efficiently, and optimise gate capacity at the new airport, which is anticipated to be one of the world's largest airports upon its completion in 2018. 
With an annual capacity of 200 million passengers, the Istanbul New Airport is expected to serve more than 350 destinations and operate as one of the biggest aviation hubs bridging the East and the West.
The project, which is divided into four construction stages, includes the development of four independent runways and a main terminal with 114 visual docking guidance systems, all of which are to be provided by Honeywell under the terms of the agreement.
"With Istanbul New Airport set to become one of the largest and busiest airports in the world, a state-of-the-art docking guidance system is critical for safe, efficient and precise aircraft movements to and from the gate," said Mr. Yusuf Akçayoğlu CEO of IGA Airports Construction.
"We have selected Honeywell's Advanced Visual Docking Guidance System solution because of its ability to best meet our operational requirements and capability to communicate with other airport systems for improved performance and efficiency. These intelligent systems will make Istanbul New Airport a worldwide leader in technology."
The Honeywell system will help the new airport accommodate a high amount of airline traffic by providing continuous gate monitoring to ensure pilots can safely dock planes faster and with better accuracy. Using a High Dynamic Range CMOS (HDRC) sensor, high-capacity image processing unit and proven image-processing techniques, the system detects incoming aircraft and converts the processed data into precise guidance information, which is displayed on a Pilot Display Unit (PDU) for safe docking.
"By deploying smart technology like our A-VDGS, IGA is ensuring it can stay ahead of the game when it comes to managing capacity, future-proofing operations and, crucially, maximising passenger safety at what will be one of the world's busiest airports," said Orhan Genis, president for Honeywell's Turkey and Central Asia region.
"Honeywell's A-VDGS system is the latest milestone in a 100-year heritage of bringing advanced technologies to the global aviation industry to make operations safer, more efficient, productive and profitable."
Key technology components of the A-VDGS include: innovative 3-D aircraft detection technology for flawless and non-contact based detection of aircraft type and sub-type; all-weather display with wide visibility angle and extended readability; and lower total cost due to reduced maintenance from no moving parts or motors.
Fully compliant with International Civil Aviation Organization (ICAO) requirements  the A-VDGS will help Istanbul New Airport to streamline operations by increasing ground traffic capacity, reducing controller-pilot communications and ensuring safe, reliable docking under all weather conditions for all aircraft types.