Istanbul New Airport to create thousands of new jobs
According to the recently published Istanbul New Airport Economic Impact Analysis, the airport could provide employment to up to 225,000 people by 2025.
With an estimated investment of 10.25 billion euros, Istanbul New Airport is not only the largest infrastructure project in Turkey's history, it will also be a huge job creator.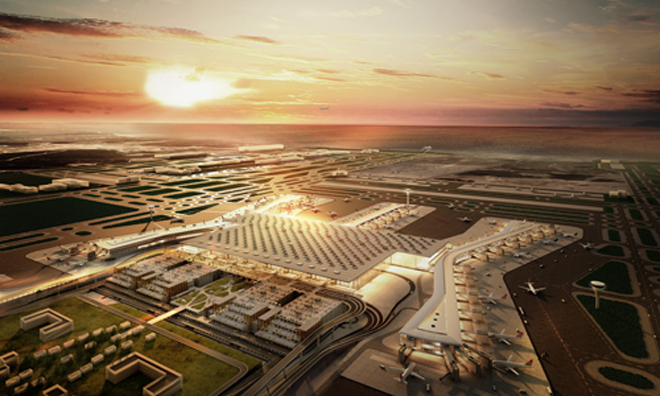 The figures are part of a study which was prepared by Istanbul Economics, an independent research and consultancy company, and think tank EDAM (Centre for Economics and Foreign Policy Studies), both based in Istanbul. Employment will come in fields like ground services, airlines, security, maintenance and repair, and food and beverage. 
Around 100,000 jobs could be created directly.
More jobs and economic growth are just some of the effects of the new airport. The researchers stress that the international hub will foster direct investments and innovations.
"There is a proven relationship between airline connections and the capacity of countries in attracting foreign direct investment," they state. High-technology production and knowledge-intensive services are attracted by strong airline connections. Innovation centres and science parks will arise around the airport. Access to medium- and long-distance flights also contributes to the growth of high-technology employment.
Istanbul will be one of the main beneficiaries of the airport, whose first phase is planned to be activated in the first quarter of 2018. It will have 2,000 flights a day and host 90 million passengers per year.
Daily 3,500 flights and a capacity of 200 million passengers are planned for the long run.
Airport City, with its hotels, office buildings, and health-care centres, forms the new business centre of the city. Istanbul will develop further on an east-west axis, which will help ease the pressures of migration. Investments in infrastructure projects like the Third Bosporus Bridge and in new train and public transport services to the hinterland bring the city closer together and help develop the area around the airport where urban development is relatively weak.
Thus, the airport will enhance Istanbul's role as a bridge and one of the most important centres between East and West, underlining the city's tradition as a cosmopolitan, open-minded metropolis.
Moreover, as the analysis points out, it will contribute to Turkey's integration into the world, since the aviation sector in Turkey is leading other sectors on the subjects of openness to competition and integration with the global economy.
Related topics
Related airports
Related regions