Etihad Airways and Abu Dhabi International Airport welcome first guest to new Terminal A
As the UAE's national airline, Etihad Airways operated the first commercial flight from Abu Dhabi International Airport's new Terminal A.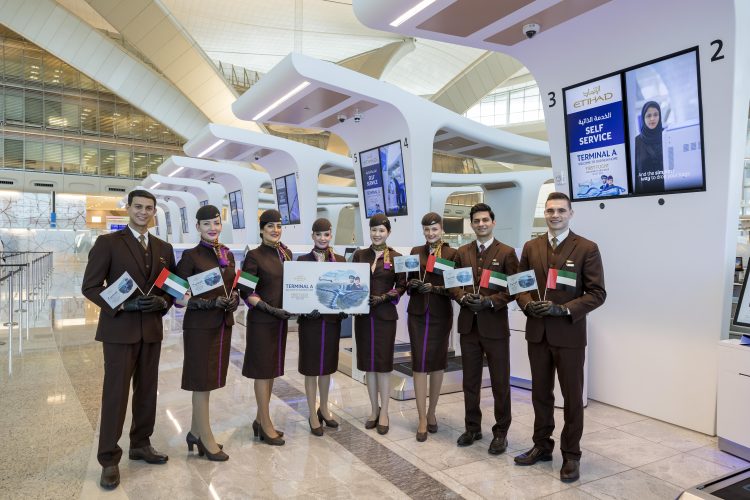 Etihad Airways Cabin Crew celebrate Terminal A, at check in. CREDIT: ETIHAD AIRWAYS
As the UAE's national airline, Etihad Airways operated the first commercial flight from Abu Dhabi International Airport's highly-anticipated new Terminal A on 31 October 2023.
Etihad flight EY224, from Abu Dhabi to New Delhi, departed Terminal A on the 31st at 14:35. The flight used one of the airline's Airbus A350-1000, with 359 guests onboard.
Etihad and Abu Dhabi International Airport welcomed the guests who made history as they enjoyed the seamless experience of checking in at Terminal A for the first time.
To commemorate the occasion, all passengers, including those in both Economy and Business classes, had the unique opportunity to be the inaugural guests at the new flagship Etihad Lounges which span three floors at Terminal A.
After sampling a special menu of celebratory cuisine at the Etihad Lounge, guests made their way to Gate C27, where themed decorations and a photo booth awaited to capture this historic moment.
The ceremonial flight was officially inaugurated with a ribbon-cutting ceremony attended by a distinguished array of guests, including Etihad and Abu Dhabi Airport Board members and aviation leaders.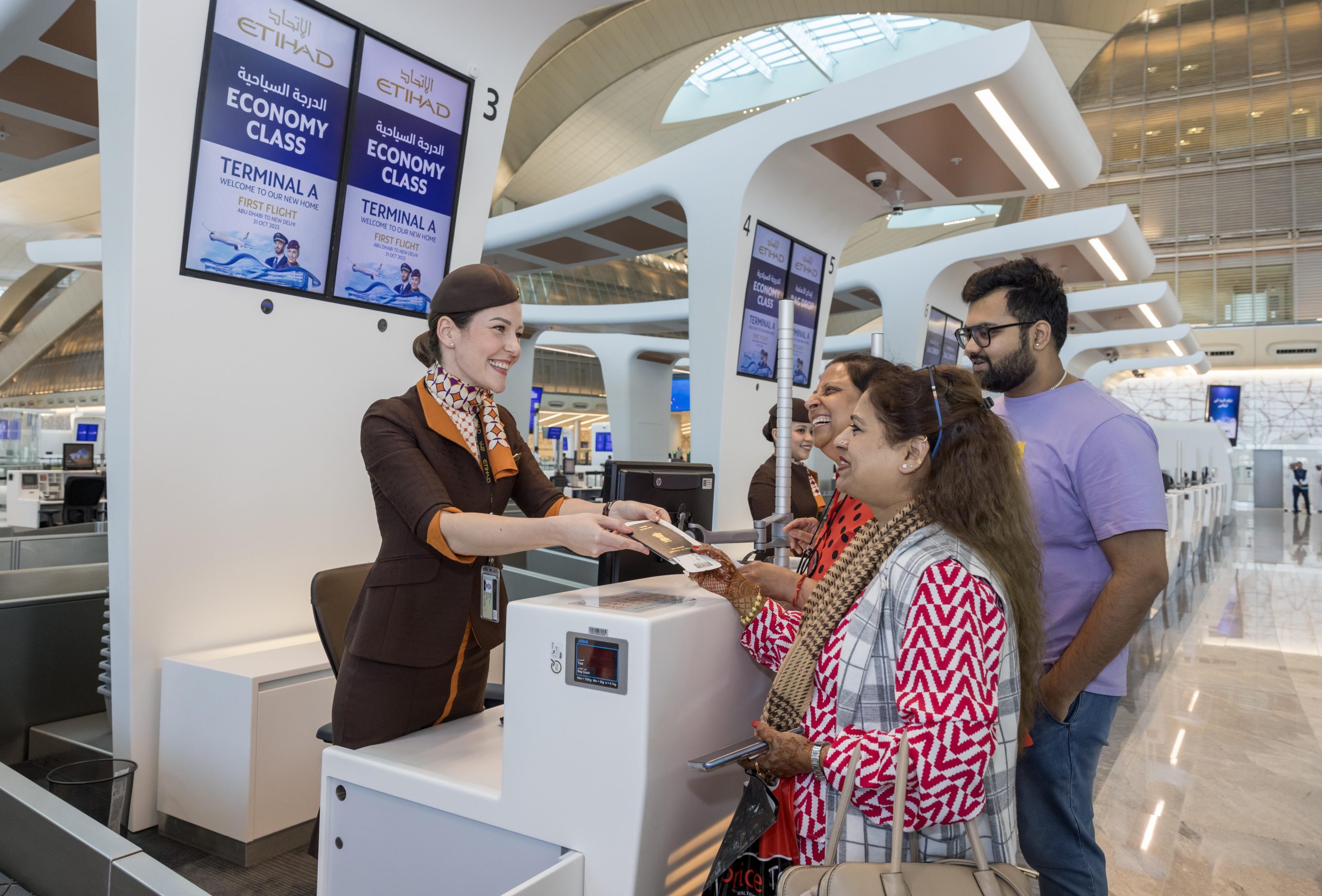 Etihad Airways welcomes first guests to check in at Terminal A. CREDIT: ETIHAD AIRWAYS
Among those present were Etihad's CEO, Antonoaldo Neves, as well as Elena Sorlini, Managing Director and Interim CEO and Frank McCrorie, Chief Operations Officer at Abu Dhabi Airports. Antonoaldo and Frank both gave speeches to officially welcome the airport's first guests.
Antonoaldo Neves, Chief Executive Officer, Etihad, said: "This is a pivotal and exciting moment in Etihad's history. As we begin to celebrate our 20th anniversary in November, we are ready for the next growth chapter in our new home.
"Our congratulations go to the Abu Dhabi leadership for their vision in creating what is one of the world's most spectacular airports. The terminal is a stunning piece of architecture that echoes the local landscape and warmly welcomes our guests and elevates their travel experience.
"As we begin our transition to our new home, we look forward to welcoming even more passengers as we continue to grow and expand our fleet and network."
Elena Sorlini, Managing Director and Interim CEO at Abu Dhabi Airports, said: "This is an historic moment for Abu Dhabi International Airport, our partners at Etihad Airways, and the emirate as whole.
"The first flight from Terminal A marks a major milestone in the journey of Abu Dhabi's aviation sector. Terminal A brings a significant increase to capacity, and delivers state-of-the-art facilities to both airlines and passengers.
"We look forward to welcoming more passengers throughout November as we continue to increase the number of flights departing and arriving at Terminal A."
Terminal A is a key pillar of Etihad's growth strategy, with the capability to handle up to 45 million passengers annually and connect Abu Dhabi to 117 global destinations.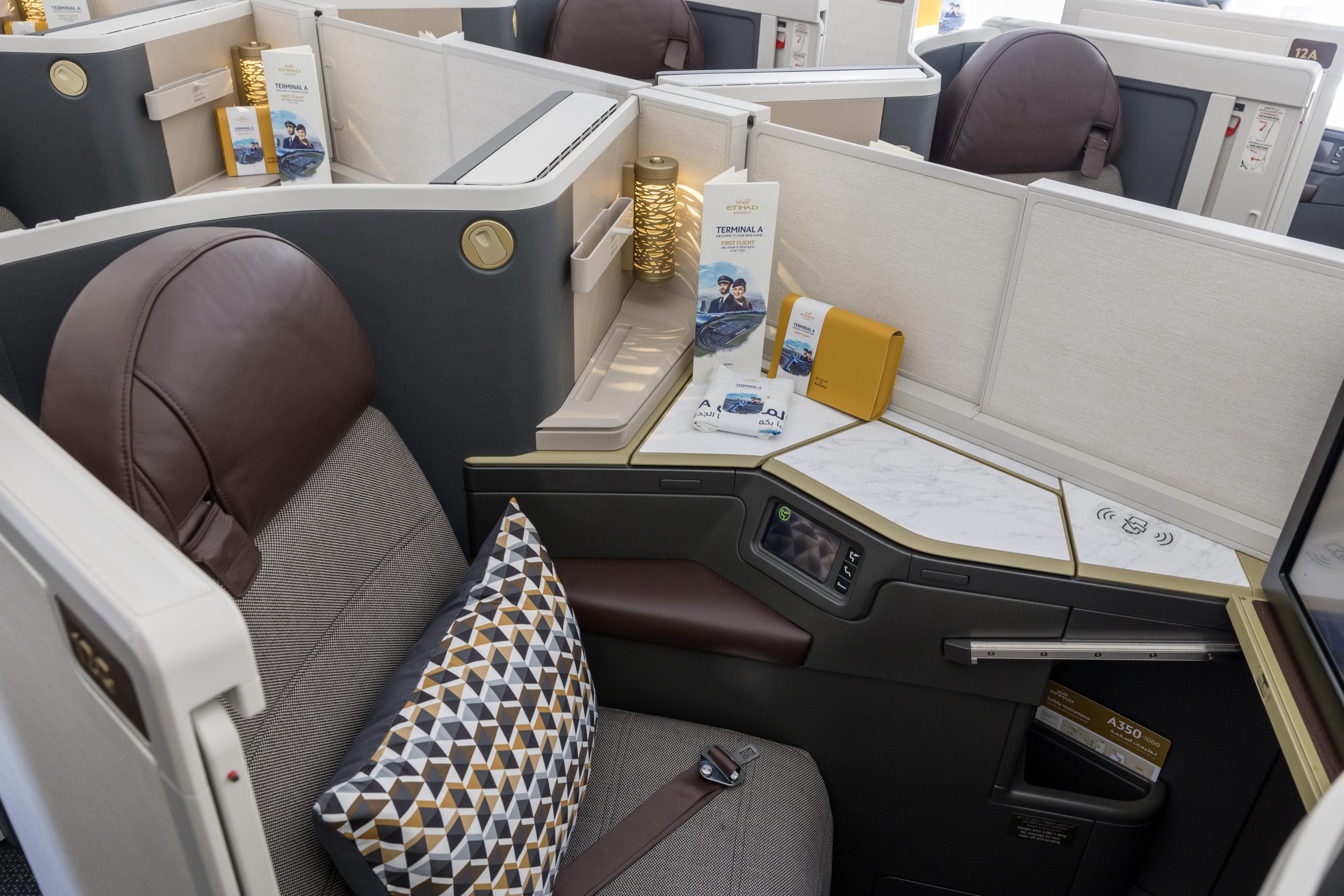 Celebratory amenity kits in Etihad's Business class on first flight from Terminal A. CREDIT: ETIHAD AIRWAYS 
The Terminal at Abu Dhabi International Airport provides dedicated check-in desks for Etihad's Economy guests, as well as exclusive areas for guests travelling in Business and First to enjoy a fast-tracked, premium experience. Additional state-of-the-art biometric self-bag drop facilities are available for all guests wishing to take advantage of a speedy check-in.
Guests flying in Etihad's premium cabins can take advantage of the kerbside drop off facility outside of the First and Business class exclusive check-in area, where porters are on hand to assist with luggage.
Etihad's expansive new airport lounges feature an array of cuisine and dining options, a rooftop cocktail bar, a variety of relaxation spaces, games room and a family room. For added convenience, the Lounge offers direct boarding access for three aircraft, meaning many guests will be able to board their flight straight from the Lounge.
Etihad will transition flights to Terminal A in a phased approach from 09 November and during this time the airline advises all passengers to carefully check their terminal information within two days of travel to ensure the most accurate information.
Between 09 and 14 November, Etihad will operate from both Terminal A and Terminal 3, and from 11:00 on 14 November Etihad is set to operate all flights from Terminal A.