Norse Atlantic announces line-up of new destinations, including London, D.C and L.A
Norwegian low-cost, long-haul airline provider, Norse Atlantic are providing passengers with seven new travel destinations in a bid to stimulate economic activity and improve passenger experience.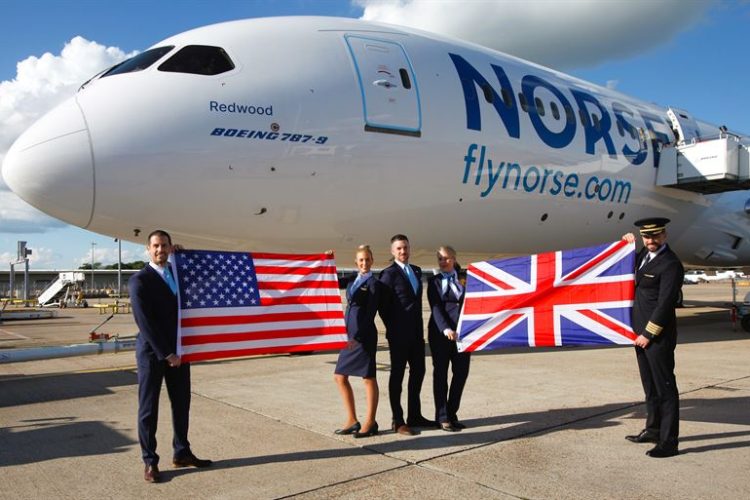 Norse Atlantic's announcement of new US and London travel destinations. Credit: Norse Atlantic
Customers looking to explore the world now have access to even greater selection, thanks to the airline's connectivity partnership with EasyJet, Norwegian and Spirit Airlines.
 Passengers flying from London Gatwick can now take the following routes:
London to Washington, D.C.: launching 01 June 2023, flights will operate up to six times a week. Return lead in Economy fares are from £430 including taxes.
London to Los Angeles: launching 30 June 2023, flights will operate daily. Return lead in Economy fares are from £430 including taxes.
London to San Francisco: launching 01 July 2023, flights will operate three times a week. Return lead in Economy fares are from £410 including taxes.
London to Boston: launching 02 September 2023, flights will operate five times a week. Return lead in Economy fares are from £370 including taxes.
These flights are available for purchase on flynorse.com. 
The move comes as part of Norse Atlantic's wider business goal. It is hoped that the added destinations will give consumers more choices; transatlantic markets will be stimulated and there will be job opportunities in the economy. CEO of Norse Atlantic Airways, Bjorn Tore Larsen, said the following:
"This marks an important day for the UK aviation industry and for consumers as we celebrate serving more destinations to the U.S. from London Gatwick this summer than any other airline. The addition of direct flights to Los Angeles, San Francisco, Washington, D.C. and Boston…will provide greater choice and value for consumers.
We have made a significant investment in our UK airline, based at Gatwick Airport, and now employ over 370 colleagues at our London base. I am very pleased that we are fulfilling our pledge to create competition in the transatlantic market that will benefit consumers, stimulate business travel and lead to job creation on both sides of the Atlantic."
The additions are welcomed in the UK too. CEO of Gatwick Airport, Stewart Wingate, remarked that: "We are delighted to welcome four new Norse Atlantic routes this summer, giving passengers a fantastic choice of seven U.S. destinations at excellent value, whether for holidays, business or visiting family and friends.
"The new services mean Gatwick and Norse will provide an increasingly competitive offering, which is great news for passengers across London and the Southeast, as well as businesses in the region."
The airline exclusively operates Boeing 787 Dreamliner aircraft and guarantees a comfortable travel experience for each traveller. Users also have the freedom of choosing cabins: Economy and Premium. They can choose from a simple range of fares (Light, Classic and Plus) that reflect importance and how they'd like to travel. Light fares represent Norse's value option, while Plus fares include the maximum baggage allowance; two meal services; enhanced passenger experience and increased ticket flexibility.
Norse Atlantic Airways is a new airline that offers affordable fares on long-haul flights, primarily between Europe and the United States. The company was founded by CEO and major shareholder Bjørn Tore Larsen in March 2021. Norse has a fleet of 15 modern, fuel-efficient and more environmentally friendly Boeing 787 Dreamliners that serve destinations including New York, Los Angeles, Fort Lauderdale, Orlando, Oslo, London, Berlin, Rome and Paris. The company's first flight took off from Oslo to New York on 14 June, 2022.