SFO's Harvey Milk T1 first to achieve full WELL certification
San Francisco International Airport has revealed that Harvey Milk Terminal 1 has become the first airport terminal in the world to earn a full WELL Core Certification.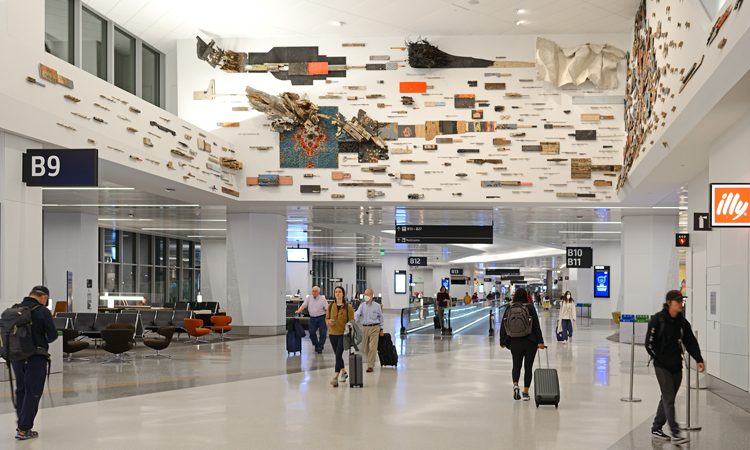 The San Francisco International Airport (SFO) has announced that Harvey Milk Terminal 1 has become the first airport terminal in the world to earn a full WELL Core Certification, a performance-based system for measuring, certifying, and monitoring features of the built environment that impact human health and well-being, such as air, water, nourishment, light, movement, thermal comfort, sound, materials, mind, and community. SFO earned this certification, at the highest level of Platinum, for Harvey Milk Terminal 1 Boarding Area B, which includes the 25-gate concourse, post-security concession space, and an integrated connector to the U.S. Customs Federal Inspection Area.
"We are honored to be the first airport in the world to achieve full WELL Certification," commented SFO Airport Director, Ivar C. Satero. "Harvey Milk Terminal 1 was designed with both our passengers and employees in mind… as a place to be relaxed, a place to be healthy, and a place to be inspired by the legacy of pioneering civil rights leader Harvey Milk. My sincere thanks go out to the entire project team for setting the new standard for how airport facilities can truly benefit the people who use them."
"We are proud to celebrate WELL Core Certification at the Platinum level with the San Francisco International Airport, the first airport to achieve this WELL designation" added Rachel Hodgdon, President and CEO of the International WELL Building Institute. "Thousands of passengers, staff and service providers go through the SFO Terminal 1 Boarding Area B every day, and all will benefit from the careful implementation of numerous WELL principles, ranging from improved air, water and light quality to healthier snacks and acoustic comfort. WELL's people-first approach will help enhance the travel experience for many flying in and out of the Golden City."
The SFO project earned the WELL designation under the WELL Building Standard™ version 2 pilot (the WELL Standard). The WELL Standard, spanning over 100 features in 10 impact areas, is a vehicle for buildings and organizations to deliver more thoughtful and intentional spaces that enhance human health and well-being. The WELL Standard includes a set of strategies – backed by the latest health and scientific research – that aim to advance human health through design interventions,  operational protocols, sustainability policies, and that foster a culture of health and well-being. Built upon the pioneering foundation of the first version of the WELL Building Standard (WELL v1), WELL v2  draws expertise from a diverse community of WELL users, practitioners, public health professionals and building scientists around the world.
Health and well-being measures were prioritised throughout the project, resulting in many benefits for the terminal occupants. Highlights include:
Highly efficient outdoor air filtration system to remove pollutants and odor to provide healthier indoor environments which meet the enhanced indoor air quality requirements of WELL as verified through third-party testing
Radiant heating and cooling to complement displacement ventilation to provide energy efficiency, improved indoor air quality and enhanced passenger comfort
Displays annual water quality test results, including enhanced taste properties, throughout the terminal on the display monitors
Dynamic glazed windows that change with the sun's location, to reduce glare and improve comfort
Large windows harnessing daylight to reduce the need for electric lighting and to support occupants' circadian rhythms
Building materials and furnishings with low-total volatile organic compound (TVOC) emissions
Selection of products, systems, and materials with the least environmental or planetary impact based upon Health Product Declarations (HPDs)
Implementing green cleaning processes that support occupant and employee health
Acoustic management through sound reducing surfaces, quieter mechanical systems, and the 'quiet airport' programme.
The construction of Harvey Milk Terminal 1 is divided into two projects: Boarding Area B (BAB) and Terminal 1 Center (T1C). The WELL Certification award applies to Boarding Area B (BAB) of Terminal 1.
Design-build, construction, and project management team are as follows:
BAB Design-builder: Austin Commercial & Webcor Builders Joint Venture with HKS / Woods Bagot ED2 International / KYA
BAB Construction Manager: WSP / AGS
T1C Design-builder: Hensel Phelps with Gensler / Kuth Ranieri
T1C Construction Manager: AECOM & Cooper Pugeda Management Joint Venture.