Scanning the complexity of native plants at MIA
Miami International Airport has welcomed native artist, Cristina Lei Rodriguez's, colourful augmented exhibition, which features scans of South Florida flora, giving passengers a sense of Miami during the springtime.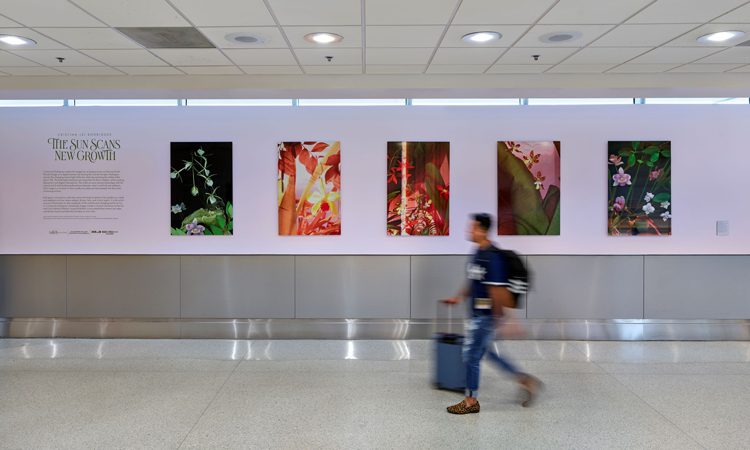 Credit: MIA
No matter the month, it's springtime for passengers travelling near Miami International Airport's (MIA) Gate D31 Gallery from October 2022 until March 2023, thanks to Miami Artist Cristina Lei Rodriguez's colourful augmented assemblages of plant life. Her latest solo exhibition, The Sun Scans New Growth, features scans of South Florida flora created between 2020-2022 in her backyard studio, and a site-specific vinyl mural installation poetically titled Sultry Blossoms in a Periwinkle Sky (7 January 2021, afternoon sessions), which sprawls one of the exhibition walls.
In conjunction with the exhibition and near the Gate D31 Gallery, Rodriguez also created a large-scale, three-part window installation titled Nature Studies in Three Works, consisting of digital prints on translucent vinyl, that will remain in place beyond March 2023.
The Miami native, who was featured in the September 2022 issue of Elle Magazine (Miami Beach section) has produced several permanent public artworks and recently completed a monumental glass mosaic tile installation for Westchester Cultural Arts Center at Tropical Park as part of Miami-Dade County's Art in Public Places, Florida's oldest public art collection and one of the largest public art collections in the U.S. 
Rodriguez creates her images by arranging exotic orchids and South Florida foliage on a digital scanner. By leaving the scanner lid open, Rodriguez records the changing natural light of the sky while documenting the vitality of the plant's life. The final high-resolution scan magnifies the flora's details while creating abstraction and digital interruptions. The studio process marries technology with the natural world while furthering the tension between what is artificial and authentic. Each image is a moment in time visually recorded and documented in the artist's increasing archive.
Rodriguez's art practice cultivates native and tropical plants in her garden as a study and mediation on how nature adapts, thrives, fails, and is born again. According to Rodriguez, her work reflects the complexity of life and the ever-changing world we live in.
"My landscape images create a visceral connection to the hot, wild, lush habitat of Miami's tropical life that is encountered the moment one steps outside the airport and feels the humidity on one's skin", commented Miami Artist Cristina Lei Rodriguez.