Sunflower Lanyard programme comes to Winnipeg Airport
Winnipeg Richardson International Airport has announced its new partnership with the Hidden Disabilities Sunflower to initiate the globally recognised Sunflower Lanyard programme.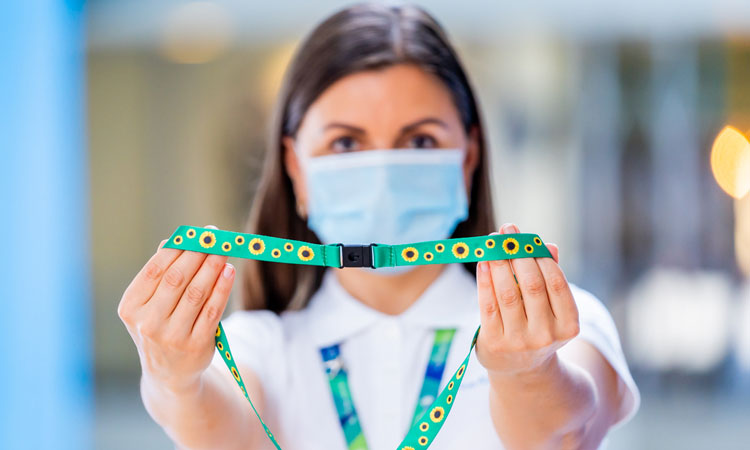 As part of its commitment to provide a more inclusive and accessible environment, Winnipeg Richardson International Airport (YWG) has partnered with Hidden Disabilities Sunflower to bring the globally recognised Sunflower Lanyard programme to YWG.
Adorned with yellow sunflowers, the green lanyards help people with invisible disabilities, such as autism, ADHD, chronic pain, dementia, epilepsy, multiple sclerosis, brain injuries, low vision, hearing loss, and anxiety disorders, among others, discreetly indicate they may need a little more help or time when travelling through YWG. Staff in all areas of the airport experience have been provided information on what to do if a person wearing a Sunflower Lanyard or other Sunflower-branded item approaches them.
"We know each and every traveller is unique, and so are their needs and requirements," commented Nick Hays, Winnipeg Airports Authority President and CEO. "We're proud to join forces with Hidden Disabilities Sunflower to make the Sunflower Lanyard program available at YWG. This partnership further solidifies WAA's commitment to doing everything we can to create a seamless and enjoyable experience for everyone who travels through the airport."
Sunflower Lanyards can be picked up at YWG for free at the Information Booth, located on the Arrivals Level next to Door Three, or the Valet & Away booth on the Departures Level near the top of the escalators. Travellers can keep their Sunflower Lanyard for use throughout their trip or the next time they board a plane, as more than 160 airports worldwide recognise the programme.
"We are delighted to welcome Winnipeg Richardson International Airport to the global Hidden Disabilities Sunflower network," added Paul White, Hidden Disabilities Sunflower CEO. "We live in such a transient world that is facilitated by aviation, it is important that passengers with invisible disabilities can fly when and where they want to. The airport environment can be difficult, and so airport staff are now equipped with the visual tool, the Sunflower, to identify who may need a little more time and are ready to ask how they can help."
Passengers who require additional accessibility assistance should still contact their airline at least 48 hours before their flight to notify them of their needs and make arrangements.