A time slot for security control: BER launches new Runway service
Berlin Brandenburg Airport has launched new services, BER Runway, which allows passengers to book additional access through the security controls.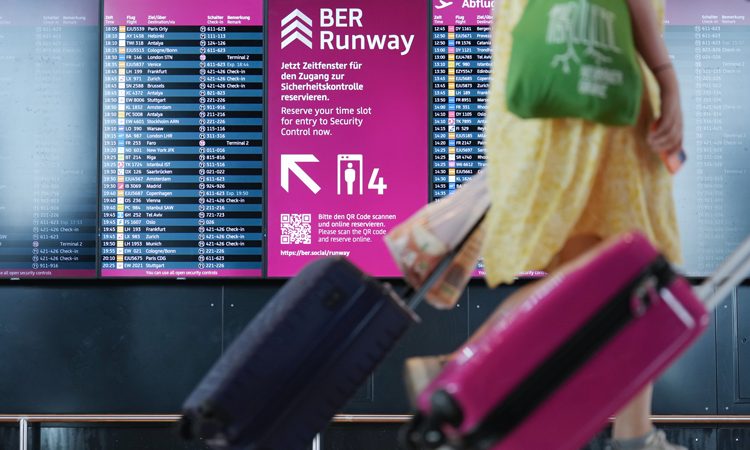 Credit: Oliver Lang / Flughafen Berlin Brandenburg GmbH
Passengers at Berlin Brandenburg Airport (BER) can now book additional access through the security controls: the airport company's new BER Runway service is now being offered to all passengers. This allows passengers to book a time slot online for individual passage through Terminal 1's security controls, which also helps to keep waiting times down. The BER Runway service is free for all passengers.
Thomas Hoff Andersson, Chief Operations Officer at Flughafen Berlin Brandenburg GmbH: "BER Runway allows us to offer our passengers a service, which is both attractive and free of charge. This means they can now plan the duration of their stay at the airport more accurately and thus ensure their journey is less stressful. BER Runway is also an important step towards increased process digitisation at our airport. This will enable us to further optimise all processes in the interests of our passengers going forward."
This is how BER Runway works: 
BER Runway bookings can be made on our website and in the BER app from 72 hours to one hour before departure for Schengen flights or from 72 hours to one and a half hours before departure for non-Schengen flights. Slots are offered within a time window of 60 to 360 minutes before departure. Flight number and email address must be provided when reserving a timeslot
A time slot can be selected at a fixed time every quarter of an hour. Access to BER Runway is displayed in the terminal. It can be used from 10 minutes before or up to 10 minutes after the selected time. Reservation and boarding pass will be checked prior to access
The airport company still recommends that all passengers be at the respective terminal 2.5 hours before departure. However, BER Runway allows passengers to save time in the terminal and makes it easier to calculate exactly how much is needed. Passengers should note that they should allow sufficient time for check-in and baggage drop-off before accessing the BER runway
All Runway passengers can also use the general entrances to the security controls regardless of any bookings. In that case, we kindly request that they cancel their booking
An example: departure is set for 10 a.m. on Friday. The time slot for BER Runway can then be booked from 10:00 a.m. on the previous Tuesday to 9:00 a.m. (Schengen flights) or 8:30 a.m. (non-Schengen flights) on the Friday in question. A 8:15 a.m. slot would then grant access to BER Runway at any time between 8:05 a.m. and 8:25 a.m. on the day of departure.