MIA wins four national awards for government innovation
Miami International Airport has been recognised with Achievement Awards 2022 from the National Association of Counties for innovative government programmes that help to improve passenger and cargo operations.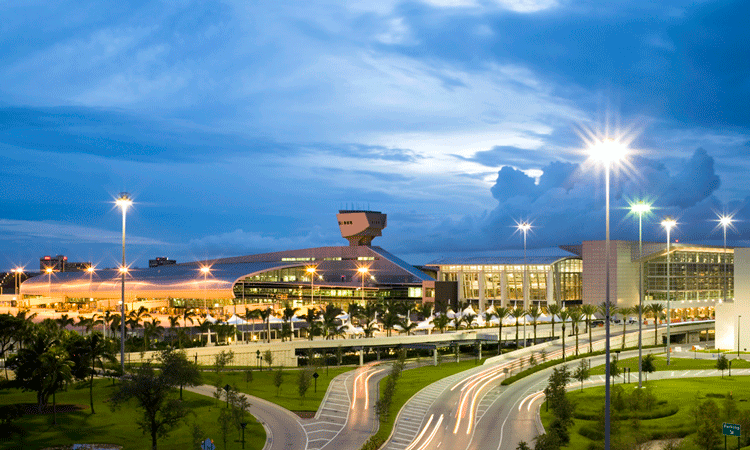 Credit: Miami Dade International Airport (MIA)
Four projects that improved passenger and cargo operations at Miami Dade International Airport (MIA) have been recognised with 2022 Achievement Awards from the National Association of Counties (NACo). 
The awards honour innovative, effective county government programmes that strengthen services for residents. Nationally, awards are given in 18 different categories, such as: Children and Youth, Criminal Justice and Public Safety, County Administration, Information Technology, Health, Civic Engagement, Transportation, and more.
"Congratulations to the MIA team for this well-deserved recognition from NACo. As our community moves forward from the pandemic, innovation and customer service excellence have never been more important in Miami-Dade County than now. I am proud to see our Aviation Department and other departments across the County leading the way in meeting the needs of our residents and community partners," Miami-Dade County Mayor Daniella Levine Cava.
In the Health category, MIA's Vaccine Outreach Programme was recognised for making the COVID-19 vaccine more easily accessible to MIA employees and travellers with two airport vaccination sites from May 2021 to July 2021. MIA's community outreach through multiple communication channels resulted in more than 100,000 vaccinations being provided at the airport during the 10-week campaign.
The MIAVAC19 Task Force, formed by the Miami-Dade Aviation Department in late 2020 to prepare and co-ordinate MIA's cargo community for the arrival and mass distribution of the COVID-19 vaccine, was a winner in the Transportation category. MIA is home to more than 27,000 square ft of refrigerated cargo space solely dedicated to handling pharmaceuticals and vaccines – the most at any U.S. airport. The task force's action plan included identifying additional cooler space available outside of MIA, mapping out the airport's parking capacity for large freighter aircraft, designating potential cargo truck parking and staging areas, and planning training sessions for freight forwarders and brokers regarding the latest federal guidelines for importing the vaccines.
During the early stages of the pandemic, MIA's social media platforms saw a dramatic increase in customer inquiries. To better manage the high volume of questions from the public, MIA launched the automated chatbot 'Mia' in English and Spanish on its website in October 2020. Since then, questions on MIA's social media channels decreased by nearly 50 per cent, and the chatbot has become the airport's primary platform for customer service inquiries and COVID-19 concerns. Based on the inquiries received, MIA can more quickly adjust the information on MIA's website and on social media, to better address specific customer issues. MIA's website chatbot Mia was one of the airport's two award winners in the Information Technology category.
MIA's other IT category winner was its Part 139 Safety Inspection app. Major U.S. airports like MIA require a Part 139 operational certificate from the Federal Aviation Administration (FAA) that ensures their safety. One of the requirements for the FAA certificate is a daily airfield self-inspection, which historically was performed and cataloged via paper data collection. In 2021, MIA's self-inspections went digital with its Operations Dashboards application. Developed in collaboration with Miami-Dade County's Information Technology Department, the intuitive app features smart inspection forms and dashboards that help to visualise inspections and discrepancy data in real-time with digital historical data and trends instead of static data on a paper map.
"We are honoured to be recognised by NACo for our efforts behind these four important airport projects. Receiving these awards would not be possible without the dedication and support of countless employees from the Aviation Department and sister County departments like Information Technology, for which I am deeply grateful. We look forward to delivering many more customer service enhancements at MIA in the year ahead," commented Ralph Cutié, MDAD Director and CEO.
Started in 1970, NACo's annual Achievement Awards programme is designed to recognise county government innovations. Each nominee is judged on its own merits and not against other applications received.
NACo President, Larry Johnson added: "All across the country, counties are working tirelessly to support residents and drive recovery from the COVID-19 pandemic. This year's Achievement Award-winning programmes showcase how counties work every day to build healthy, safe, and thriving communities."