Berlin Airport launches NapCabs for passenger relaxation
Berlin Brandenburg Airport has launched new soundproof NapCabs, which offers passengers an opportunity to relax and catch-up on work or sleep during longer layovers.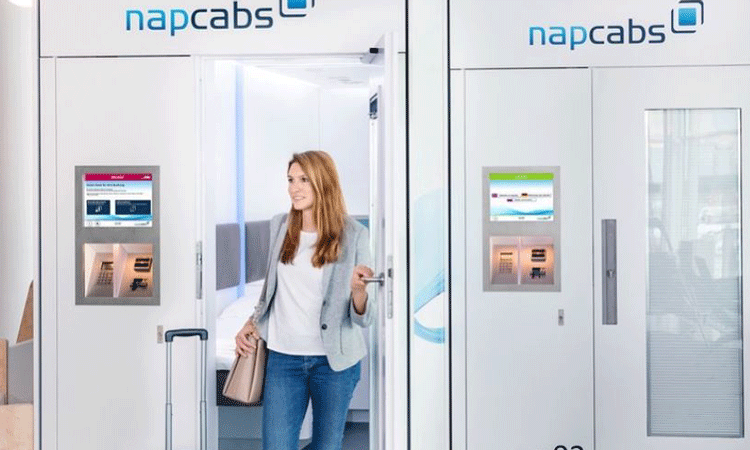 Credit: NapCabs
Berlin Brandenburg Airport (BER) has launched state-of-the-art NapCabs, which offers passengers a new service. The soundproof cabins can be booked by the hour (from two hours) to relax, take a nap, sleep, or work undisturbed. Equipped with a bed, a separate work area and free internet access, they offer an ideal retreat for business travellers, passengers planning individual flights with a longer layover at BER or travellers with very early or very late flights.
BER has a total of four NapCabs available, located in the public area on the retail level near Kamps.
Passengers can book one of the NapCabs instantly via the touchscreen on the front of the cabin. Leaving and re-entering the cabin for short term exits is also possible. The passenger can enter a self-chosen four-digit re-entry code during the check in process and use this code as your digital door key. With a variety of language choices, travellers can let the self-operating system guide them through the booking process.
The NapCab includes features such as:
A full bed (200 x 80cm)
A work desk (65 x 50cm)
Multimedia touch screen (19″)
An iPod docking, MP3 connection, and USB charging station
Latest flight information
Wi-Fi access
Air conditioning
Carry-on luggage storage
And individual lighting options.
The NapCabs sleeping cabin will always be clean and tidy with fresh bed linen. After each use the cleaning staff is automatically notified to tidy up the cabin and to make the bed with fresh bed linen. Only then the cabin will be available for the next passenger.
The charge of use it calculated on the actual time of use by the passenger and the maximum duration of a booking can be up to 24 hours.
A room for business
During long-waiting periods between flights, MeetingCabs offer a private and comfortable room for conferences and meetings. The rooms provide a large table, four chairs ,and additional space for work materials.
NapCabs have also been successfully introduced at both Munich International Airport (MUC), Frankfurt Airport (FRA), and now Berlin Airport.