Heathrow and Vertical pioneer towards an urban air mobility future
Vertical Aerospace has collaborated with London Heathrow Airport to explore operations of the electric vertical take-off and landing (eVTOL) vehicle from the airport by the mid-2020s.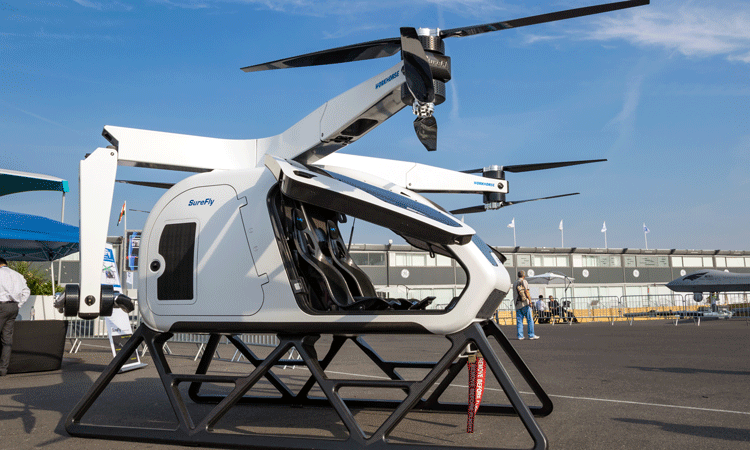 Vertical Aerospace (Vertical), the global aerospace and technology company that is pioneering zero-emissions aviation, has announced a collaboration with London Heathrow Airport (LHR) to explore how Vertical's VA-X4 electric vertical take-off and landing (eVTOL) vehicle could operate from the airport by the mid-2020s.
The agreement between Heathrow and Vertical is a significant milestone for Britain's zero-emissions aviation industry. Both parties will work closely to explore how this new technology can fit into existing operations at the airport, build understanding of the regulatory changes that would be required, maximise potential job opportunities and minimise any potential impacts on communities surrounding the airport.
With speeds of up to 200mph, Vertical's piloted eVTOL will be able to transport four passengers in near silence from Heathrow to the City of London in 12 minutes, with zero operating emissions and at a cost similar to a taxi. This new agreement comes as interest in the future of urban air mobility is growing, with major airlines already operating at Heathrow keen to see the technology develop. Virgin Atlantic has already announced a partnership for the UK launch of an eVTOL network with Vertical and conditional pre-order options for up to 150 VA-X4s.
By working together, Vertical and Heathrow expect to help Britain maintain its leading position in sustainable aviation technologies and support moves to a low carbon economy to help meet the government's net zero ambitions to make the UK net zero by 2050.
Vertical's top-tier global customers include: American Airlines, Virgin Atlantic, Avolon, Bristow Group, Iberojet and Marubeni Corporation. Through these relationships, Vertical believes that it has the largest conditional pre-order book in the eVTOL industry, of up to 1,350 aircraft worth $5.4 billion. Vertical's eVTOL aims to be an industry leader in safety, being on track to be certified to the highest global standards and matching the safety performance of airline passenger jets.
Stephen Fitzpatrick, CEO and Founder of Vertical, said "Vertical continues to partner with world leading organisations such as: Rolls-Royce, Honeywell, American Airlines, Virgin Atlantic, Bristow Group and Microsoft. This partnership is a big step forward as we try to get the UK to Net Zero by 2050. This announcement marks the start of an exciting relationship that will help make eVTOLs flying from Heathrow by the mid-2020s a reality."
Chris Annetts, Chief Strategy Officer of Heathrow, said "We are delighted to be partnering with Vertical, a global champion in emissions-free aviation. This emerging technology has the potential to reduce congestion and pollution on local roads, while providing passengers with a best-in-class experience on the cutting edge of modern technology. We look forward to exploring the possibilities of zero-emissions flight together."
Shai Weiss, CEO of Virgin Atlantic, said "The new partnership between Vertical Aerospace and Heathrow Airport is an exciting next step on the pathway to creating the infrastructure needed to support eVTOL operations at our Heathrow hub. We look forward to working closely with both Vertical and London Heathrow to transform the first and last 100-mile journey of passengers travelling through Heathrow".