CSMIA experiences surge of travel to international leisure destinations
Chhatrapati Shivaji Maharaj International Airport's passenger traffic of those opting for international leisure travel to destinations via the airport, has increased by 219 per cent since 2019.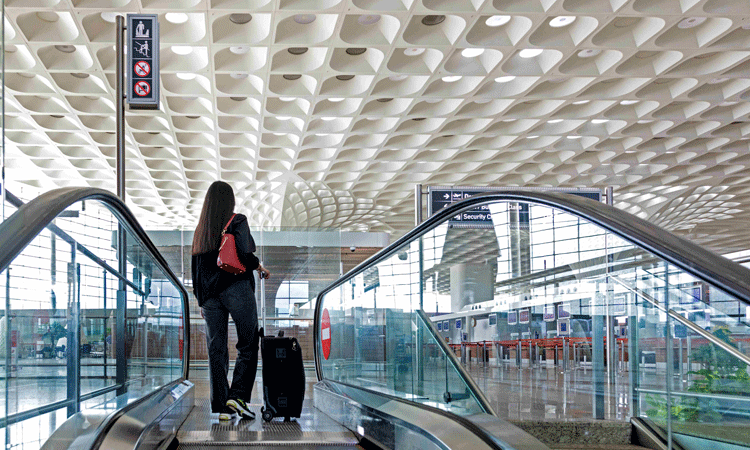 Chhatrapati Shivaji Maharaj International Airport (CSMIA)
Tourists from all around the world rejoice as people largely confined to their homes for months, can now finally pack their bags and travel to places in their bucket list as travel restrictions across the globe have eased. Even though the COVID-19 pandemic bought the momentum of the travel industry to a halt, the past few months have shown a positive and an upward trend in passengers opting for international leisure travel through Chhatrapati Shivaji Maharaj International Airport (CSMIA). A recent survey conducted by MakeMyTrip shows that around 87 per cent of the people surveyed, who were aged between 30 to 35 showed more enthusiasm to travel internationally before the end of 2021. Currently, Mauritius, Abu Dhabi, Dubai, Doha, Seychelles, and Male are the top international leisure destinations that have retained passengers' interest via CSMIA.
Between July 2021 to September 2021, CSMIA witnessed over 2,88,860 passengers flying overseas for leisure travel. Whereas same period in 2020 saw around 90,365 passengers, thus, witnessing 219 per cent rise in passengers opting for international leisure travel in 2021. Same period in 2020 saw Dubai and Doha being the most preferred destination with 61,626 and 23,654 passengers respectively. Meanwhile in 2021, Dubai and Doha continued to be on top of the charts with passenger influx around 1,08,060 and 1,04,390 passengers respectively; followed by Male, which saw around 57,400 passengers travelling in and out of CSMIA. With an overall total of 1,74,929 departing passengers and 1,13,937 of arrivals in 2021, the figures point towards passenger confidence in CSMIA and their continued interest for overseas leisure travel.
Though regular commercial flights are at its peak, charter flights also witnessed significant uptick in demand. From July 2021 to September 2021, CSMIA has witnessed an increase in the number of passengers opting for chartered flights with CSMIA playing host to over 2,88,860 passengers by flying them to Dubai, Doha, Abu Dhabi, Mauritius, Seychelles, and Male. Qatar Airways, Indigo, and Emirates catered to the highest number of passengers with 75,637, 68,062 and 52,699 respectively. During September 2021, CSMIA catered to 1,34,018 passengers travelling through chartered flights, which was 204 per cent higher compared to July 2021, where only 44,084 passengers flew in and out of CSMIA.
With increasing passenger traffic as a result of faster vaccination rates and ease in travel restrictions, a majority of Indian states and international countries require a negative RT-PCR certificate. To provide ease and convenience in transition, a dedicated 24/7 RT-PCR test sample collecting counter is stationed at the landside outside Terminal 2, in the Multilevel Car parking, where passengers can give their RT-PCR sample required within 48 hours of their departure. Passengers can also pre-book tests using the online portal of respective labs or the QR codes displayed at strategic locations at CSMIA. The RT-PCR test facility at CSMIA, for both arriving and departing passengers, has proven to be convenient in terms of traveller concerns regarding the various quarantine regulations across borders. CSMIA continues to adhere to the requirements laid down by the government regarding the testing of domestic, as well as international passengers.
As part of CSMIA's safety commitments and preventive measures, the airport has deployed and implemented several SOP's and precautionary measures that are laid down by the government to safeguard the overall wellbeing of the passengers. CSMIA continues to undertake all efforts to ensure the wellbeing of its passengers, while maintaining international level standards of safety and hygiene.