London's Gatwick Airport's interim results show COVID-19 impact
The interim report outlines a reduction of passenger volumes for Gatwick, during the first half of 2021 due to travel ban restrictions, thus Gatwick's demand for travel requirements to be simplified.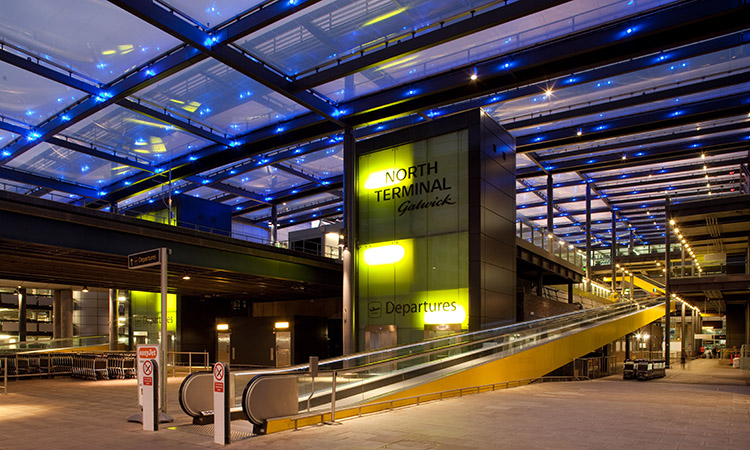 Credit: Steve Bates/ Gatwick Airport
In the UK, over 75 per cent of adults are double vaccinated due to the world leading vaccination programme, therefore the UK government must consider improving passenger confidence in international travel by substantially simplifying its current travel requirement rules. Unlike Europe and the US whose much simpler travel rules are enabling passengers to travel more freely, The UK aviation recovery is lagging behind. For European countries such as France and Germany, travel bookings are at an average of over 50 per cent of pre-pandemic levels whereas, in the UK the average is resting at approximately 16 per cent.
In order to increase the quantity of UK travel bookings, London Gatwick Airport (LGW) is requesting the government to simplify current travel rules and to remove the prohibitive cost of COVID-19 testing for many passengers. Furthermore, Gatwick is also inquiring for no testing requirements for travellers from "green" countries, as well as no testing requirements for double vaccinated travellers from "amber" and a single lateral flow testing for those non-vaccinated from an "amber" country.
In the first six months of 2021 which ended 30 June 2021, Gatwick passenger numbers were at a low of just 569,000 due to the impact of COVID-19 and the associated international travel prohibitions. Despite the airport remaining open throughout this period, all revenue streams were hugely impacted. As a result of the collapse in passenger demand along with government restrictions, Gatwick experienced a £244.6 million loss for the six-month period and a negative EBITDA at -£50.2 million.
A strategic and sustained reduction in capital expenditure resulted in the deferral or cancellation of over £570 million from investment originally planned in 2020 for both 2021 and 2022. During the first half of 2020, swift and decisive actions were undertaken to reduce operating costs by 34.4 per cent through renegotiated contracts, temporary infrastructure shutdowns, halting discretionary expenditure and the continued consolidation of operations into one, singular passenger terminal. In addition, staff costs were £31.3 million lower (46.4 per cent) in the first half of 2020 due to the restructuring that was completed in Q4 2020.
As of 30 June 2021, Gatwick has a strong liquidity position with £779 million of liquidity including £624 million of cash, which is sufficient equity to meet operating cash flows, planned investment levels and interest payments for at least the next 12 months. This ensures Gatwick is well-placed for the recovery. Moreover, Gatwick has commenced a consent solicitation process to address forecast breaches in financial covenants, following the successful discussions with its banks and bondholders who are forming a special committee of the Investment Association.
"First, I would like to thank all our staff for their hard work and fortitude throughout what has no doubt been the most challenging six months the airport has witnessed with its low passenger and air traffic volumes," said Stewart Wingate, Chief Executive Officer of Gatwick Airport. "I remain certain that Gatwick will recover and as a business we are financially and operationally well placed for that."
"In the UK, we are all emerging to enjoy more freedoms due to our world-class vaccination programme, however we are in danger of squandering the advantage that vaccination programme has afforded us for international travel. Our government needs to act now and remove unnecessary and costly PCR testing requirements for passengers, particularly for those double vaccinated," added Wingate.
"UK travel recovery should not be allowed to lag behind the US and Europe. Passengers need the travel rules simplified so they can choose to travel more freely and enjoy much needed breaks and reunions with family and friends, which are currently much more attainable for those in Europe and the US."
In spite of the strenuous first six months of 2021, Gatwick continues its priority to protect the health and wellbeing of employees and passengers. The airport resumes enhanced with its enhanced cleaning and mandatory face masks guidance for all Gatwick staff in passenger facing areas, as well as providing an NHS testing site, walk-in and drive-through private testing facilities.