Istanbul Airport re-certified by ACI for COVID-19 health measures
After becoming the first airport in the world to achieve the ACI Airport Health Accreditation in August 2020, Istanbul Airport has now become the first airport to be re-certified in 2021.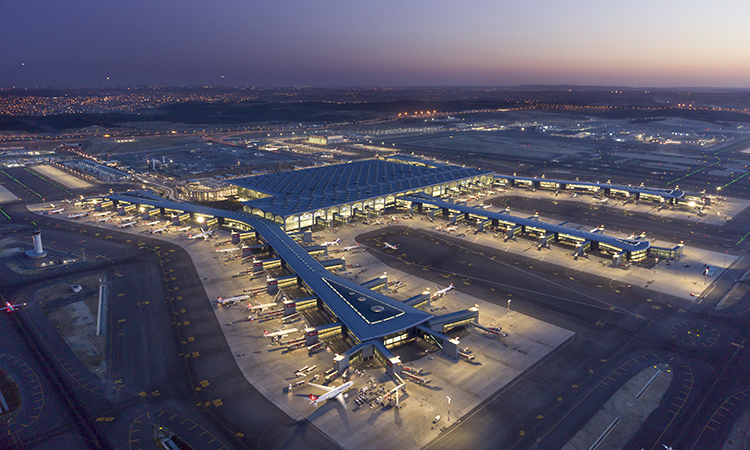 Credit: Istanbul Airport (IST)
Istanbul Airport (IST) was first deemed worthy of the Airport Health Accreditation (AHA) certification by Airports Council International (ACI) in August 2020. However, by continuing to offer passengers a safe airport journey as a result of the strict health measures taken during the pandemic, Istanbul Airport has announced that it has been re-certified by ACI after an audit consisting of 72 questions under five main chapters and a total of 134 sub-items.
Istanbul Airport was the first airport in the world to receive the certification in 2020, and has now also become the first airport to be awarded the certificate again.
The airport further strengthened its place among the most hygienic airports in Turkey and the world by passing a strict audit undertaken by ACI, fulfilling all of the criteria under five different chapters, including:
General information
COVID-19 action plans
Measures taken for passengers
Measures taken for staff
Adaptation and cooperation.
The audit assessment included: procedures adopted for COVID-19; risk analyses; social distancing practices; cleaning and disinfection processes; mask and face shield use; health screening activities; passenger density management at terminal entrances and areas with high passenger traffic; technology use and contactless payment; personnel training and working environment; execution of plans related to the stakeholders at the airport; and the committees established for the pandemic.
In order to provide objective evidence for the questions asked by ACI auditors, Istanbul Airport shared a total of 122 videos and photos of practice examples that highlighted health and hygiene conditions in all areas of the airport. IST marked a big achievement by passing the audit with no shortcomings or unfavourable findings.
Kadri Samsunlu, the Chief Executive Officer of iGA Airport Operation, said: "For over a year, the whole world has been struggling with a health crisis that has deeply affected humankind. With the acceleration of the vaccination campaign and the beginning of the summer season, we entered a process in which we are approaching the best scenario in terms of aviation. As iGA, we have come a long way in terms of health measures by putting in extra effort until we saw this optimistic view. Seeing that the steps taken in terms of health measures at Istanbul Airport were later implemented in different industries is the biggest proof of how we excelled at our work."
"In 2021, we continue our efforts to offer our passengers a safe travel experience by keeping hygiene at the highest level. Once again, we have been awarded the Airport Health Accreditation that was given to Istanbul Airport for the first time in 2020 by Airports Council International (ACI). With this certificate, which we received through rigorous audits, we also ensured the sustainability of our practices in health measures. I would especially like to highlight that we will never compromise on the hygiene standards achieved in Istanbul Airport," he added.
ACI World's Director General, Luis Felipe de Oliveira, said: "Airports have been prioritising health and hygiene as they work to restore both passenger and government confidence in travel. Recovery will be best achieved through a coordinated and globally harmonised approach, which is aligned with global standards. ACI's Airport Health Accreditation programme is a crucial part of this and, as airports seek re-accreditation, the dedication of airports to passenger safety throughout the restart and beyond is underlined."
ACI Europe's Director General, Olivier Jankovec, said: "A year ago, we recognised Istanbul as the first accredited airport in the world, and we congratulate Istanbul for being the first airport to be re-accredited. They have set an example for the industry, demonstrating their continued focus on the health and welfare of travellers, staff and the public."