Hong Kong Airport to receive HK$40 billion investment for airport city development
The investment into Hong Kong International Airport's airport city development will serve to increase capacity, whilst transforming it into a landmark in its own right and driving the economic development of the surrounding area.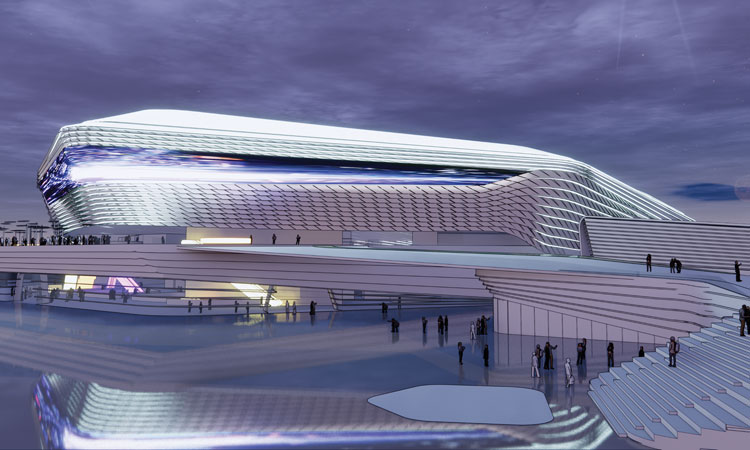 Credit: Airport Authority Hong Kong
Airport Authority Hong Kong (AAHK) has announced that it will be investing HK$40 billion into Hong Kong International Airport (HKG) over the next 10 years to support a series of projects being implemented progressively as part of HKG's airport city development, which will enhance the airport's capacity and functionality while transforming it into a new landmark and propelling the economic development of Hong Kong and the region forward.
Fred Lam, Chief Executive Officer of Airport Authority Hong Kong, said: "AAHK first put forward the airport city vision and blueprint in May 2019. We are very glad that the HKSAR government supports the development of the airport city, which aims to fully capitalise on the unique geographical advantage of HKG and capture opportunities arising from new infrastructures. The core functions of the airport and related industries are organically and seamlessly integrated into the fabric of the airport city, unleashing a strong synergy. The various mid- and long-term developments in our blueprint will strengthen HKIA as an international aviation hub and create a new landmark for Hong Kong." 
Airport facilities enhancement
AAHK has been continuously enhancing its airport facilities. Ongoing works include: The refurbishment of boarding gates and other facilities in the terminal; construction of the 'Sky Bridge' to connect Terminal 1 and the North Satellite Concourse; and leveraging technology to enhance passenger services.
Smart airport initiatives – such as e-security gates and e-boarding gates, the HKG My Flight mobile app and deploying robots in the terminal – enrich the passenger experience.
Meanwhile, the 5G infrastructure and digital apron management system will further improve operational efficiency.
HKBCF Island development
AAHK's proposals for the development of the Hong Kong Boundary Crossing Facilities (HKBCF) Island of Hong Kong-Zhuhai-Macao Bridge (HZMB) focus on enhancing the airport's services and development as part of the HKG airport city strategy.
The government has accepted AAHK's plan to develop automated car parks on the HKBCF Island that will provide around 6,000 parking spaces in phases. The 'Park and Fly' and 'Park and Visit' carparks will cater to air transfer passengers and visitors, respectively.
'Park and Fly' passengers will transfer to HKG boarding gates directly from the HKBCF restricted area, facilitated by a bonded vehicular bridge which is connected to the airport's Intermodal Transfer Terminal, without having to go through immigration procedures in Hong Kong.
'Park and Visit' visitors may go from HKBCF to SKYCITY or to other parts of Hong Kong on the 'Airport City link', a vehicular and pedestrian bridge. AAHK plans to introduce an autonomous transportation system on the Airport City Link to connect HKBCF Island and SKYCITY and extend the system to Tung Chung town centre.
AAHK also plans to develop a new campus and dormitory of the Hong Kong International Aviation Academy on the HKBCF Island, while land parcels have been reserved for future air cargo developments.
SKYCITY and AWE Phase II development
SKYCITY is an integral part of the HKG airport city development, of which 11 SKIES – developed by New World Development – will be Hong Kong's largest integrated complex for retail, dining and entertainment facilities.
11 SKIES will be completed in phases from 2022 to 2025, introducing over 800 shops with more than 120 dining concepts and Hong Kong's largest indoor entertainment area. There will also be three Grade A office buildings. Regal Hotels International's Regala Skycity Hotel will be completed in 2021, providing around 1,200 rooms.
The Phase II development of AsiaWorld-Expo (AWE) will house the largest indoor performance venue in Hong Kong, which accommodates 20,000 people. Upon completion, the total gross floor area of AWE's exhibition facilities will increase to 100,000m2. The synergy between AWE and SKYCITY is expected to transform the airport into a new landmark for both visitors and local residents. In addition, more hotels and office buildings are planned to be developed in SKYCITY in the future.
Air cargo development
HKG has been ranked the world's busiest international cargo airport for 10 consecutive years since 2010, and AAHK is taking forward intermodal cargo initiatives to consolidate its leadership position.
AAHK is planning to set up a HKG Logistics Park in Dongguan and an airside intermodal cargo handling facility at the airport, with a view to creating a brand new mode of cargo business, increasing cargo handling volume at HKG and serving as a growth engine for the industry.
With the new facilities in operation, customs clearance, security screening, palletisation, cargo acceptance and other services for Mainland exports could be completed in Donguan before shipping the goods to the cargo handling facility in the restricted area of HKG by sea, for air transhipment to worldwide destinations.
For imports to the mainland, Hong Kong clearance procedures would not be required, as the goods could be directly shipped from the HKG restricted area to Dongguan. The procedures will comply with Hong Kong's air cargo security regulations. In 2021, a pilot scheme will trial the operations between Hong Kong and Dongguan.
Meanwhile, the strategy to develop the high-value, high-growth logistics segments continues, covering temperature-controlled cargo – such as medicine and vaccines – and e-commerce. A premium logistics centre at the airport is being developed by a joint venture led by Cainiao Network, a subsidiary of Alibaba Group, which is expected to add 1.7 million tonnes of cargo volume to HKG each year. Meanwhile, the expansion of DHL's Central Asia Hub is expected to increase its capacity by 50 per cent to 1.06 million tonnes.
Strengthened collaboration with Zhuhai Airport
The commissioning of the HZMB has significantly shortened the distance between HKG and Zhuhai International Airport (ZUH). The two airports have agreed to explore deeper collaboration and formulate long-term development plans to complement each other's strengths.
AAHK's proposed injection of equity into Zhuhai Airport is expected to pave the way for long-term and extensive collaboration between the two airports. Details of future collaboration will be discussed between the two sides.
Lam remarked: "Our goal is not only to complement each other on the basis of our existing flight networks, but set sight on over 160 airports in the mainland which have no international border facilities, and over 130 new airports under construction. We aim to attract passengers from those markets to Zhuhai Airport, and onward to HKG via HZMB for international air travels. This is an enormous potential source of passengers. In parallel, strengthening collaboration with Zhuhai will extend our air cargo services to the broader inland markets. These new sources of business will benefit our business partners, in particular the airlines and logistics industry."