Hong Kong International Airport awarded ACI health accreditation
Hong Kong International Airport has become one of the first in the Asia-Pacific region to be awarded the airport health accreditation.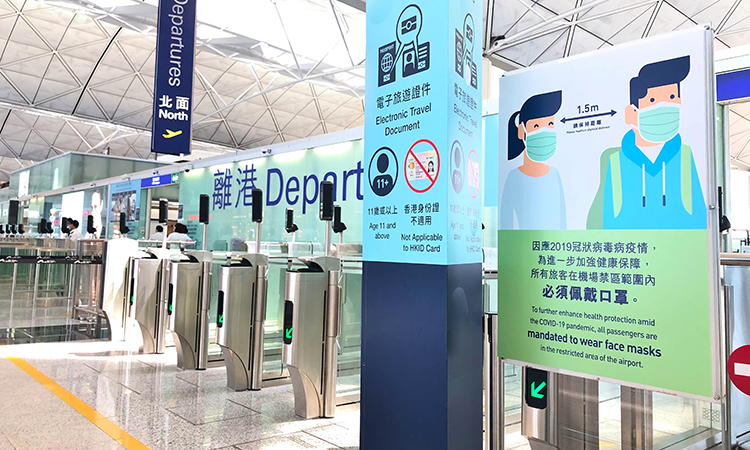 Credit: Airport Authority Hong Kong (AAHK)
Hong Kong International Airport (HKG) has been accredited under Airports Council International's (ACI) Airport Health Accreditation programme, recognising the airport's high standard in upholding health and safety in its operations. The airport is among the first Asia-Pacific airports to be accredited by the programme.
The Airport Health Accreditation programme was established to support airports around the globe introduce new hygiene measures against global standards' aim in the wake of the COVID-19 pandemic. It reveals how an airport's health measures are aligned with the ACI Aviation Business Restart and Recovery guidelines and the International Civil Aviation Organization's (ICAO) Council Aviation Restart Task Force (CART) recommendations along with industry best practices.
By assessing the new health measures and procedures of the airports – in areas including cleaning and disinfection, physical distancing, staff protection, physical layout, passenger communications and passenger facilities – the accreditation enables airports to demonstrate to passengers, staff, regulators and governments that they are prioritising health and safety in a measurable and an established manner. The programme was launched in July 2020 and the accreditation is valid for the next 12 months.
Executive Director of Airport Operations at Airport Authority Hong Kong, Vivian Cheung, said: "We are honoured to be one of the first airports in Asia-Pacific to receive the accreditation, which recognises our continued efforts in implementing various health measures to ensure the safety and wellbeing of the airport staff and passengers. Since the start of the COVID-19 pandemic, we have been working with the airport community and the government in prioritising public health in the airport's daily operations. We will continue to strengthen our works and conduct on-going self-assessments according to the evolving situation of the pandemic, with a view to maintaining the safe and healthy environment and building passengers' confidence in travelling at Hong Kong International Airport."
Luis Felipe de Oliveira, Director General of ACI World, said: "Congratulations to AAHK for becoming accredited in the ACI Airport Health Accreditation programme. The programme is designed to help reassure the travelling public that airport facilities remain safe and that precautions are being taken to reduce any risk to their health. We feel confident that AAHK's efforts will help us succeed in achieving this common goal."
Over the past few months, AAHK has been implementing a host of enhanced health measures amid the COVID-19 pandemic at Hong Kong International Airport, including:
Introducing the latest disinfection technologies – including disinfection channels, antimicrobial coating and autonomous cleaning robots – at terminals
Mandating all passengers and staff members to wear masks
Installing e-security gates equipped with facial recognition technology to support touchless security processing
Conducting temperature screening for all persons entering the terminal and upon arrivals
Installing over 400 hand sanitiser stations throughout the passenger terminals
Stepping up cleaning and disinfection efforts on airport facilities and passenger amenities
Installing protective screens at airline check-in counters and other service counters
Segregating originating departing passengers and transfer passengers in separated zones in the seating area of the boarding gates
Using signage, public announcements, tensile barriers and floor markings to remind passengers and airport staff of the safe distance advice
Collaborating with catering outlets to provide self-service kiosks to reduce contact between staff and customers
Providing personal protective equipment (PPE) for frontline staff, with respective training on the proper use and disposal

Maintaining timely communications through public announcements to keep passengers abreast of the latest measures at the airport.