RIOgaleão Airport awarded passenger safety seal from WTTC
The achievement highlights RIOgaleão Airport's efforts to implement a series of measures to guarantee the safety of passengers during the COVID-19 pandemic.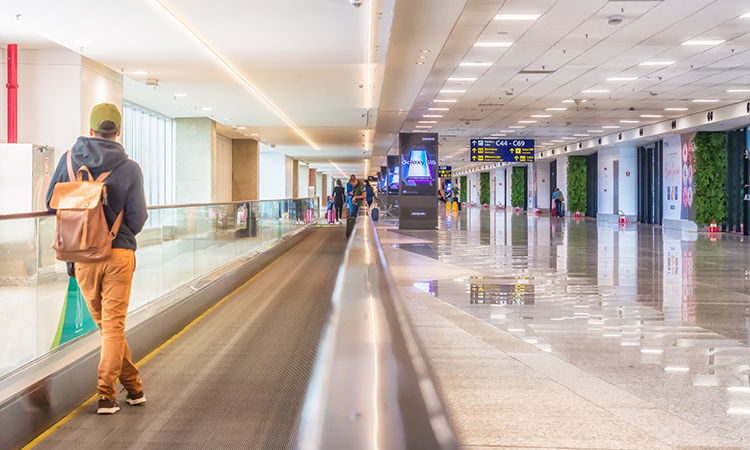 RIOgaleão – Tom Jobim International Airport (GIG) – has become the first airport in Brazil to win the seal from the World Travel & Tourism Council (WTTC) stating that it is putting in place a series of measures to guarantee the safety of passengers and the airport community in the face of the resumption of domestic and international air operations in the country.
In addition to the internationally recognised seal, which is supported by the World Tourism Organization (WTO), RIOgaleão Airport also won the Turismo Consciente (Conscious Tourism) seal, granted by the Rio de Janeiro State Secretariat for Tourism. This recognition is aimed at establishments in the tourism sector, identifying hotels, restaurants, tourist attractions and terminals that are following the necessary protocols to ensure the safety of their visitors.
Alexandre Monteiro, president of the concessionaire, said: "In this moment of resuming flight operations, offering health security and regaining the confidence of our passengers are priorities for RIOgaleão. The two seals attest the airport's commitment to travellers, in a scenario in which safety to resume planning is essential. The seal shows we are the gateway to Rio de Janeiro that gives these guarantees to passengers."
Since the beginning of the coronavirus pandemic, RIOgaleão Airport has worked in partnership with the competent authorities to be always up to date on the best practices established by Brazilian National Civil Aviation Agency (ANAC) and Brazilian Health Regulatory Agency (Anvisa). The aim is to constantly strengthen health security measures and give passengers the confidence to resume travel, remembering that international airports undergo much more rigid inspections than other passenger terminals.
The achievement of both new seals was after RIOgaleão Airport presented the measures taken to adopt the mandatory protocols that guarantee the safety of airport operations throughout the passenger's journey, distributed in four pillars. The pillars attest to the measures taken to disinfect the terminal; actions to guarantee social distance, remembering the breadth of the airport is one of its positive differentials to avoid agglomerations; the use of personal protective equipment (PPE) by passengers and the airport community; the temperature measurement technologies and the terminal's heat map; in addition to presenting the measures adopted by the services, retail and food sectors.
The concessionaire has been an active entity in the measures and discussions that the tourism sector is seeking to regain the confidence of visitors. RIOgaleão actively participated in the development of the 10 commandments that guarantee establishments in Rio de Janeiro obtaining the Turismo Consciente seal. The conquest of the two seals, which present RIOgaleão as a safe hub and prepared to receive visitors, shows the airport's engagement in promoting the responsible resumption of tourist activities in Rio de Janeiro.