Acrylic barriers installed at Las Vegas McCarran International Airport
To help protect airport workforce and passengers from COVID-19, TSA installs new acrylic barriers at Las Vegas McCarran Airport's security checkpoints.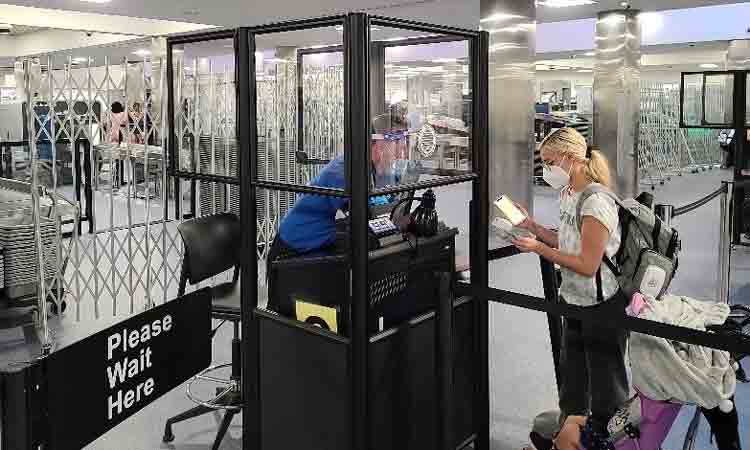 The Transportation Security Administration (TSA) has installed new acrylic barriers at security checkpoints throughout Las Vegas McCarran International Airport (LAS) to prevent the spread of COVID-19.
A total of 72 protective barriers were installed at LAS in areas where TSA officers typically interact with passengers. This includes the travel document checking podium and the divesting area where travellers prepare their carry-on property for x-ray screening.
The barriers are in place at the A/B and C/D checkpoints in Terminal 1 and at the security checkpoint in Terminal 3.
"The recent addition of clear barriers should instil an additional layer of confidence among travellers departing from Las Vegas McCarran International Airport," said TSA Federal Security Director for Nevada, Karen Burke. "TSA will continue to identify and implement changes to the security checkpoint environment and security procedures to protect the health and wellbeing of the travelling public, our employees and the larger airport community."
TSA recently awarded a contract to purchase and install 1,230 acrylic barriers at 37 priority airports nationwide. Installation of these barriers will be completed by early autumn in 2020. The contract was awarded in June and additional contracts will be awarded starting in September.
TSA continues to promote its 'Stay Healthy. Stay Secure.' campaign designed to advise travellers of airport checkpoint modifications and procedures designed to contain the spread of COVID-19. These include social distancing, reduced physical contact between travellers and TSA officers during the screening process, use of PPE by TSA officers, and extra cleaning and disinfecting in the security checkpoint.