Tampa Airport accelerates construction work during COVID-19
As air travel at Tampa International Airport has slowed down considerably, the airport has increased the activity in its construction sites.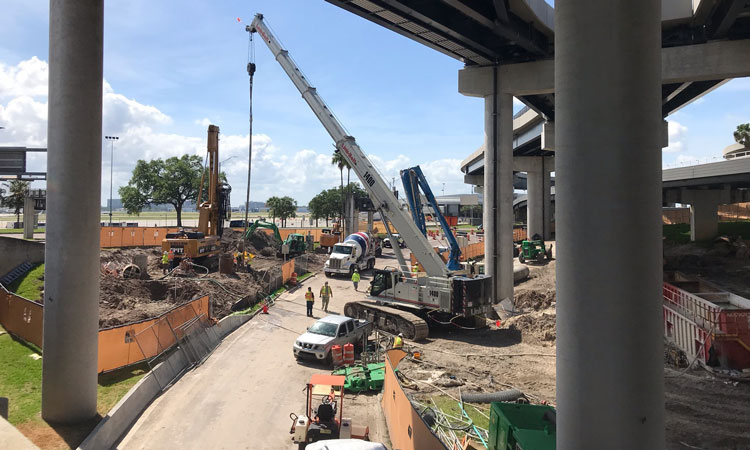 Tampa International Airport has pushed along essential construction projects with approximately $150 million, helping prepare the airport for future growth.
"With fewer guests in the terminal and on our campus, we're able to get ahead and speed up work on critical elements to significantly reduce passenger impacts down the road," said Al Illustrato, Tampa's Executive Vice President of Facilities.
Overall, TPA has accelerated eight different projects, including widening the main entrance and exit road, to modernising restrooms and adding new express kerbsides.
Some of the construction – which involve disruptive road closures or service impacts – is being completed weeks, if not months, ahead of schedule. Under normal circumstances, due to high passenger numbers, much of the construction would need to take place overnight in relatively short windows to minimise the impact on travellers. However, with far fewer guests, the work is taking place during the day and crews are able to work for longer periods of time.
"As we always say, 'We're an Airport first.' We're tremendously pleased to speed this work up, where possible, to minimise the inconvenience to our guests," said Illustrato.
The projects include:
Parkway widening: TPA is widening the George J. Bean Parkway and adding a new Economy Road exit to meet future traffic demands. Crews expect to save a month of construction time due to longer work hours resulting from lower passenger numbers.
Kerbside expansion/central utility plant: TPA is adding eight new express kerbsides for passengers without checked luggage and a new, more efficient central utility plant. Lower passenger numbers have allowed the project to utilise prolonged closures and shift work from nights to days, saving the two projects about two to three weeks.
Security enhancements: Fewer people airside has allowed crews to speed up installation of a new security system by six weeks. Instead of only taking one jet bridge out of service at a time, workers are now able to take six.
Checked baggage: Construction on a new checked baggage system for airside A and C is speeding up thanks to extended work hours, crews being able to take over larger work areas and shifting some activities from night to daytime.
Airside F roof replacement: The construction team is bringing on additional crews, working longer hours and taking over larger work areas. Overall, this allows crews to accelerate work before the rainy season sets in.
Ticket level modernisation: Crews are modernising the airport's ticketing counters. Instead of closing two at a time, workers are now taking over six without any impact. That coupled with longer work hours is expected to save about a month of construction time.
Airside A and E restroom project: The Airside A and E restrooms are getting refreshed and work on the projects is starting earlier than anticipated, saving about two weeks.
Airside C and F restroom project: TPA was able to accelerate the design, allowing the project to begin months earlier than originally anticipated.