Brisbane Airport to have biggest transformation
Brisbane Airport will have a $5 billion Future BNE investment programme for a better airport experience.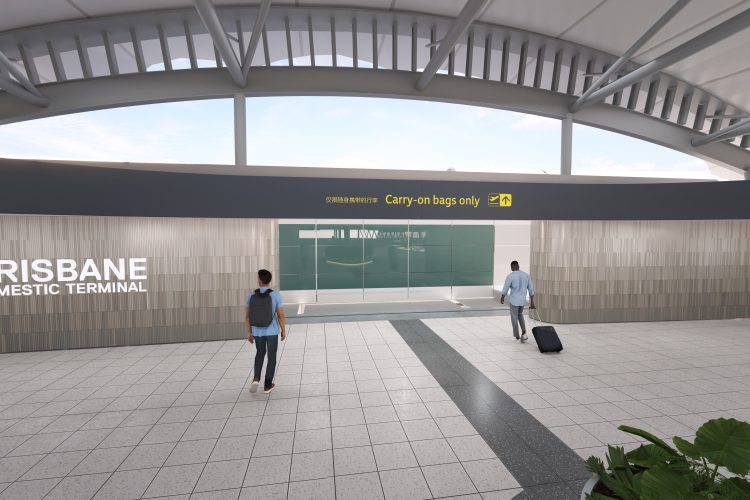 Skywalk entry. CREDIT: BRISBANE AIRPORT
Brisbane Airport is embarking on its next great transformation, with an over $5 billion Future BNE investment programme to create a better airport experience and cater for Queensland's growing population in the coming decade and beyond.  
It is not one project, but more than 150 projects to transform Queensland's most important transportation hub.    
Future BNE will include upgrades to the Domestic Terminal, International Terminal and to continue planning a new Terminal 3 Precinct. Other aviation projects will see the expansion of aircraft parking and aprons, the resurfacing of the legacy runway, and the construction of a state-of-the-art Aeromedical facility to centralise medical repatriation and emergency services at Brisbane Airport.   
"We're investing now to get ahead of the population growth curve so we're ready for 2032 and beyond. We're investing now so Queenslanders and the world are more closely connected. And we're investing now to be a leader in sustainability," says Brisbane Airport Corporation Chief Executive Officer, Gert-Jan de Graaff.  
More than 20,000 people currently work across Brisbane Airport for more than 600 employers. This is forecast to rise by an extra 10,000 people in the coming decade. 
The domestic terminal upgrade begins this week 
Significant work will commence this week on the transformation of Brisbane Airport's Domestic Terminal, to bring the facility which was opened just before World Expo '88 into the 21st century. 
Sparked by requirements to upgrade security screening equipment to meet Australian Government standards by the end of 2025, Brisbane Airport Corporation will use the opportunity to refresh the terminal in a series of projects which will transform Queensland's gateway to the world.   
"The Brisbane Airport Domestic Terminal is the most connected domestic terminal in Australia with services to 61 destinations, so it is a very important transport hub. Half of those destinations are in Queensland.  
"In the past year, 20 million passengers travelled through Brisbane Airport, and we expect that to grow by 10 million passengers in the coming decade as Queensland's population expands and our terminals need to be ready. 
"More than 20,000 people come to work at Brisbane Airport every day and we forecast that to grow to 30,000 by the time the flame is lit at the Opening Ceremony for the 2032 Olympic and Paralympic Games. Future BNE will also create thousands of construction jobs as our 150 projects come to life."   
Domestic terminal security upgrade 
The replacement of security screening systems is required by the Australian Government's Strengthening Aviation Security Initiative and must be completed by December 2025.  
This will mean the installation of new Computed Tomography (CT) technology.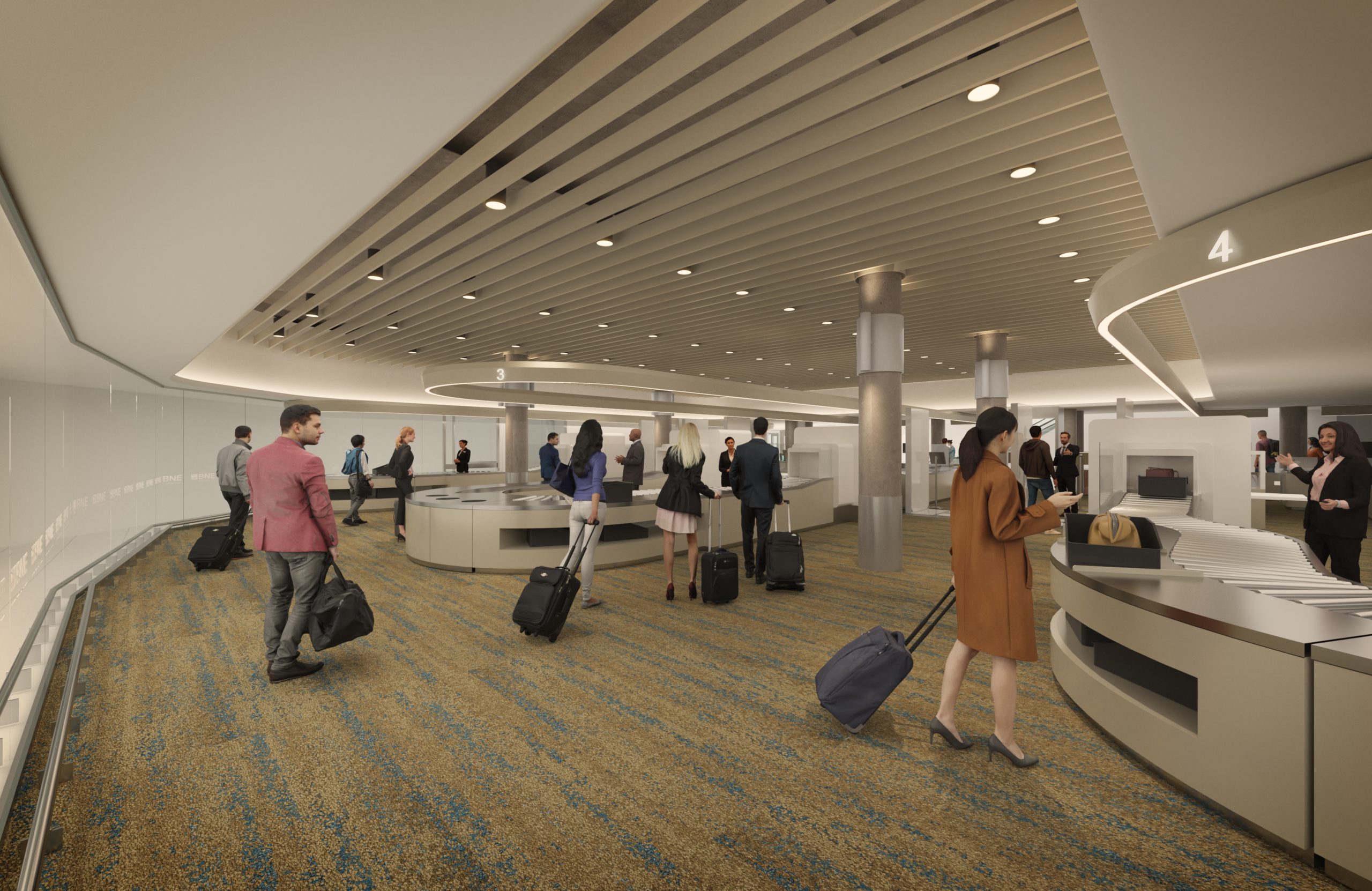 Northern screening. CREDIT: BRISBANE AIRPORT
Security screening level. CREDIT: BRISBANE AIRPORT
Benefits include:  
Less hassle at security screening, as passengers will be able to leave most items in their hand luggage including laptops and aerosols   
Improved safety through better security screening 
More streamlined screening process 
Uniform experience across Australia's major airports. 
New mezzanine level 
To cater for the size and weight of the new screening equipment, a new mezzanine level will be constructed above the existing Central Terminal Area. 
This is a vast engineering project taking place in a terminal while still caring for up to 60,000 passengers every day. When finished, it will allow direct access from 'Skywalk' (the walkway connecting carparks to the terminal) into Security Screening for passengers who have already checked-in and only have carry-on bags.  
There will be changes to the way passengers pass through the airport over the 3-year construction period. Travellers will be guided by airport ambassadors, customer service officers, updated signage, and help via bne.com.au plus social media channels.   
"We will look after travellers every step of the way. 
"The challenge is we are undertaking a vast project while still connecting 60,000 passengers to their destinations each day. It's a bit like doing open heart surgery on a patient while they're running a marathon. It won't be easy, but we must get it done so our terminal meets Australian Government mandated security standards for safer travel. 
"It will be more important than ever for passengers to continue arriving 90 minutes before their domestic flight to ensure a smooth departure."  
Lendlease will manage this project which will be staged to minimise the impact to passengers, airlines, and retailers.    
New world-class baggage system 
Brisbane Airport is installing a new state of the art baggage system in the Domestic Terminal. 
"The current baggage system is made up of three separate systems that were originally installed in the 1980s while Ansett was flying. When this project is complete, Brisbane Airport will have a single world-class system across the entire Domestic Terminal and that's great news for reliability, capacity, security and sustainability."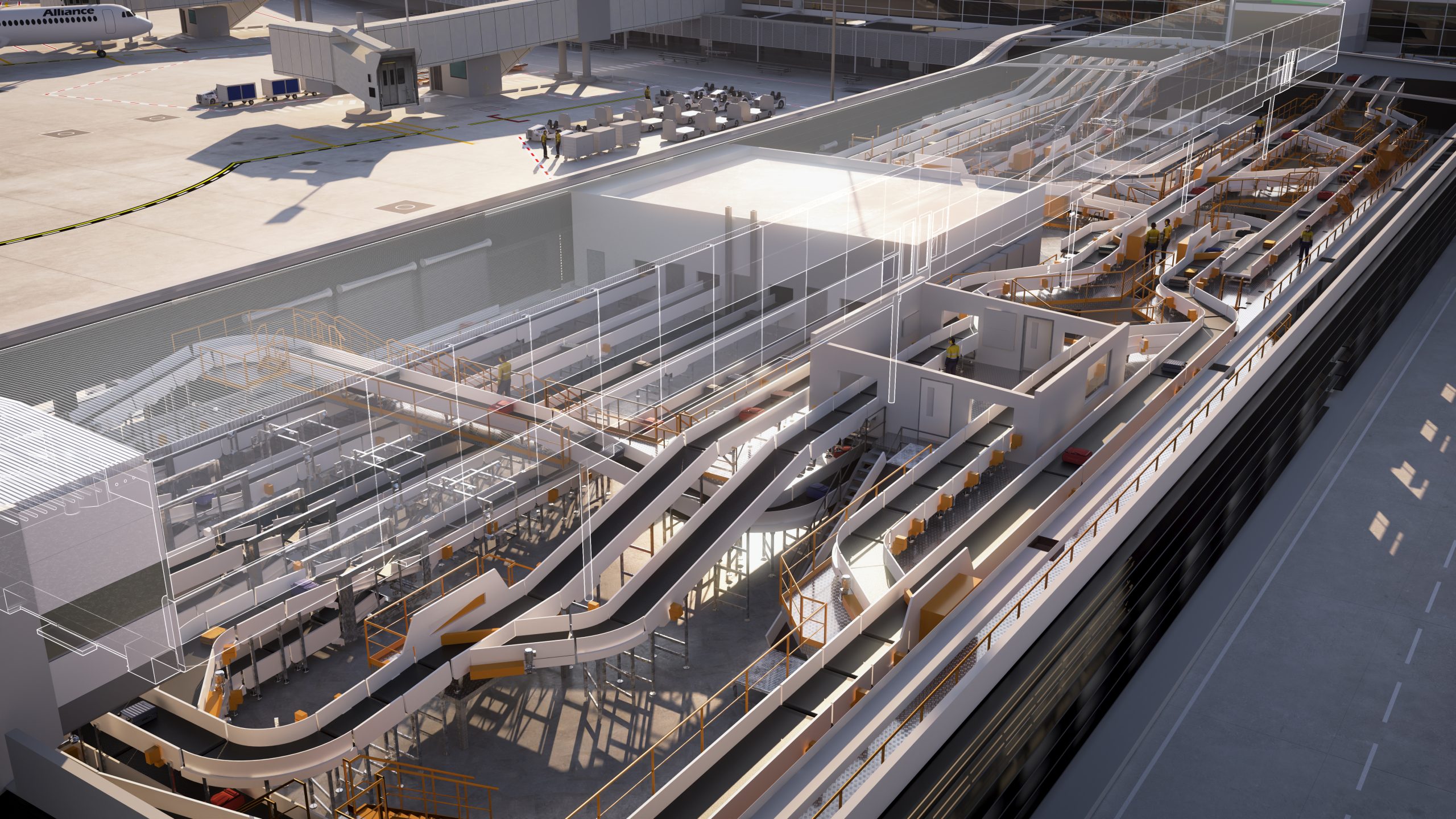 Central baggage conveyors. CREDIT: BRISBANE AIRPORT
The new system will feature upgraded security, modern bag-tag readers and operate sustainably, shutting segments of the system down when there are no bags to process, delivering energy savings. 
An entire new baggage hall will be built adjacent to the central satellite walkway. The current system will continue operating until the new system is built, tested and commissioned, allowing for a smooth transition.  
Project benefits: 
Better reliability 
Expanded capacity 
Improved security screening of checked-in bags 
Energy saving technology 
BAC has appointed global automation specialists Alstef and Brock Solutions the contract to build the new baggage handling system. 
Domestic terminal self check-in 
Domestic Terminal Self Check-in upgrades will provide a quick and simple check-in process for passengers of all domestic airlines.  The new check-in areas will be easy to use and will work seamlessly with bag drop and security screening, leaving more time to relax and explore the airport. 
Bathroom refurbishments  
We are upgrading our bathrooms for passengers. Based on input from customer feedback, the upgraded bathrooms in the Domestic Terminal will include increased capacity, as well as new fixtures and finishes. The upgrades will also include accessible bathrooms and parenting rooms and will help reduce water usage through sustainable design. 
Dining expansion  
Construction has just commenced to expand eating and dining options in the Virgin Australia end of the terminal, with a new bar along the glass windows to be constructed to allow customers to sip cocktails while watching planes land and depart. A total of 10 new food and beverage options will be available for travellers.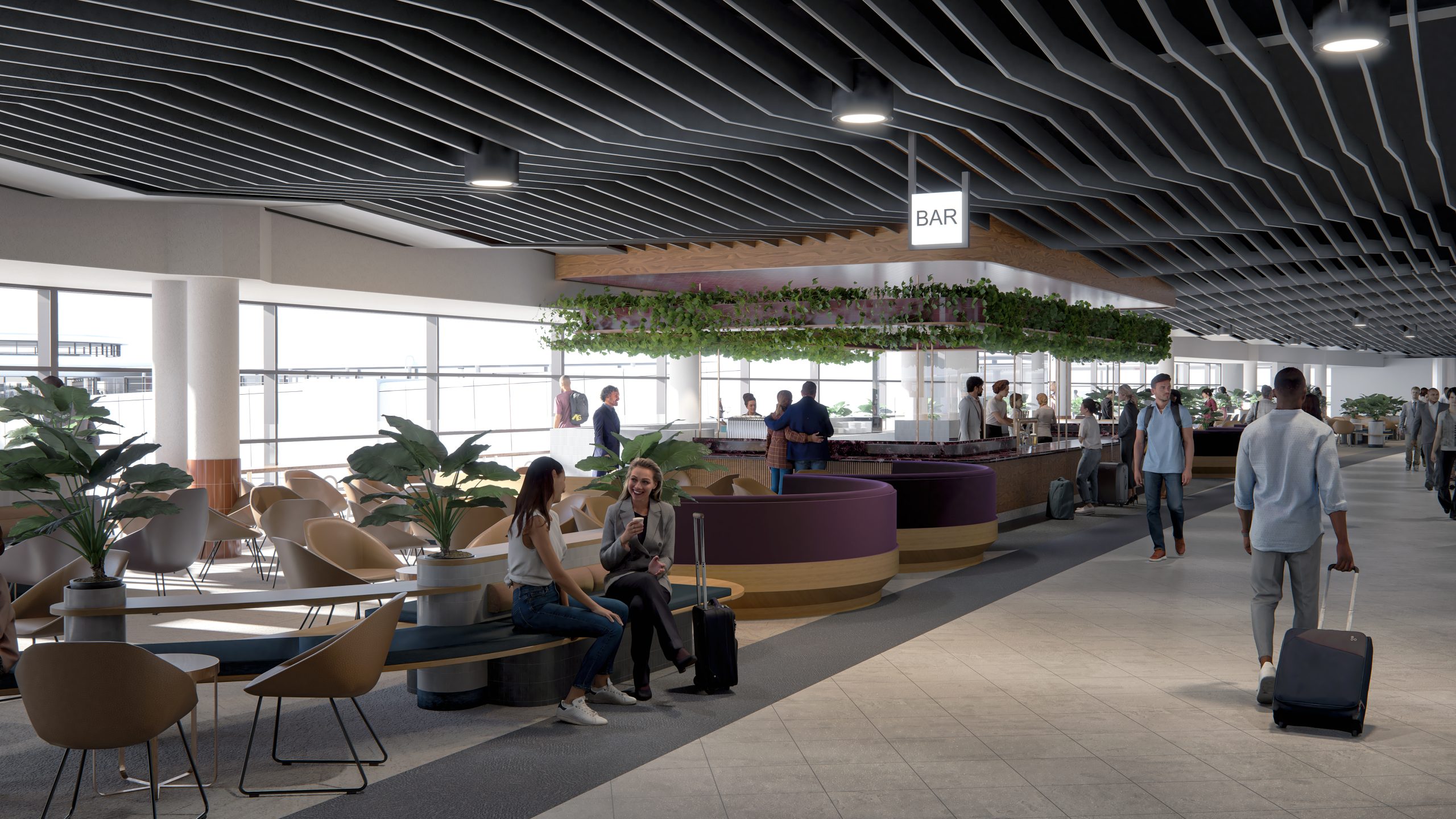 Retail gate lounge. CREDIT: BRISBANE AIRPORT
It will include a 360-degree restaurant, the largest ever built at the airport, with the 10 new exciting tenants to be announced soon. 
Refreshed gate departure lounges  
The Domestic Terminal was opened on 19 March 1988 just in time for World Expo '88 and while we love the 1980s, some of our terminal is certainly overdue for a 21st century makeover. Carpet and seating will be progressively upgraded. 
At departure gates adjacent to the retail upgrade, new café style social seating will be installed. 
All furniture is Australian designed and manufactured and all timber used is Spotted Gum which is sustainably grown in Queensland
All carpet is made in Australia from 100% recycled carpet 
Tabletops are made from 100% recycled glass and do not contain engineered stone / silica 
Layout is flexible to allow wheelchair access 
Window side stools enable passengers to sit and view the aircraft landing and taking off before their flight.  
And yes, there will be places to recharge devices.  
Charging stations for airside electric vehicles 
Speaking of recharging, we're investing in charging stations out on the tarmac to support the electrification of Brisbane Airport's fleet of airside vehicles, 70% of which will be electric by 2026. This will not only reduce emissions, but also reduce noise—providing a more comfortable airport experience for passengers and workers employed on the tarmac.  
Brisbane Airport has committed to being net zero for scope 1 and 2 emissions by 2025 and has entered into a historic six-year agreement to secure renewable energy from 2025. 
Bussing lounges  
Brisbane Airport is designing bussing lounges to provide passengers with smooth bus transit to and from aircraft at remote parking bays. The bussing lounges will be designed to: 
Expand capacity to accommodate more passengers during peaks 
Improve passenger comfort 
Travellers can save time that would otherwise be spent on lengthy walks 
Domestic Terminal P2 car park expansion  
Since the pandemic, more people are choosing to drive to the airport instead of catching public transport or rideshare, meaning at peak times we are close to running out of carparking space. 
Expanding the P2 car park will provide more options for passengers with 1,700 additional car spaces plus active transport storage for scooters and bikes, sheltered from the elements, just a short walk to the terminal and adjacent to the airport hotels.