Prescott Regional Airport begins construction on new passenger terminal
The new developments will aim to provide an enhanced passenger experience for those travelling through Prescott Regional Airport.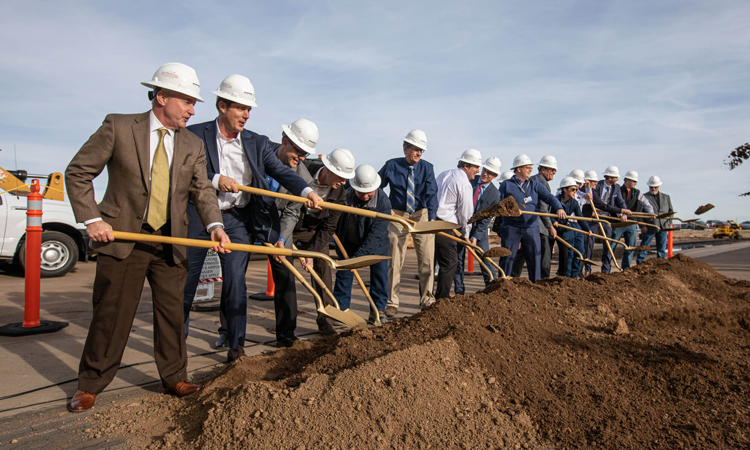 Credit: Prescott Regional Airport – Ernest A. Love Field - Image of the groundbreaking at the airport in January 2020.
Prescott Regional Airport – Ernest A. Love Field (PRC) has begun construction on a new passenger terminal, which is set to replace the current terminal originally built in the 1940s.
The new $13.9 million terminal is expected to accommodate 18,000 passengers annually and will continue to serve the current commercial air service, with flights from Prescott to Denver and Los Angeles. 
Since United Express, operated by SkyWest Airlines, began service in August 2018, Prescott Regional Airport has experienced a significant increase in passengers utilising commercial air services. Following the introduction of the new service, 73,000 passengers have utilised the opportunity.
Mayor of the City of Prescott, Greg Mengarelli, said: "The airport is a major economic driver for this entire region and, as we see the economy continue to grow, there is great opportunity for more economic development around the airport. This new terminal is only the beginning as we look at future expansion."
The airport is hoping to provide an enhanced passenger experience through the addition of the new passenger terminal, commercial service apron, baggage handling system, vehicle parking and roadway.
Local commercial general contractor, Willmeng Construction Inc., and Fann Contracting, a local heavy civil construction company, are responsible for the construction of the new Prescott Airport terminal, with architectural designs completed by DWL Architects. Funding for the project was supported by the Federal Aviation Administration (FAA) and state partnerships.
Mark McClardy, Director of the Western Pacific Region for the Federal Aviation Administration, said: "It takes local support to make things happen. We ask for these three simple things, that the local community respects the asset, acts as a good steward and when we provide federal money, spend it. This was a very competitive process. We had 167 applications from different airports, but only four grants were issued. We are all in for Prescott."