Birmingham Airport partners with mental health charity
Following airport employees voting for a new charity partner, Solihull Mind will benefit from a three-year partnership with Birmingham Airport.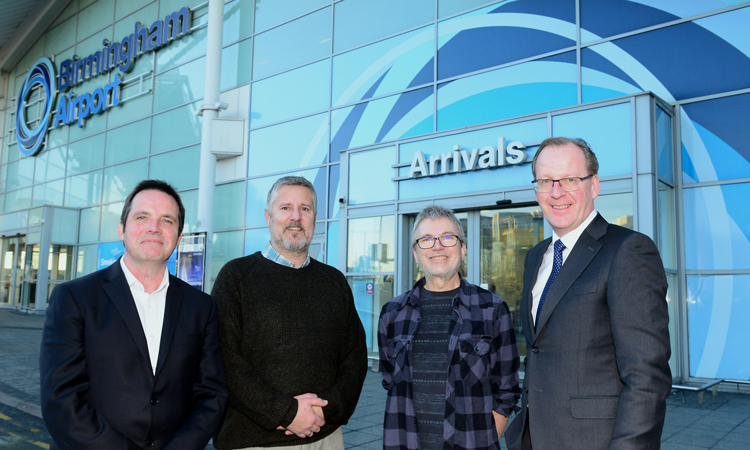 Credit: Birmingham Airport - From left to right: Andy Holding, Corporate Responsibility Manager at Birmingham Airport; David Skerrett, Chair of the Board of Trustees at Solihull Mind; Nick Woodman, Information Officer at Solihull Mind; and Nick Barton, CEO of Birmingham Airport.
Birmingham Airport (BHX) has announced a new three-year partnership with local mental health charity, Solihull Mind, which provides a wide range of services to those with mental health problems. 
Birmingham Airport has a long track record of successfully implementing measures to mitigate any negative effects that are a result of its operations, remaining mindful of the people living within the communities close to the airport.
An integral part of the airport's new sustainability strategy is a reaffirmation of its commitment to play an active role in the communities impacted by the airport's operations.
CEO of Birmingham Airport, Nick Barton, said: "We understand the effects of our operation on our neighbours and are proud to give something back to the local community. With Solihull Mind emerging as the clear winner of our staff vote, mental health is something which resonates with many of our employees. We're excited to be raising awareness of the incredible work of this charity and have some exciting activity in the pipeline."
All 800 of the airport's employees were given the chance to vote for the new charity partner. As a result of being given the opportunity to nominate local charities, the decision to support Solihull Mind came directly from employees themselves.
Dave Skerrett, Chair of the Board of Trustees at Solihull Mind, said: "We are delighted to have been chosen to be the charity supported by Birmingham Airport for the next three years. We are looking forward to developing the relationship which we anticipate will be hugely beneficial to both organisations and, more importantly, will help us to not only maintain our current services but also enable us to develop and deliver more mental health support for the people of Solihull."
Solihull Mind works across the borough of Solihull, with support reaching many areas in close proximity to the airport, including Balsall Common, Castle Bromwich, Chelmsley Wood, Dorridge, Kingshurst, Knowle, Meriden and Smithswood.