Long Beach Airport introduces electric ground support chargers
The installation of new electric charges to support airline-owned ground equipment is part of Long Beach Airport's efforts to reduce carbon emissions.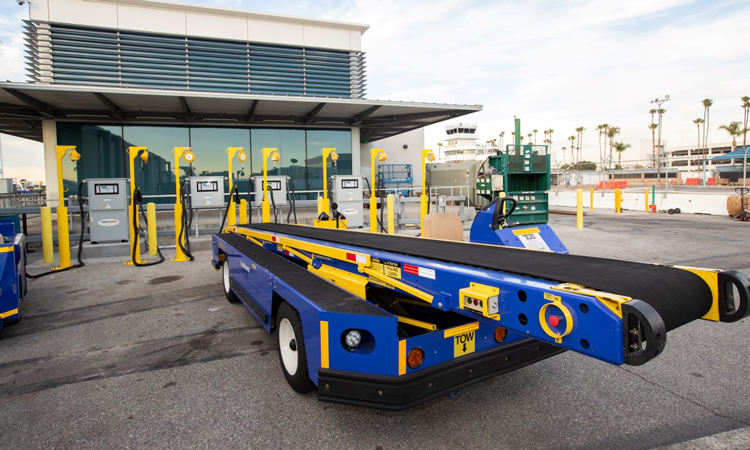 Credit: Long Beach Airport
Long Beach Airport (LGB) has reached a major milestone in its efforts to reduce emissions by installing 15 electric chargers for ground support equipment.
The $1.4 million project represents Long Beach Airport's achievement to 100 per cent electrify all 11 of its commercial gates.
The state-of-the-art technology allows the airport to quickly charge its airline-owned ground support equipment – this includes equipment used for re-positioning and servicing aircraft, loading and unloading cargo and transporting checked bags.
Robert Garcia, Mayor of Long Beach, said: "These new electric chargers are an important step towards a carbon-neutral airport. Long Beach Airport is leading the way on sustainability by making important investments in reducing our carbon footprint."
By working with airlines' to invest in zero-emissions equipment, Long Beach Airport hopes to reduce nitrogen oxide emissions by approximately 2,000lbs per year by 2023. The introduction of the new electric equipment is part of the airport's broader efforts to reduce its emissions for non-aircraft mobile sources.
Director of Long Beach Airport, Cynthia Guidry, said: "We are excited about the air quality improvements that will result from these new charging stations. This is a team effort with our airline partners, who are making an investment in ground support equipment that is all electric."
Long Beach Airport is one of five commercial airports in the South Coast Air Basin that has finalised a collaborative agreement with the South Coast Air Quality Management District. The Air Quality Improvement Plan (AQIP) sets voluntary targets for renewable energy, sustainable design, clean construction practices, clean fleet goals for airport-owned vehicles and additional electric charging infrastructure for travellers.