Construction begins on Swissport air cargo warehouse at Frankfurt Airport
The new facility will expand Swissport's handling abilities by almost 50 per cent and strengthen Frankfurt's position as a leading airfreight hub.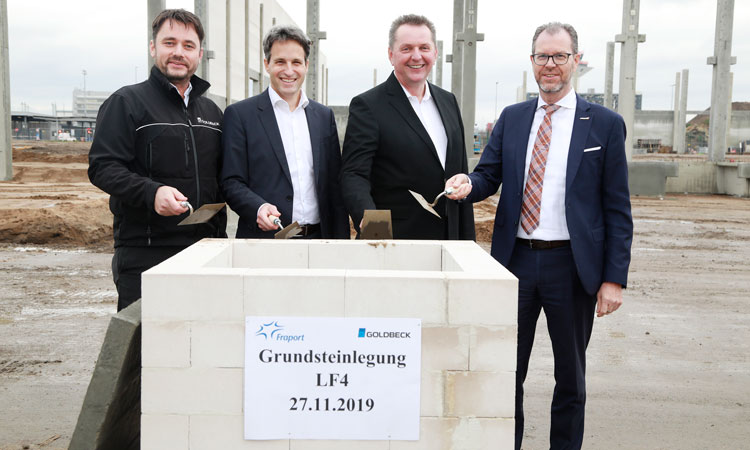 Copyright: Fraport AG
Construction has begun and the foundation stone laid for the new Swissport airfreight facility at Frankfurt Airport (FRA). The joint effort between Fraport AG and Swissport Cargo Services Deutschland GmbH marks yet another milestone in the continuous efforts to develop FRA as an airfreight location.
The new building is located at CargoCity South on the airport's campus and is expected to expand Swissport's current handling capacities by approximately 50 per cent. Features of the new warehouse include a material handling system that will allow for containers and pallets to be automatically stored and removed from the warehouse, and an expansion of the current range of special temperature storage for pharmaceutical customers.
Felix Kreutel, Senior Vice President of Real Estate and Properties at Fraport AG, said: "Fraport operates Europe's largest cargo hub at Frankfurt Airport. We intend to write another chapter in this success story together with our long-standing customer, Swissport. To achieve this, we are continuously optimising our service and product range and offering intelligent infrastructure solutions for our customers."
A focus on sustainability has also informed the final designs, emphasising Fraport's efforts to rely on the use of independently generated renewable energy. The roof of the freight hall will be installed with a large-scale solar PV system, the first such installation at Frankfurt Airport. It is expected to generate 1,550,000 kWh per year, approximately enough to power over 450 four-person households for the same time frame. 
Currently, almost 50 per cent of Germany's airfreight volume is handled at Frankfurt Airport – over two million metric tonnes were handled during 2018. The new facility will be Swissport's fourth-largest cargo centre worldwide, and is expected to increase handling capabilities to 200,000 metric tonnes of airfreight for airlines and shipping customers per year.
Senior Vice President of Central and Eastern Europe at Swissport, Willy Ruf, said: "We are looking forward to offering our customers individual air cargo services at one of Europe's most modern and sustainable airfreight facilities starting in the fall of 2020. Frankfurt Airport thus remains one of the most important airfreight locations in our global Swissport network."
The new centre is expected to be completed by the third quarter of 2020, will be constructed and fitted in accordance with the strict IATA criteria and will be CEIV Pharma-certified after beginning operations.