LaGuardia to open new concourse as part of $8 billion transformation
"A whole new LaGuardia" will ultimately comprise 2.7 million sqft, 72 new gates across six concourses, two new terminal arrivals and departures halls connected by a central hall.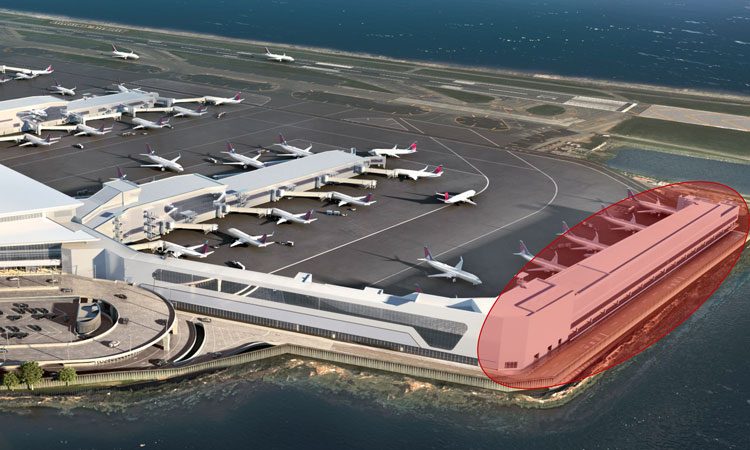 LaGuardia Airport is soon to open its first new concourse and gates at Delta Air Lines' new Terminal C.
This opening is the latest milestone in the complete rebuild of LaGuardia Airport. The $8 billion transformation, which began in June 2016, aims to provide a world-class passenger experience, featuring modern customer amenities, state-of-the-art architecture, more spacious gate areas and a connected terminal system. The seven new gates in the Delta concourse, on the far eastern side of the airport, will start serving passengers from 4 November 2019, running 60 flights per day to Boston, Chicago and Washington DC.
When complete, the new terminal will feature 37 gates across four concourses, connected by a centralised and streamlined check-in lobby, security checkpoint and baggage claim. The 105,000-square-foot concourse will feature modern amenities and dining establishments, and digital wayfinding signs to provide customer guidance. The new gate areas provide more seating, as well as sustainable technology powering ample outlets for charging devices, and respite spaces for passengers.
The airport's multi-phase construction plan has been designed to enable the 30-million passengers-a-year airport to remain fully operational while the entire airport is rebuilt. Under the plan, old facilities are demolished only as new facilities are completed, ensuring the airport never loses capacity.
This is the second new concourse to open as part of the rebuild, following the opening of the new 18 gate concourse at Terminal B in December 2018. As part of the redevelopment, each new terminal will be equipped with electric ground service equipment charging facilities to accommodate an electric fleet.
"We're building the nation's first completely new airport in 25 years," commented Governor Andrew M. Cuomo. "The new LaGuardia Airport will provide a world-class passenger experience with state-of-the art terminals and concourses, new roadways and improved traffic flow, and 50 per cent more tarmac space to reduce gate delays," he added.