Cardiff Airport unveils its Environmental Flight Path
Despite already delivering a number of environmentally friendly achievements, Cardiff Airport has recently unveiled more goals as it aims to become a 'carbon neutral airport'.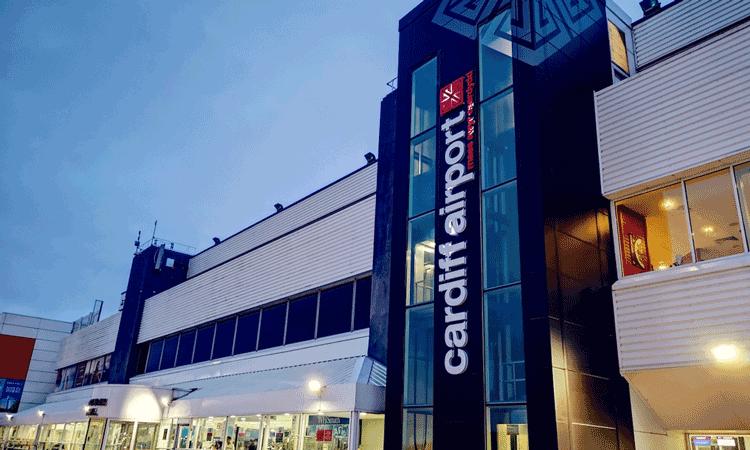 The national airport for Wales has unveiled a timeline of immediate- and short-term environmental goals. These milestones will be delivered in line with the organisation's vision to become a 'carbon neutral airport' and is a key consideration for Cardiff Airport's Masterplan development over the next two decades.
Environmental responsibility is a priority for Cardiff Airport, and a number of achievements have already been delivered.
The airport has seen a reduction of 53 per cent in carbon emissions over eight years, natural gas consumption has been reduced by 29 per cent over one year, electricity consumption has been reduced by seven per cent over one year, electric vehicles have been introduced to operations around the site, complimentary water refill stations have been installed across the site, and the use of plastic straws has been discontinued by all food and drink outlets.
The airport has also replaced end-of-life equipment with modern, more energy efficient technology, and replaced light fittings with LED and energy efficient solutions. Additionally, air traffic control uses continuous descent operations for aircraft on approach which reduces the impact of noise, the ground-running of engines during anti-social hours has been restricted and the airport encourages twin engine aircraft to taxi with one engine. 
An extensive audit of Cardiff Airport's environmental management system has led to the fourth consecutive achievement of the BS 8555:2003 Seren Standard accreditation. This recognises the airport's commitment towards legal compliance, environmental performance and continued improvement.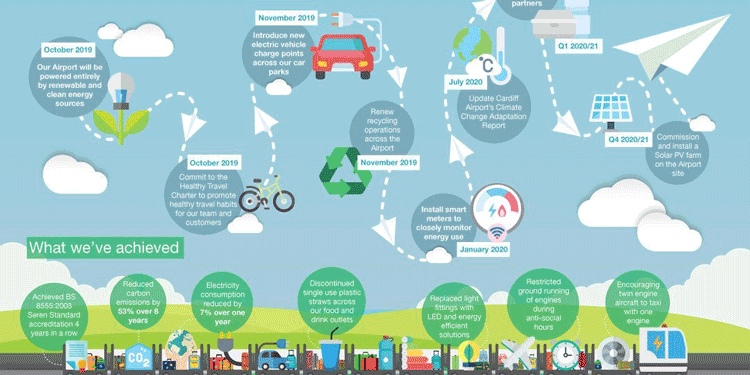 Cardiff's journey ahead
Cardiff Airport's Environmental Flight Path has been developed with the support of Cardiff Airport's Board, Welsh Government, the Airport Operators' Association and WSP consultancy. It is a framework developed to track environmental and sustainability successes that have already been achieved, whilst setting immediate- and short-term goals. 
The airport is aiming to source 100 per cent of its power supply from renewable and clean energy sources by October 2019, introducing electric vehicle charge points across car parks by November 2019, renewing recycling operations by November 2019, installing smart meters across the site to closely monitor energy consumption by January 2020, updating Cardiff Airport's Climate Change Adaptation Report by March 2020, continuing to work with all partners to further the reduce plastic use and commissioning and installing a solar PV farm on the airport site by 2021.
Deb Bowen Rees, CEO of Cardiff Airport, said: "The unveiling of our Environmental Flight Path is the culmination of a huge amount of work delivered by the team. I'm extremely proud of the significant achievements we've already made, which includes a reduction of over 50 per cent in carbon emissions over eight years. In October 2019, we will be able to say that all of the airport's power supply will be sourced from renewable and clean energy.
"Our Environmental Flight Path will continue as a living and breathing strategy which will be used as a benchmark for success but, importantly, it will be reviewed and expanded over time to include mid and long-term goals as we move through the next 20 years and realise our Masterplan for 2040 and ultimately become a carbon neutral airport."