Miami-Dade Aviation Department
www.miami-airport.com MIA's new Concourse E Passport Control Facility: The first in the U.S. fully dedicated to facial recognition screening   Miami International Airport's renovated Concourse E federal inspection service (FIS) facility – completed in November 2017 – is the first in the United States completely dedicated to providing expedited passport screening via facial recognition. Since […]
MIA's new Concourse E Passport Control Facility:
The first in the U.S. fully dedicated to facial recognition screening
Overview
Miami International Airport's renovated Concourse E federal inspection service (FIS) facility – completed in November 2017 – is the first in the United States completely dedicated to providing expedited passport screening via facial recognition.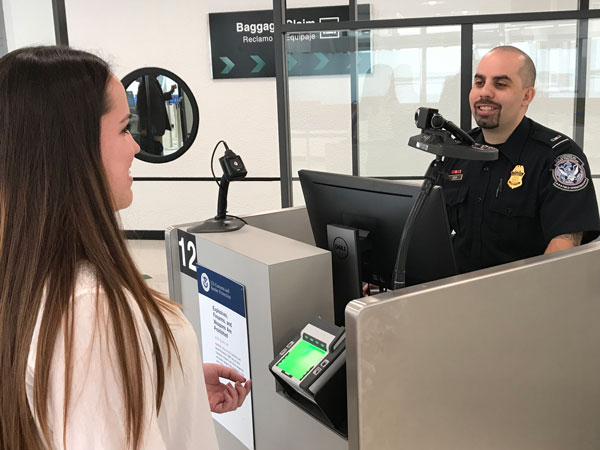 Since launching the facial recognition pilot program in November, the Concourse E facility has been screening as many as 10 passengers per minute. The new technology by U.S. Customs and Border Protection (CBP) verifies a traveler's identity by matching them to the document they are presenting. In addition to providing the latest in expedited passport screening technology, the new facility reduces the walking distance for Concourse E and F passengers who previously only had access to the Concourse D passport hall – decongesting one of the country's busiest arrivals facilities in the process as well. MIA is the third-busiest U.S. airport for international passengers, and its Concourse D FIS facility is the busiest single such facility in the country – processing more than seven million passengers annually. To date, the new Concourse E FIS facility is screening an average 1,500 passengers daily, removing more than half a million passengers from the Concourse D facility.
The re-designed, technology-driven facility also allows passengers to receive expedited passport clearance via Global Entry kiosks and the Mobile Passport Control (MPC) app for U.S. and Canadian citizens. Last August, MIA launched an update to its MIA Airport Official app that allows users to seamlessly access Mobile Passport Control clearance – the first airport app in the world authorized by CBP to do so.
Renovation Description
The MIA Lower Concourse E federal inspection facility renovations included interior renovation and modernization of the existing federal inspection facility.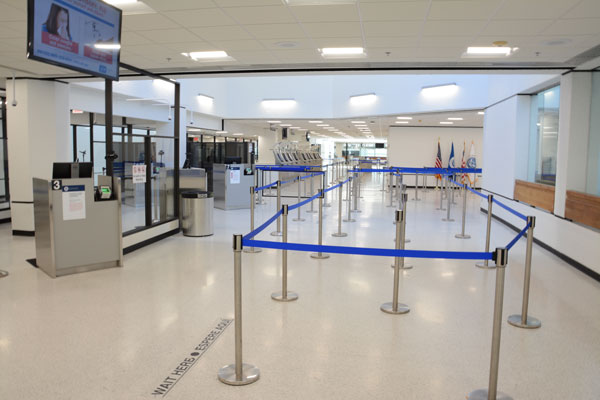 This project was separated into two sections:
The first section included the baggage claim area (27,991 SF); the secondary area (17,782 SF) and exiting area (14,325 SF).
The second section included the passport control area (14,514 SF). Additionally, the project included the remodeling of the lobby ceilings; intensive clean-up; fumigation; asbestos/mold remediation; and repair work needed to restore the existing areas.
The project included upgrading security and meeting technical design guideline requirements enforced by CBP. Project enhancements also included way-finding signage; furniture, fixtures & equipment; door hardware installation; phasing allowances; new cubicle partitions; modifications to the existing sprinklers; plumbing and HVAC systems; new LED light fixtures; and adjustments to the existing fire alarm system.
MIA Lower Concourse E FIS Renovations – Phase I
| | |
| --- | --- |
| Direct Cost | $ 12,404,459 |
| Design Contingency | $ 3,101,115 |
| MGC's General Conditions and Fees | $ 3,252,579 |
| Owner's Allowance Account and IG | $ 1,922,711 |
| A/E Services | $ 844,275 |
| Construction Support | $ 1,196,057 |
| Indirect Costs | $ 2,416,738 |
| Total Estimated Project Cost |  $ 25,137,934 |
Performance Results
The six airlines now using the Concourse E-FIS have seen their wait times improve 30 to 80 percent year over year since relocating from the Concourse D-FIS. Additionally, According to Airports Council International–North America (ACI-NA) data, MIA has seen the following average wait time reductions in its D-FIS and J-FIS facilities since the Concourse E-FIS opened:
| | |
| --- | --- |
| January 2018 | -14.7% |
| February 2018 | -10.8% |
| March 2018 | -4.8% |
| April 2018 | -1.3% |
| May 2018 |  -12.4% |
Supporting documentation
Media Coverage