Budapest Airport
www.bud.hu Sustainable solutions at Budapest Airport Outstanding environmental results, excellent community relations, and unique initiatives for sustainability – in addition to business successes and traffic records, this is what the past few years brought for Budapest Airport which matured into a truly sustainable company and joined the elite club of Hungary's most responsible companies. Our […]
Sustainable solutions at Budapest Airport
Overview
Outstanding environmental results, excellent community relations, and unique initiatives for sustainability – in addition to business successes and traffic records, this is what the past few years brought for Budapest Airport which matured into a truly sustainable company and joined the elite club of Hungary's most responsible companies.
Our responsible operation continues to be based on two main pillars: While fully complying with the current regulations, we strive to win and strengthen the trust of our partners and neighbours by operating several proactive initiatives on a voluntary basis.
The Greenairport Program and the regional development partnership called Airport Regional Development Cluster were started at almost exactly the same time in 2015, and although their objectives are partly different, they both build on far-reaching cooperation and regional collaboration.
In addition to the awards and excellent qualifications received over the past years, it represents high-level recognition that Budapest Airport has become a member of two elite clubs. We regularly participate in the work of the Business Council for Sustainable Development in Hungary (BCSDH) and in the carbon accreditation program of Airports Council International (ACI), as part of which airports from all over the world work together to combat climate change. In this program our company renewed Stage 3 (Optimisation) in 2017, and then stepped up to the highest Stage 3+ meaning becoming carbon neutral in April 2018, the first airport in Central-Eastern Europe receiving this accreditation level.
Air quality improvement
In view of the relevant EU directives, national regulations, and its own environmental objectives, Budapest Airport operates an ambient air pollution monitoring station at Budapest Ferenc Liszt International Airport. It was installed in September 2007 on the terrace of Terminal 2 (BAIR1.)
Our aim with the operation of the monitoring system is to map out the various types of pollutants and their concentrations, the distribution of pollution in terms of area, time and direction, and to carry out scientific research (e.g. explore medical, biological, and financial impacts, show meteorological and geographical connections). The air quality at the airport related to all 5 measured components is excellent or good according to the Air Pollution Index in the recent years. The hourly, daily and yearly threshold limit exceeds were practically zero.
Biodiversity
Flora at the airport consists of species typical of secondary grasslands, dry, sandy grasslands, planted woodlands, alleys, loess-based grasslands and weedy areas. According to the findings of the most recent comprehensive environmental survey, 211 plant species can be found within the 1515 hectare area of the airport, which include several protected species. Human interference into the life of animals is also eliminated to a certain extent, which provides an opportunity for wildlife to settle. In the interest of aviation safety, environmental, aviation safety, and airside operations professionals of Budapest Airport maintain a continuous bird and wildlife protection service, where measures include the use of sonic transmitters imitating the alarm signals of birds, sonic cannon, and testing various methods of traps. In addition to it Budapest Airport is regularly monitoring ground squirrel population on the grassland and moving them with biologist researchers to Hungarian National Parks.
Carbon footprint reductions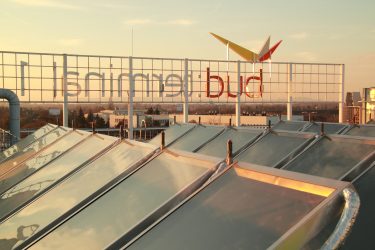 Budapest Airport is committed to achieving energy use and greenhouse gas emission reductions. Since 2010 Budapest Airport has been surveying its greenhouse gas emissions in a more complex and detailed way than required by law. As a result of consistent efforts, CO2 emission of Budapest Airport per passenger was reduced by as much as 44% over the last five years. On the other hand, several renewable energy options have been assessed and some of those have already been implemented or considered during planning activities. The utilization of renewable energy has been proven technologically viable. Budapest Airport is implementing a solar-collector system on the rooftop of Terminal 1 which provides hot water for the office building and substitutes electric boilers. Furthermore, two new gas boilers has been replacing the 20-year-old technology, improving efficiency by 15% while reducing NOx emissions by 30%.
E-mobility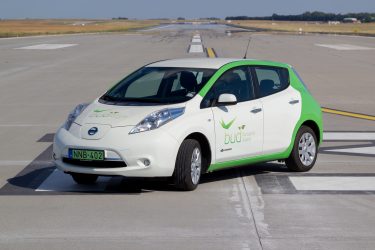 Budapest Airport has launched a program in order to coordinate and encourage environmental developments amongst the nearly 200 partner companies operating at the airport, with the dissemination of electric mobility as one of its important elements. More than 1000 vehicles are used for the handling of flights, the towing of hold baggage trolleys, and by authority staff members, all within a circle of less than 10 km radius, in the airside areas, closed to public traffic. As a result of the program, partner companies operating at the airport have already set up fleets of electric tugs and conveyor belts while others have started indicating the need for charging stations for their newly purchased electric vehicles, and are testing the various special solutions offered by manufacturers. Budapest Airport already counts with 4 fully electric cars in the fleet and is aiming to increase this number while changing older diesel or gasoline vehicles.
Noise protection
Budapest Airport performs its noise protection activities along four main guiding principles: we implement various investments to continuously reduce noise impacts, safeguard compliance with regulations, promote the clarification of requirements regarding execution, and place great emphasis on voluntary measures whereby the quality of life for affected communities can be significantly improved.
The sustainable noise reduction strategy of Budapest Airport does not only mean installing cutting-edge technology and ensuring it meets regulations and budgetary restrictions – engaging other key stakeholders including local residents and politicians and educating them about the multiple long-term benefits of the technology is also a key component. A total of 351 households participated in the voluntary noise insulation program offered during 2008-2011 which has been re-announced in 2017-18 at an additional area; the total value of window insulation reached nearly half million EUR.
Waste management and recycling
Budapest Airport currently handles approximately 1700 tons of communal waste each year. This is generated during the activities of the company and of third parties, in the course of office work, terminal operation, catering and commercial activities, maintenance works, and cargo handling. Budapest Airport has a local waste sorting facility that helps to sort the waste types and therefore increase the part of the recyclable waste quantity. Over the last 4 years, through systematic improvement solutions, the recycling ratio rose to 78% in 2017. During the last quarter of 2014, Budapest Airport installed a total of 53 new touchless hand dryers in the bathrooms at Terminal 2. Experiences so far are impressive: 1.5-2 tons less paper was used in the bathrooms per month, which means saving 20-25 tons of paper annually.
Water
Water supply for airport facilities including the water demand of the fire service base and other technologies is provided independently from the municipal utility network, by the airport's own deep-bored wells. In order to protect nearby natural waters, notably the Gyáli creek and other hydrological basins, Budapest Airport operates a total organic carbon (TOC) monitoring station, which channels rainwater in accordance with organic content. If the concentration of organic matter exceeds the relevant threshold, the facility directs rainwater into the sewage system of the airport, thus protecting natural waters. In 2017 the TOC equipment has been upgraded to a more efficient and modern device.
Supporting documentation