Exclusive insight into Hong Kong's SKYCITY project
Fred Lam, CEO of Airport Authority Hong Kong, spoke to us about the SKYCITY development and how it will further reinforce HKIA's role as international aviation hub.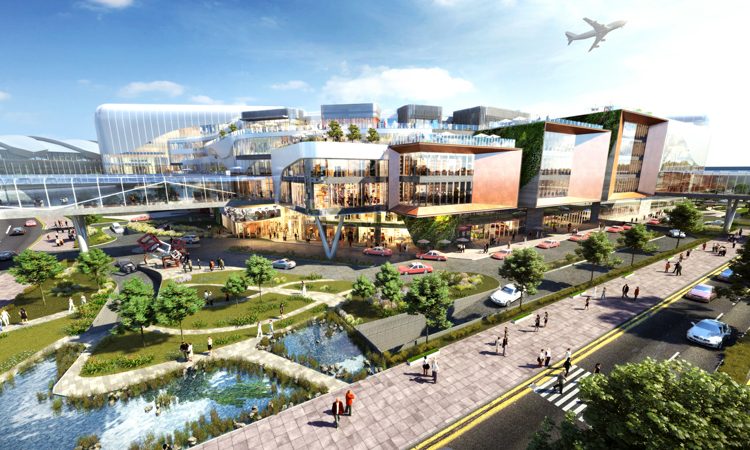 What is the SKYCITY project? Can you provide an overview
SKYCITY, a major integrated commercial development, is a core part of the strategy to expand and transform Hong Kong International Airport (HKIA) into an 'Airport City'. Driven by a vision to create a unique new destination for Hong Kong and the Guangdong-Hong Kong-Macao Greater Bay Area (GBA), and to further strengthen HKIA's position as an international aviation hub, SKYCITY will feature retail complexes, entertainment facilities, dining space, hotels and office towers in its approximately 25 hectares of land at the north of the airport island. SKYCITY is situated just a short stroll from HKIA and is conveniently accessible by rail, road and a network of footbridges.
SKYCITY will be developed in phases in partnership with appointed developers. The retail, dining and entertainment facilities developed for a maximum gross floor area of 350,000 square metres are scheduled to be opened in phases from 2023 to 2027. A hotel providing over 1,000 rooms is also being developed in SKYCITY, scheduled to be opened in 2020-2021.
SKYCITY goes beyond the traditional notion of a shopping mall. The new development is aimed to capture broad opportunities in tourism and business, while providing a dynamic lifestyle attraction and family entertainment hub. SKYCITY is expected to become a destination of its own, for visitors from GBA and around the world, as well as local residents.
Why is it important to make HKIA a destination in itself?
Leading airports around the world all vie to become a destination in themselves. Airports are no longer entities that only manage the flow of passenger and cargo, but have become a breeding ground for much wider networks of activities and businesses as part of the Airport City transformation process. HKIA is at the forefront of such development, which is also in line with its role as key driver of economic growth and development of Hong Kong.
With the commencement of Hong Kong-Zhuhai-Macao Bridge and Guangdong-Hong Kong-Shenzhen Express Rail Link in 2018, HKIA is more closely than ever connected to the nearby cities in the GBA. The development of HKIA into a destination will further reinforce its role as international aviation hub of the region, capturing new opportunities in tourism and business.
For this to happen, does the passenger mindset/perception need to change?
Changing passengers' perception by delivering novel and pleasant experiences is an ongoing exercise at HKIA. We always work towards providing the best passenger experience for all travellers as habits, behaviours and preferences of passengers keep evolving. Our facilities and services will be continuously reviewed and enhanced to keep up with the changing needs and preferences of passengers.
How does the SKYCITY project align within your Sustainability Management vision?
Airport Authority Hong Kong is dedicated to embedding sustainability into its development strategy and projects, including SKYCITY. Our sustainability strategy encompasses the environment, people and neighbouring communities.
HKIA is committed to being one of the world's greenest airports. The AA constantly engages business partners, suppliers and contractors in devising and implementing airport-wide programmes to minimise the airport's carbon footprint. HKIA has achieved carbon intensity reduction of 25.6 per cent in 2015, surpassing the original target of 25 per cent set in 2010. HKIA has further announced a 10 per cent reduction target for 2016 to 2020, as compared with the 2015 level. Meanwhile, the AA also strives to provide a pleasant and friendly work environment for the airport's growing workforce, whilst providing training and career opportunities for people of different backgrounds, including those in our neighbouring communities.
How was the build funded?
The project is funded mainly by the developer awarded through an open tender. Awardees will design, construct, finance and manage the development in partnership with the AA.
To what extent do you expect the opening of SKYCITY to have on HKIA's non-aeronautical revenues?
SKYCITY will drive the development of the Airport City at HKIA and elevate travellers' experience, while further diversifying HKIA's non-aeronautical revenue. At the same time, the AA is confident that SKYCITY will attract more travellers to fly via HKIA, further boosting the overall airport business.
Biography
Fred Lam JP, Chief Executive Officer, Hong Kong Airport Authority was appointed Chief Executive Officer in October 2014. He was the Former Executive Director of the Hong Kong Trade Development Council and Second Vice President of the Asia Pacific Regional Board of Airports Council International (ACI). Lam is a member of the ACI World Governing Board, the Aviation Development and Three-runway System Advisory Committee, and the Hong Kong Logistics Development Council.