Vienna Airport to surpass 30 million passengers barrier
Having handled 27 million passengers for the first time in 2018, Vienna Airport – the gateway which serves the geographical centre of Europe – is poised to break the 30 million passengers barrier in 2019, as its rapid traffic growth is expected to continue. With an annual increase of nearly 11 per cent in 2018, the Austrian capital city airport is anticipating another double-digit traffic result for the current calendar year. With such fast growth projected at Vienna, the positive decision by the Supreme Administrative Court on the airport's plans for a third runway, announced in March 2018, was welcome news.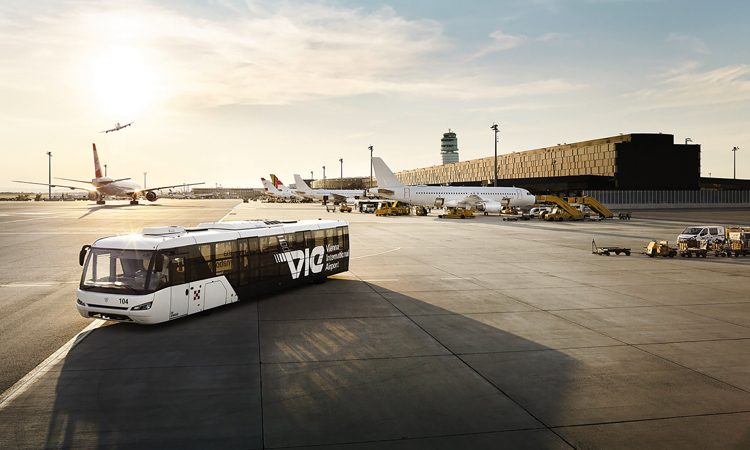 Vienna Airport has seen another record-breaking year in 2018. "The main drivers of growth were Austrian Airlines, followed by Lauda and easyJet. There was a strong expansion of our low-cost offering, due to the opening of three new bases by Lauda, Wizz Air and LEVEL," explains Julian Jäger, Member of the Management Board of Vienna Airport. The three airlines currently have eight, five and four aircraft based at Vienna respectively.
Fast-growing Far East
The airport's growth is not focused in one area, as many sectors have contributed to the dramatic performance. Long-haul routes have had a major impact on Vienna's throughput, with passenger volumes to the Far East climbing by 34 per cent, and traffic to Africa showing growth of 30 per cent in 2018. Travel to the Middle East was up by 8.3 per cent, while passenger numbers to North America were boosted by 8.9 per cent. Dubai was the top destination in the Middle East with close to 230,000 passengers, whereas Bangkok was the most popular long-haul route, attracting over 175,000 travellers.
Closer to home, traffic to Western Europe saw a 10 per cent improvement to 9.29 million passengers, with volumes to Eastern Europe rising by 8.3 per cent, to 2.26 million. The highest number of passengers to any single European destination was registered by London with nearly 700,000 departing passengers, while Moscow was the most popular Eastern European destination, attracting around 300,000 passengers.
The cargo business at Vienna also made progress in 2018, reporting a total cargo volume (including trucking) of nearly 300,000 tonnes, a 2.6 per cent increase when compared to 2017. Within this result, air cargo alone rose substantially by 4.4 per cent to over 215,000 tonnes.
Other airports in the Vienna Airport Group (VAG) also performed well in 2018, with the three facilities registering 34.4 million passengers (+11 per cent) in total. Malta Airport reported record traffic results, handling over 6.8 million passengers (+13 per cent), while VAG's other foreign strategic investment, Kosice Airport, registered nearly 540,000 travellers last year, up 9.1 per cent. VAG's airports expect an increase in passenger volumes of between 8-10 per cent in 2019 to approximately 38 million travellers.
Target of 30 million
Looking ahead, Jäger explains why he is confident about this year's continued robust growth and the possibility of Vienna passing the all-important 30 million annual passengers milestone: "The further expansion of the low-cost segment, re-fleeting of Austrian Airlines as well as further growth on long-haul routes by Austrian Airlines [Montreal], Air Canada [Toronto] and All Nippon Airways [Tokyo Haneda] should also provide added impetus. Our offering on short-haul and medium-haul routes will be expanded by new sectors from Vueling, Wizz Air, Lauda, LEVEL and Volotea." The indicators for another bumper 12 months seem to be correct, as Vienna's traffic so far in 2019 (January and February) is up by 25 per cent, to 3.69 million.
Business and tourism hub
Driving the recent traffic boom is the fact that the city is an attractive destination for business and leisure passengers. "Vienna is the largest hub in the region, and due to its geographical position, an ideal gateway to the East," says Jäger. Local origin and destination passengers developed positively (+13.6 per cent) over the year, breaking the 20 million passengers barrier for the first time. The number of transfer passengers also increased (+3.7 per cent) to nearly 6.7 million. "Overall about 300 multinational companies and 30 international organisations like the UN, OPEC and OSCE trust Vienna as a politically and economically stable location," states Jäger. This corporate core to the airport's demand means that around 30 per cent of Vienna's passengers fly for business reasons – resulting in valuable high-yield travellers for its serving airlines.
For the tourist, the city is also a very appealing destination. "With its imperial castles, hundreds of parks, even more galleries and the Philharmonic Orchestra, Vienna has been a hotspot of culture for centuries," adds Jäger. The quality of life in the Austrian capital is so high that in a recent report by Mercer, it ranked Vienna top for the 10th year running, ahead of global cities like Zurich, Vancouver and Auckland.
Vienna's catchment is enticing for prospective carriers due to its optimal accessibility thanks to its efficient road, rail and air transport links. On a local level, the airport has been connected to Western Austria via a direct high-speed rail line since 2016.
There are more than 150 daily bus and high-speed train connections to the airport, allowing easy access to passengers from not just within Austria, but also Slovakia, Hungary and Czech Republic. "About 12 million people, across four countries, live within two hours of the airport," confirms Jäger.
Chinese opportunity
In terms of the airport's network objectives, Jäger believes that gaining service on unserved long-haul routes looks really promising. "We believe there is a lot of room for more growth in China, especially as we still have unused traffic rights. Vienna is the perfect stepping stone for inbound Chinese traffic looking to travel to Central and Eastern Europe. As of the 18 June, the airport will gain two more cities on its Chinese network map, as Urumqi and Guangzhou will be added to existing flights to Beijing, Shanghai and Shenzhen, thanks to China Southern Airlines' new three times weekly operation," he concludes.