Airport showcase: Miami-Dade, a leading economic engine
On the 13 September 2018, officials from Miami International Airport (MIA) and HistoryMiami Museum, as well as airport and airline employees past and present, gathered at MIA to kick off celebrations for MIA's 90th birthday – celebrating nine decades of excellence.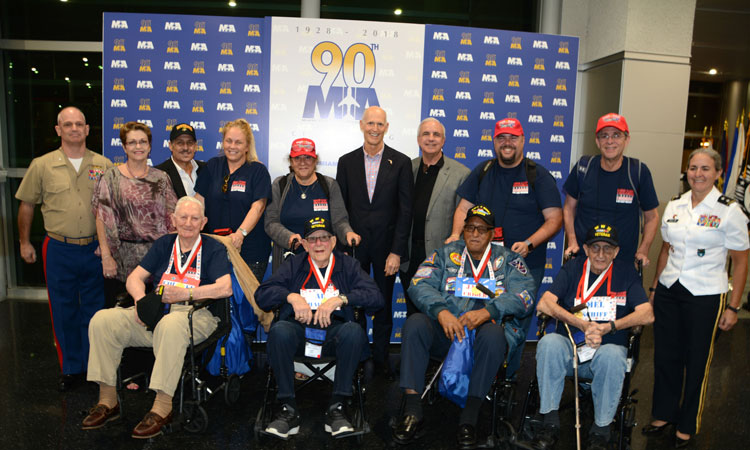 Florida Governor Rick Scott and officials from Miami-Dade County joined by the four 90-year-old veterans after the Honor Flight at MIA
The festivities began with the unveiling of Miami International Airport: A Hub for History, an exhibition highlighting important milestones from the airport's past nine decades. Developed in partnership with HistoryMiami Museum, the exhibit includes photographs, artifacts, uniforms and archival video from the Lynn and Louis Wolfson II Florida Moving Image Archives, featuring celebrity MIA arrivals and other notable events since the airport's first flight on 15 September 1928, to now.
"As it has for the past 90 years, MIA continues to play a significant role in the global aviation industry and in Miami-Dade County's economy," said Miami-Dade County Mayor, Carlos A. Gimenez. "Congratulations to the dedicated men and women who make MIA what it is today, and to HistoryMiami for producing this tribute to MIA's history."
MIA's 90th anniversary – which happened to fall on a Saturday, just like that first flight in 1928 – coincided with the airport's latest Honor Flight, hosted in collaboration with Honor Flight South Florida and Allegiant Air. More than 70 local World War II, Korean War and Vietnam War veterans departed MIA Saturday morning for a day trip to visit the war memorials in Washington, D.C. that were created in their honour. When the veterans, four of whom were also born in 1928, arrived back at MIA that evening, they were welcomed home by an energetic receiving line full of friends, family, community groups, military representatives and local officials.
"Miami-Dade County has been fortunate to have the unparalleled gateway of the Americas in our community for 90 years and counting," said Miami-Dade County Commissioner Rebeca Sosa, Chairwoman of the County's Economic Development and Tourism Committee. "I wish our community's largest economic engine many more years of success."
To continue the celebration, MIA launched the #MIAmemories photo contest. Whether it's a first arrival to the U.S., the start of a favourite vacation, or a long-awaited reunion with loved ones, travellers were invited to post photos of their most memorable moments at MIA on social media using the hashtag, with the chance to be randomly chosen to win two American Airlines tickets to any destination in the continental U.S.
"MIA has come a long way from one small terminal building, two hangars and two runways in 1928," said Miami-Dade Aviation Director, Lester Sola. "As we continue to expand our route network into untapped markets around the world and enhance our customer service delivery, I am convinced that some of our best years are still to come." MIA offers more flights to Latin America and the Caribbean than any other U.S. airport, is America's third-busiest airport for international passengers, boasts a line-up of more than 100 air carriers and is the top U.S. airport for international freight. MIA, along with its general aviation airports, is also the leading economic engine for Miami-Dade County and the state of Florida, generating business revenue of $30.9 billion annually and welcoming nearly 60 per cent of all international visitors to Florida. MIA's vision is to grow from a recognised hemispheric hub to a global airport of choice that offers customers world-class experience and an expanded route network with direct passenger and cargo access to all world regions