Ensuring the same accessibility options for all passengers
It is essential that all passengers have the same options and rights for transfer and mobility at an airport. In 2017, almost 44,000 passengers ordered the assistance service at Helsinki Airport. This is only a fraction of the number of passengers with reduced mobility who travelled through, and those numbers are growing. Airport Services Manager, Jari Pusa, reveals how the airport works hard to ensure a smooth travelling experience for each passenger.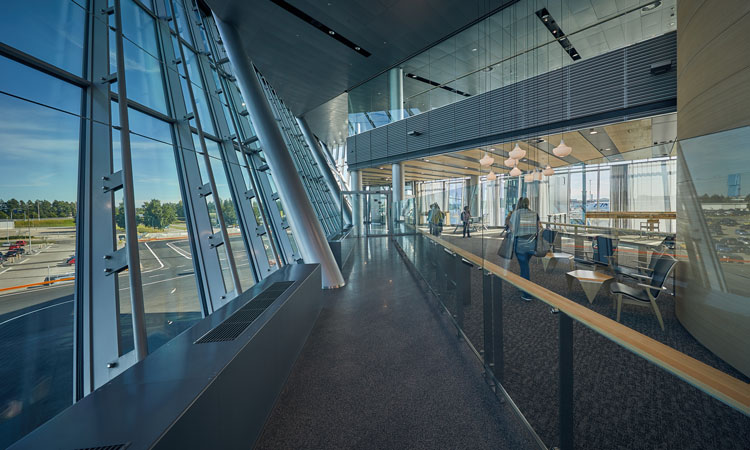 A  variety of services for passengers with reduced mobility (PRM) are offered at Helsinki Airport so each passenger can enjoy their journey and have easy access to and from the plane as possible. These passengers' needs have been integral in the current development programme taking place at Helsinki Airport. As the terminals are expanding to serve the growing number of passengers in the future, it is important to ensure a smooth transfer from outside the terminal to the aircraft and visa-versa.
Arriving at Helsinki Airport
PRM are considered from the moment they arrive at the terminal. Helsinki Airport is one of the biggest parking service companies in Finland. At each car park and garage the spaces with easiest access to the terminal are reserved for PRM. The terminal can also be accessed from the train station which has wheelchair accessibility thanks to lifts and ramps between the station and terminal levels.
For visually-impaired people, there is a guiding strip on the floor on one's way from the train station to the terminal. Entering the terminal building from the train station, passengers can find a braille map, which are provided by the Finnish Transport Agency. There also are 3D maps located at both terminals for hearing and visually-impaired people, which are fitted with sound and sign language monitors. In addition, Finavia's website works based on sound for the visually-impaired passengers, for further guidance on getting around.
Assistance services
The airport is responsible for providing assistance services from the airport doors to the aircraft. Presently, the partner for providing this service at Helsinki Airport is Lassila & Tikanoja, and the service is always given to passengers free of charge. To make moving as easy as possible for passengers with different levels of reduced mobility, the call points are located inside terminals in the departure halls, right outside terminals as well as in parking garages P3 and P5. There also are call service points at the airport's train station and the transfer hall between the terminals T1 and T2. At the call point, the passenger can contact the assistance provider, who will then pick the passenger up from the call point.
To keep the service as smooth as possible, PRM are requested to register their assistance needs in advance. Passengers are asked to do so 48 hours before the travel, to either their airline or tour operator. Passengers who haven't registered, however, are also entitled to get assistance. While usually pre-booked assistance arrives in a shorter time, getting assistance will never take more than 35 minutes. Booking the service in advance also helps other PRM to get assistance in shorter periods of time, as the coordination can be done in advance.
People working as PRM assistants are given special training which has been developed together with associations for PRM or disabilities. In addition, Finavia's customer service staff must take an e-learning course to expand their PRM knowledge. 
Smoother travel with special equipment and space design
Finavia provides equipment, including wheelchairs and rollators, for use at the airport, which can be used with or without an assistant.
In addition, Finavia has two assistance buggies inside terminals to help PRM to move around and get to the correct gate faster. Almost all gates are accessible by a golf buggy, while there are some that can only be reached by elevator or escalator. This inconvenience is, however, considered in the development of the airport.
At Helsinki Airport there are a number of departure gates without a direct bridge from the terminal, but which are accessed by bus. To help PRM to access aircraft departing from such gates as smoothly as possible, Finavia also has three ambulifts and two cars.
Easy transition on and between floors is essential in space design from a PRM perspective. No thresholds or sills are placed inside the terminal to avoid the risk to trip. All elevators, escalators and stairs are measured to serve smooth and easy accessibility. All stairs are equipped with anti-skid devices to prevent slipping.
Also, floors can often be slippery, which needs to be considered when choosing floor material, but especially when keeping the surfaces clean. A sleek, hard floor can be slippery when dirty, but not when clean. Consequently, the floor material needs to be low-maintenance and easy-to-clean to prevent it being slippery.
Visibility inside the terminal is essential and is ensured through lighting. No shine or glare should emerge from the lighting. And when it comes to signs and guidance, deep contrast is extremely important to ensure it is clear to all passengers. At Helsinki Airport the contrast is created with signs in deep blue and white colours. These things are especially important to consider for passengers with impaired eyesight.
In 2017, Finavia made a mapping of service path accessibility, based on which space and guidance has been renewed. The findings from the mapping have also been taken into account with the development of the airport to make the service path as smooth as possible for all passengers.
Development programme considers PRM needs
Finavia is investing €1 billion to the development of Helsinki Airport. The investment will enable 30 million passengers to travel through the airport annually, which will mean an increasing number of PRM. The special needs of PRM are increasingly taken into account in this development programme, which will be continuing until 2022.
The National Building Code of Finland, produced by the Ministry of the Environment, sets out details for building public spaces from the perspective of PRM. These details have been carefully implemented in Helsinki Airport's development.
As new gates have been opened and old ones renewed, reserved seating next to departure gates has been put in place. The new parts of the terminal also have wider hallways and are more spacious, allowing more space for assistance buggies to take PRM to their departure gates. In addition, the first lifts accessible with assistance buggies will be opened in February 2019, as the new central plaza, Aukio, is opened at the non-Schengen terminal.
The newest extension of the terminal, the South Pier, opened in 2017. It includes a travellator, which helps all passengers transfer to and from their gates easily, but especially helps PRM to reach their gates faster. More travellators will be installed inside the new central plaza and West Pier, which are to be opened in 2019. The hallways around the travellators are also wide enough for assistance buggies to drive through them.
When designing the terminal, easy orientation was taken into account. Orientation is easier for the human brain when one can see outside, as memories from outside help the visitor to put themselves on map inside the terminal. Although this applies to all passengers, it particularly helps orientation in, for example, the elderly.
Helsinki Airport already serves all passengers with a smooth and enjoyable passenger experience, and once our plans are completed in 2022, we will truly have a first-class airport.
Biography
Jari Pusa is an airport services veteran with 21 years of experience of working in different functions at Helsinki Airport to ensure smooth travel for all passengers. Currently Airport Services Manager, he focuses on developing PRM services to the ever-increasing number of passengers. This includes both assistance services and accessibility with regards to the terminal expansion.