Glasgow Airport's investment in new security technology
With 30 airlines serving more than 110 destinations worldwide, including Canada, the US, the Caribbean, Europe, North Africa and the Gulf, Glasgow Airport is Scotland's principal long-haul airport. In addition to being Scotland's largest charter hub, Glasgow Airport serves more Scottish destinations than any other airport and is a key component of Scotland's transport infrastructure. The airport supports over 7,300 jobs across Scotland and makes the largest contribution of any airport to Scotland's economy, generating hundreds of millions of pounds. In an interview with Mark Johnston, Operations Director, we find out what the airport's current and future security strategy is and what technology they've invested in to improve operations.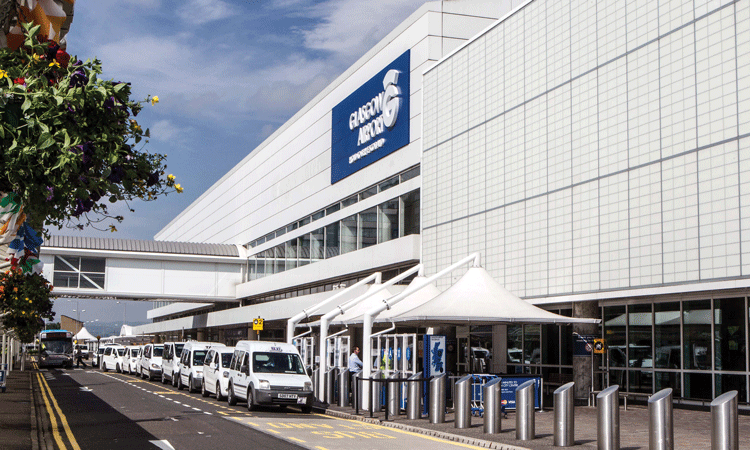 What is the current security situation at Glasgow airport in terms of current technologies? Have you experienced any challenges?
In 2008 we opened our extended central search facility which was part of a £32 million extension to the main terminal building. This allowed us to create a state-of-the-art security operation consisting of five lanes (three of which can be used for priority) and 10 Smiths Heimann Atix cabin baggage machines with dual screen technology. We also introduced non-invasive security scanning technology in September 2012 and new liquid detection algorithms alongside explosive testing machines in 2014.
Glasgow Airport has robust and efficient security procedures, and this is an area we are always striving to develop and improve. The key challenge for us – as is the case for all successful and growing airports – is ensuring we keep our security process as streamlined as possible so that our customers can pass through the airport quickly and with minimal disruption to their onward journey.
Providing excellent customer service is something which is fundamental to our business operation, and in March 2012 we introduced our Customer Charter – a public commitment to be passionate about our customers and place them at the heart of everything we do. As we've built on this over the past two years we've taken customer service to a new level within our industry.
We know that the security screening process is the one element of the airport experience that our customers can be apprehensive about. The challenge therefore is not so much about compliance and adopting new technology, but ensuring our customers have a seamless journey through the airport while always feeling safe and secure.
Are you investing in new technology to resolve any particular issues?
Glasgow Airport welcomed 7.7 million passengers in 2014 – an annual increase of 4.8%, and our busiest year since 2008.
As the airport continues to grow (we're projected to increase our passenger numbers to over eight million in 2015), there is undoubtedly going to be increasing pressure on our security operation and machines – particularly during peak periods.
We've invested in MacDonald Humphrey smart lane technology & SEMS. The new technology will be incorporated into our existing machines, and the key benefits are automated bag reject technology and new, larger trays.
Improving the customer experience is the key driving force behind these changes. Currently, our passenger mix is 30% business and 70% leisure, and in selecting this new technology we have carefully considered how to balance the priorities of both of these groups.
The new technology is helping to deliver a faster and more efficient customer journey through security by identifying if people are carrying liquids in their hand luggage and specifying the exact location in the bag. This allows our security team to direct their search to the exact location of the liquid, and save them from having to conduct an entire bag search, which can be both time intensive and intrusive for the traveller.
Why have you selected these particular technologies and what are the key advantages over others you may have considered?
Robust and efficient security screening is fundamental to the smooth running of any airport and it is something we care a great deal about at Glasgow. We selected this new technology after conducting extensive research – it has an excellent track record within the industry for high standards, reliability and performance.
How were the technologies implemented throughout the airport and has reality met expectations in terms of performance?
We've taken a staggered approach to introducing the new technology to ensure minimum disruption to our passengers. Our airport operation is quieter during the winter months, which is why we took the decision to introduce it in January 2015, with the roll out completing in March 2015.
To date, we've had excellent feedback and are seeing improved security clearing times. The new technology will result in a faster and more streamlined customer journey – the investment is already paying off.
How are you working to improve passenger flow through the airport and especially through security? Are increasing passenger numbers something you will need to account for?
Since 2006 we have committed in excess of £100 million on capital projects all of which were designed to provide a better experience for passengers.
In 2014, we embarked on one of the most significant and comprehensive upgrades to the main terminal since it was first opened in 1966.
As part of our extensive preparations for the 2014 Commonwealth Games we unveiled details of a £17 million investment programme which has since seen large parts of the main terminal building undergo a major makeover. This included international arrivals, the modernisation of the main check-in hall, the landscaping of a new public space at the front of the terminal, new flooring in the domestic pier, the installation of new heating and ventilation systems in terminal two and £1.5 million upgrade of all toilet facilities.
The investment in this new technology allows us to continue to build on this enhanced customer experience. We're expecting to welcome over eight million passengers this year, and with this growth we have to ensure our operations allow for safe and fast ways to travel.
In May 2012 we became the first airport in Scotland to introduce automated boarding pass scanners. We invested £600,000 on new Mach-SmartAccess automated boarding pass gates which allow authorised passenger access to the security area and the departure lounges. This has really helped to improve the speed at which people can make their way through the airport – and our current investment in security technology continues to build on that.
Will you need to make any changes to your security strategy?
It is vital that any investment in new technology delivers improvements to our operation, and our new security technology will do that. Fundamentally, however, technology can only ever be part of a wider strategy. It is equally important that we also have the correct number of staff in the right place at the right time to provide face-to-face advice to customers if they have any questions – airports can't operate on technology alone; there is a need for human interaction and excellent customer service too.
Have you identified any trends in security that you may need to account for in the future?
Security will continue to be a key focus area for the aviation industry in the years ahead. It is the responsibility of everyone in the sector to play their part in developing and transforming the technology and processes we use.
What do you think are the biggest challenges to airport security and how do you anticipate these will develop into the future?
There will always be a requirement for robust and effective security procedures at airports, and I expect this will only grow rather than diminish in the years ahead. The challenge for airports will be to keep up-to-date with the latest technologies and compliance requirements while ensuring customers can enjoy the airport experience.
Providing excellent customer service is what differentiates a good airport from others, and at Glasgow we're determined to build on the strength of our customer charter and put our customers and their needs first.
Is Glasgow Airport committed to developing other areas to improve its performance, attract new business and improve the passenger experience?
2014 was Glasgow Airport's busiest year since 2008 and our fourth consecutive year of growth, with more than 7.7 million passengers travelling through our doors – an annual increase of 4.8%. In 2015 we are on course to return to pre-recession levels with passenger numbers projected to grow to more than eight million.
2014 was a hugely successful year for the airport. As well as welcoming thousands of athletes and sporting fans through our doors for the Commonwealth Games, we also completed our £20 million terminal investment programme and secured 20 new routes and services. This included the arrival of Ryanair which opened a new base at the airport, operating seven routes for winter and extending it to 10 from this summer.
We'll continue to work with our city and national partners to make compelling propositions for airlines and to ensure they choose Glasgow as the airport to travel to and from over competing airports. 

Mark Johnston joined Glasgow Airport as Continuous Improvement Project Manager back in 2004. He then went on to take on a number of different roles within the airport operation, including Head of Terminal and Security, and Head of Infrastructure and Technical services, before being appointed Operations Director in June 2015. Mark has a BA Honours in Electrical and Electronic Engineering from Heriot Watt University and also an MBA from Glasgow University.