Baggage check-in with I-drop – innovative and easy to use
Consistent growth in air traffic means that everything is getting faster. More and more passengers have to be checked-in within shorter timeframes while service and security expectations are rising. In order to optimise passenger handling, Johannes Scharnberg, Director of Aviation at Germany's fifth-largest airport – Hamburg – explains that it is increasingly turning to self-service kiosks which are both innovative and easy to use. The latest example is the baggage drop system known as 'I-drop'.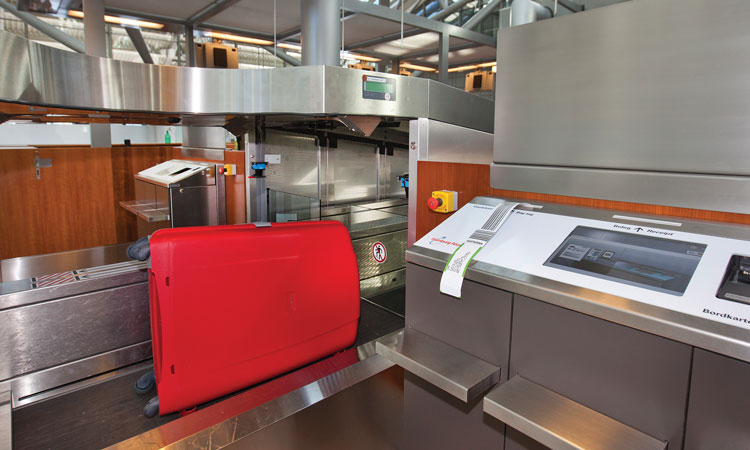 Years of growth at Hamburg Airport
In December 2015, Hamburg Airport reached the record level of 15 million passengers per year for the first time. Our airport's inner-city location is attractive, and the direct S-Bahn metro rail connection means that the journey from the terminal to Hamburg's central Hauptbahnhof station only takes 25 minutes. However, this location in the middle of the city is also a restrictive factor. It means that the space available to the airport is limited, despite growing passenger numbers. As a result, we need to adopt a different approach. Instead of expanding and simply constructing new buildings, the further developlment of our infrastructure is focused on optimisation and increasing the efficiency of existing facilities. Self-service plays an important role in this.
When it comes to passenger handling, for which Hamburg has two terminals, we have already gained a positive experience from using self-service in the check-in area. It was therefore a logical step to enhance terminal infrastructure in this direction for baggage drop. User-friendly self-service systems are not only efficient, but they also fit well with the general trend of today's consumer behaviour. The rapid growth in everyday usage of mobile devices such as smartphones and tablets, and the increasing acceptance of kiosk technology, is shaping the transition in passenger handling.
The 'passenger liberation' trend
We have been aware of this trend development for some time. Conventional check-in procedures are increasingly giving way to independent passenger check-in via the internet, mobile telephones, and kiosks; the passenger is breaking free. As a logical consequence, baggage drop should also be made possible at simplified counters or even kiosks. In the early planning phase, before the autumn of 2014, specific baggage kiosks for individual airlines were already installed in our terminals. However, this made the allocation and efficient usage of counters more difficult, and it also had a negative impact on the airport's consistent and unified design. For Hamburg Airport it was clear: the time had come to develop our own self-service facilities and make them available across the board for all airlines. This is a concept that benefits everyone, as passengers no longer have to look for their airlines counter. Instead, passengers go through the entire baggage check-in procedure themselves, with the help of easy-to-understand step-by-step instructions. The airport is thus expanding its service portfolio and creating elements that can be optimally integrated into the allocation process and the airport's image. Airlines equally benefit from the common usage of efficient infrastructure. 
High demands for process, visual appearance, and security
When the project idea took shape the goal became clear; expanding self-service facilities will ensure sufficient future passenger handling capacity. Furthermore, by avoiding the installation of airline-specific equipment, there is no impact on flexibility in the allocation of facilities. Alongside the visual and process-related aspects, there is also the question of equal treatment of all passengers, which would not be possible if some airlines were unable to install their own self-service facilities. The concept, in the end, was this: a unified and integrated infrastructure with unified processes, ensuring a harmonic visual integration with the terminal architecture and at the same time fulfilling the strictest security regulations.
These were the goals we had in mind when we came together with German IT specialist, Materna GmbH, and the designers at EVANS Airport Solutions, to start developing a pilot program for a modern self-service bag drop system for Hamburg Airport. This would allow passengers from airlines such as Lufthansa, Air France/KLM and easyJet to easily check their baggage in alone and save a lot of time. It was important for us that the new technology would be integrated into the existing infrastructure, e.g. the transportation systems. During this pilot phase we wanted to see how well passengers received the new baggage kiosks.
A quick solution, with or without practice
In September 2014, the first two baggage kiosks were installed into Terminal 1. I-drop greatly accelerates the baggage check-in process by means of simple menu-based, built on CUSS-based (Common-use Self-Service) software applications. After the passenger has checked in – whether online from home or at a self-service check-in kiosk – they can simply scan the barcode on the boarding pass and place the baggage on the conveyor belt. The baggage is weighed, measured, photographed, and checked to make sure it can be processed by the baggage conveyor system. If all the requirements are fulfilled, I-drop automatically prints an individual baggage tag.
At this point in the process, the passenger has not been required to use the touchscreen once. This is only necessary for the final confirmation by the passenger. The baggage item is now subject to a further check, after which it is taken away by the transportation system. Even without practice, the process only takes a few minutes. Frequent flyers that are used to checking-in on self-service systems now need less than a minute to drop their baggage. Even with high passenger volume, this avoids long waiting times at the counter which benefits passengers, the airport and the airlines.
Manipulation and mistakes impossible
Of course speed is not everything. High security standards were just as important in the development of I-drop for Hamburg Airport. It is vital to ensure that only correctly identified and checked/verified baggage can enter the system. It was clear to us that the only way to avoid gaps in the security chain was to make use of the appropriate technology in terms of scanners, sensors, and cameras. We had to exclude the possibility of manipulation and of mistakes in operation, as well as accidents arising; therefore the baggage intake area is secured with doors. With comprehensive security technology inside the kiosk, we ensure that no unchecked and potentially dangerous objects can enter the baggage transportation system. During the pilot phase it was particularly important that passengers could receive answers to their questions, therefore friendly personnel are always on hand to guide passengers in the use of the system.
Successful completion of the pilot phase
During the test phase, it was the clear that when self-service checking and I-drop worked together, it was a success. Depending on the timetable, between 600 and 1,700 items of baggage were checked in using the system each week. Technical, process, and commercial feasibility were proven. During the pilot phase, passengers flying with the participating airlines – Air France, KLM, Lufthansa, and easyJet – used the system as a matter of course. And it was not just frequent flyers, but holidaymakers and those who do not fly often that showed increasing interest in our I-drop system. As a result, we have succeeded in creating an innovative self-service product that is enthusiastically received. Hamburg Airport is offering its customers and passengers a better service, shorter waiting times, and easier orientation. I-drop is therefore ideal for our concept of an airport with short walking distances. The high level of acceptance among passengers of the participating airlines during the pilot phase helped us to decide to take the next step. I-drop will be further expanded during the course of 2016 and we initially plan to install 10 baggage kiosks in Terminal 1.
The I-drop 'roadshow' comes to the airlines
This development marks a milestone on Hamburg Airport's road towards the terminal infrastructure of the future. We are therefore taking the necessary time to inform the airlines about our new I-drop product before the installation takes place, by explaining the benefits and identifying user requirements and potential improvements in advance. Our sales experts are engaging in B2B dialogue and we have developed a marketing concept to present our airport's expanded service portfolio to the airlines.
This new system does not only benefit passengers and airports, but the common usage of technical and personnel infrastructure creates synergy effects for the airlines – an aspect that is acquiring ever greater importance. Automatic check-in and baggage drop optimises costs in passenger handling. As a service provider, Hamburg Airport is providing transparent billing per item of baggage and per check-in, ensuring the smooth operation of the system, and making service personnel available. The airline, as a customer, only has to provide a contact person for IT integration and to clarify handling processes. Standardised processes and clearly defined IT interfaces are essential.
An airline using this system offers its passengers a contemporary service with high levels of flexibility and potential time savings. Passengers are no longer bound by the opening times for check-in counters; they can even check their baggage in earlier using the kiosks. Long queues are a thing of the past and passengers no longer need to search for the right airline counter. At the same time, the guaranteed high security standards remain in place. ID and visa checks can be carried out by appropriate service personnel where necessary.
From the vision to implementation
Hamburg Airport's goal is to win over as many airlines as possible into using the new self-service solution. Positive discussions have already taken place and we are currently working specifically on integrating payment functions and also, where appropriate, products such as late night advance check-in. Innovative technology for top quality passenger handling – this is our way of implementing our vision for the terminal infrastructure of the future.
Biography
Johannes Scharnberg has been Director and Authorised Signatory for the Aviation Division of Flughafen Hamburg GmbH since 2012. Prior to this, he served as Managing Director for four of the company's subsidiaries: Groundstars, Stars, Cats and CSP. Johannes' career began in 1995 where he served in various roles in the administration of the City of Luebeck, including financial controlling, assisting the Finance Minister, managing holdings, and representing the city as shareholder in various public companies, such as the public utility operator, the port authority, the airport, the hospital, the economic development corporation, and the tourist board. From 2007 to 2008 he served as Managing Director of Flughafen Luebeck GmbH on behalf of New Zealand company, Infratil Airports Europe Ltd. After this, he moved to Hamburg Airport.